Get excited for the randomness to commence! I'm sharing 7 things I'm currently loving.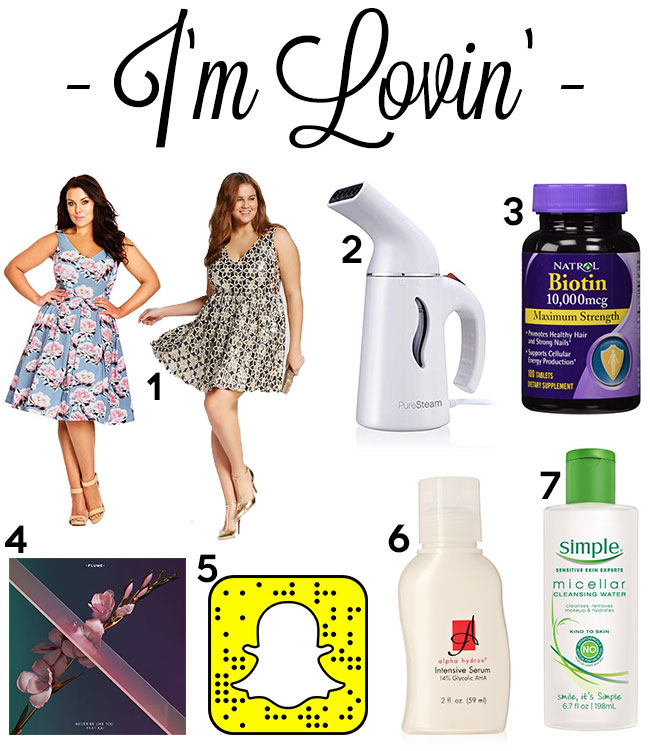 1. dresses
I've found some cute dresses recently. I absolutely love the dress I wore to my brother-in-law's wedding. I love it so much that I'm probably going to wear it again for Brad's cousin's wedding next month. The dress is by City Chic, which is an awesome fashion line for ladies size 12+. They use that specific cut on a lot of their dresses and it just works for me– love me a fit-and-flare dress. (I also have this dress by City Chic.) I found the second dress, which is more like a tunic on me (hel-lo!) and completely covered in sequins, randomly one night while doing some online perusing. It was on clearance for $28 so I figured, why not? I'm pretty sure I'm going to wear it to Adele in a few weeks because it's completely covered in sequins. I posted some snaps (chelsea221blog) last night of me in the dress if you want to check those out. In case you're wondering, I feel like both dresses run small.
2. fabric steamer
I got this steamer so I could steam my dress before the wedding. And I LOVE this thing. After using it for the first time I was all "What else can I steam?! This is so much fun!" I also love that it's small enough that I can throw it in my suitcase when I travel. I've used it to quickly knock out some wrinkles in other clothes. It beats lugging out the ironing board and iron.
3. biotin
I touched on this in a random snapchat PSA, but I'll share it here too. I've always had nice nails, they're naturally French tipped and would always grow pretty long. But after having Owen and then breastfeeding him for 11 months, it was like my good nails were leeched out of me. A few months ago I started taking biotin once a day, and it's made a huge difference in my nails. They're stronger, and they grow longer. My skin looks better too. I can't really speak to the hair growth portion of biotin because my hair is weird. It seems that when I hit a certain weight, like I did when I was preggo, my hair gets super thick. But as soon as the weight starts to come off and I get to a certain point, my hair thins.
4. flume
Never Be Like You by Flume (feat. Kai) is my current fave song in case you're looking for a new tune. I tend to go through music phases, and I've been in an electronic music phase for about 9 months.
5. snapchat
I've been on Snapchat (chelsea221blog) for over a year. But now that more and more people are getting on the snap train, it's become my favorite social media channel. You get to see Owen doing goofy things, my toy laden living room, what I'm eating for lunch, and other randomness– basically how Instagram used to be. Instagram has been annoying me for months. I just hate how curated it is now. I don't post as much on there anymore because it feels contrived to me. The way IG feeds are set up now also annoys me. It was only a matter of time for Facebook, which owns IG, to start messing with the feeds. But if you do see me post on IG, do me a solid and like the photo and/or comment because it's not like I can entirely give up on it. Phew, I'm done ranting now. Glad I could get that off my chest.
6. glycolic alpha hydroxy acid
I'm always on the lookout for beauty products, so when my friend Megan snapped about this stuff a few months ago I ordered it. I apply it twice a week at night before I go to bed. It's supposed to reduce the appearance of lines and wrinkles, support collagen production, even skin tone and texture, and leave skin feeling soft and smooth. And after using it for 4 months, I can agree with those claims. It also makes my pores look smaller, and my skin looks pretty damn good the morning after I use it. Get ya some.
7. micellar water
I LOVE this stuff. In case you don't know what micellar water is, it "helps remove contaminants known to irritate skin and leaves skin clean, fresh, and instantly hydrated." I use it multiple times a day during the summer (when I'm not wearing makeup which is more often than not) for quick cleanses when I feel my face getting oily. To apply the micellar water, I shake a few drops onto a cotton round and run the cotton round over my face.
In other news, Saturday is our 5th wedding anniversary. Seriously, when did that happen? It honestly feels like it was maybe a year ago. We both slacked this year and have yet to buy each other anything, which is fine by me.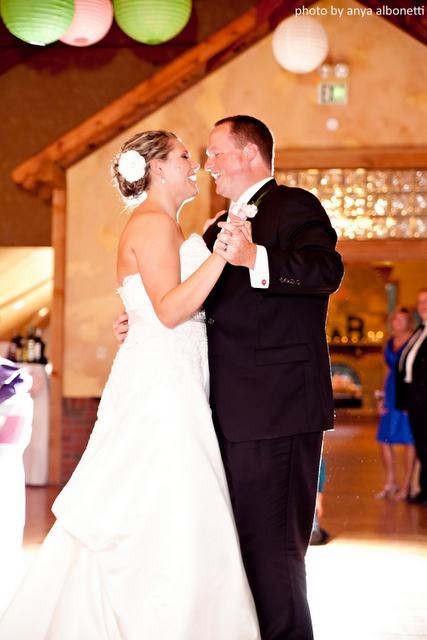 Happy anniversary, lover.
This post contains affiliate links.
Funds from affiliates help pay for web hosting, domain registration, email delivery, the occasional bottle of wine, and other fees to keep twotwentyone.net up and running. Thanks for your support! I appreciate it!