Cut Out Sugar Cookie Recipe
This cut out sugar cookie recipe produces buttery, soft cookies that hold their shape.
Growing up, the two Christmas treats I always made with my mom were cut out sugar cookies and peanut butter balls. These were the cookies my brother and I always put out for Santa.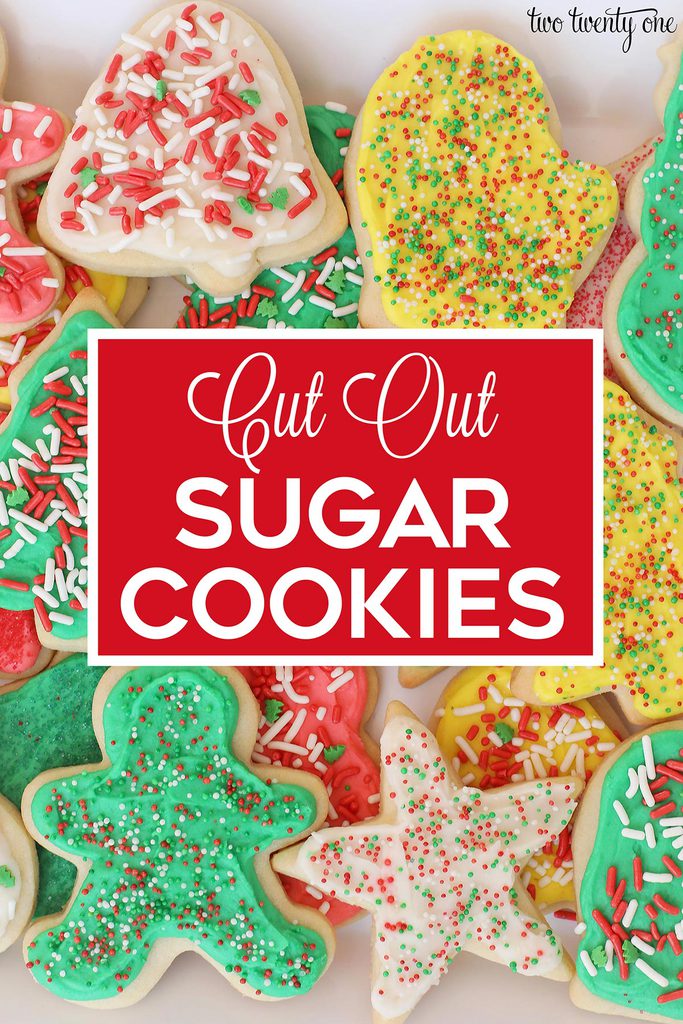 Cookie Cutters
These sugar cookies are great to make with little ones because they can cut out and help decorate the cookies. We have an array of cookie cutters that I've collected over the years. This set of cookie cutters is a nice mix of shapes.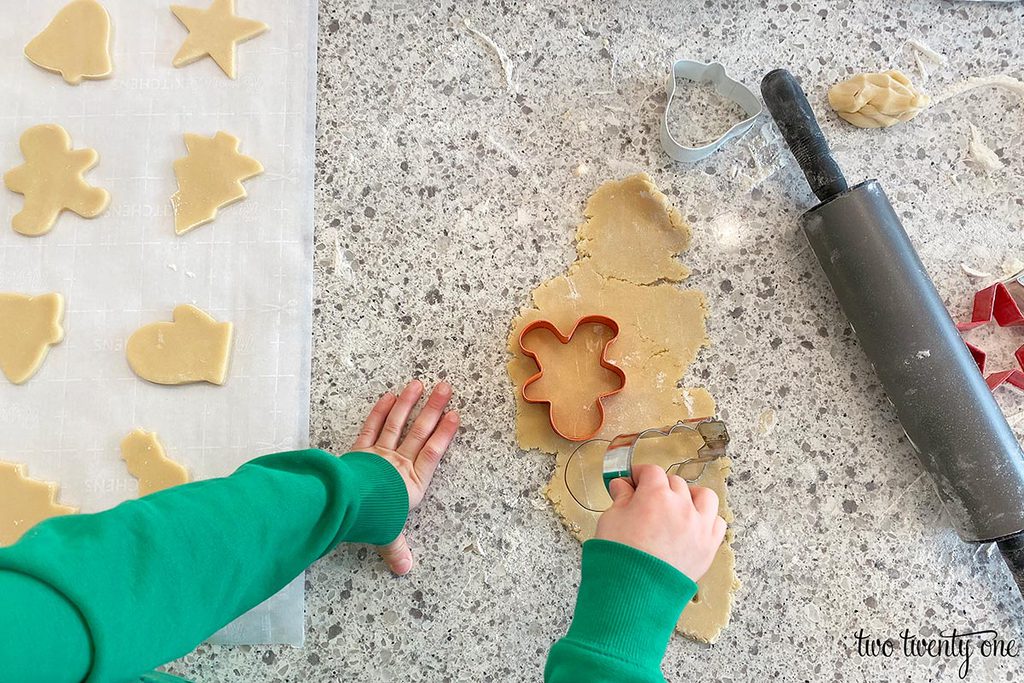 Baking the Cut Out Sugar Cookies
I've loved baking with these cookie sheets for years. The bottoms of my cookies never burn. To make clean up a breeze, I use parchment paper.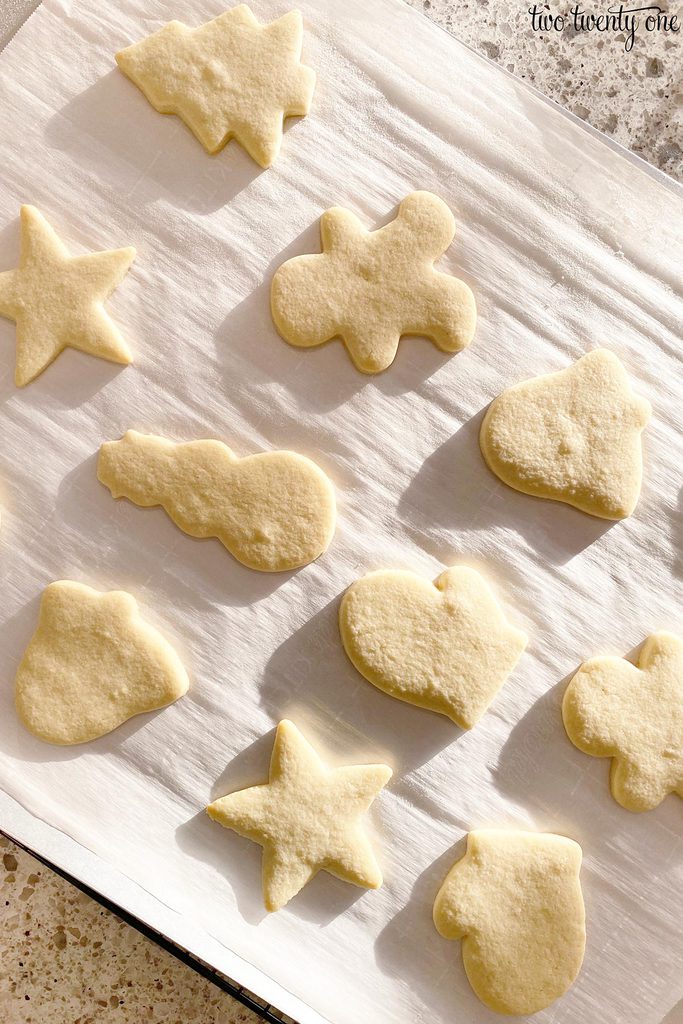 Icing and Decorating
When it comes to decorating the cookies, I set them in sheet pans so the sprinkles are contained– for the most part.
My shortcut for perfectly iced cookies is to pipe on the icing with a decorating bag with the tip cut off.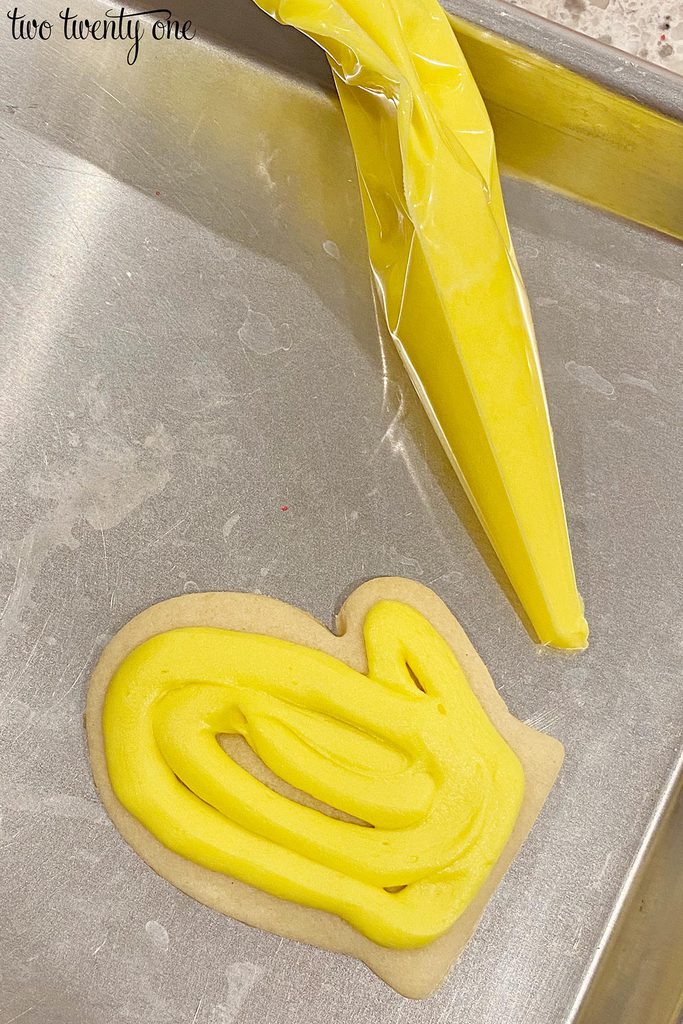 Then, I use an angled spatula to smooth out the icing before topping the cookies with sprinkles. Keep in mind you need to add the sprinkles quickly after icing is added so the sprinkles will stick. When I was little, my mom would typically ice the cookies, and I would add the sprinkles. Team work.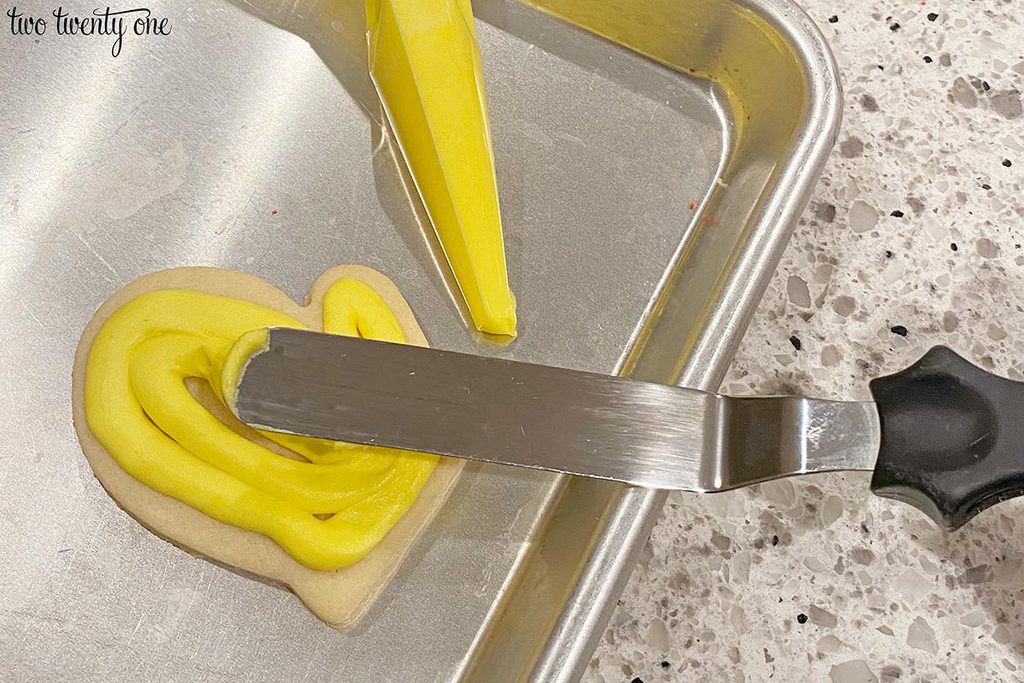 Colors
When it comes to colors, anything goes. I'm used to using an array of colors of icing for these cut out sugar cookies. For this batch, I used this food coloring. However, I don't like to make the colors too saturated because I don't like having a green or red mouth, so I figure others don't either.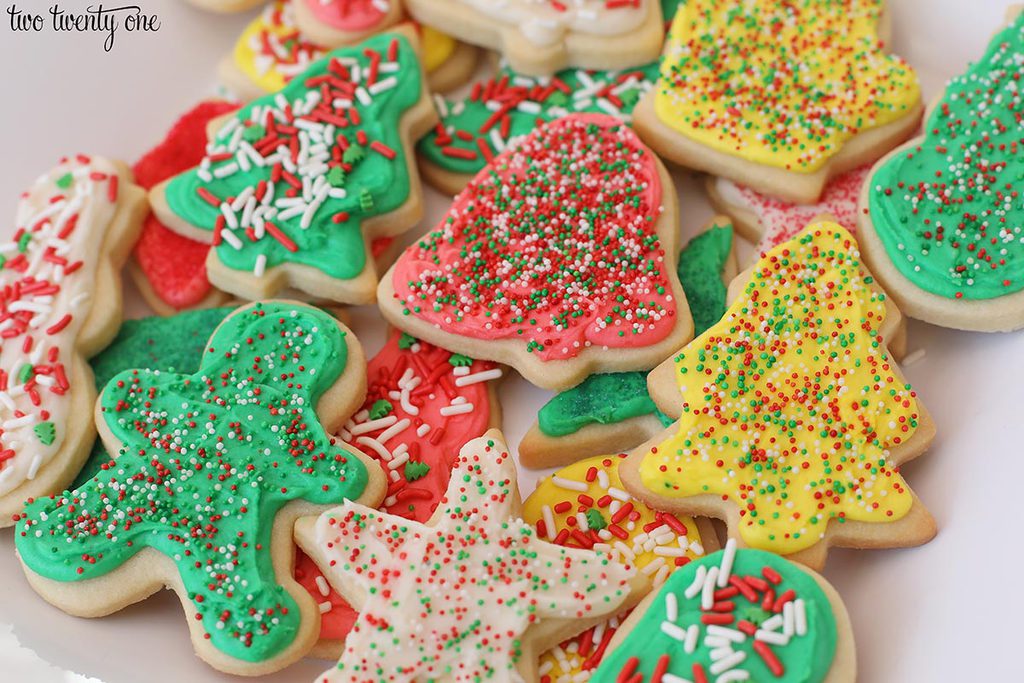 Storage
Before storing the cookies, I recommend letting them set on the sheet pans for a couples hours so the icing has time to harden a little. To store the cookies, I layer them in an airtight container, separating each layer with a piece of wax paper. This is my go-to storage container.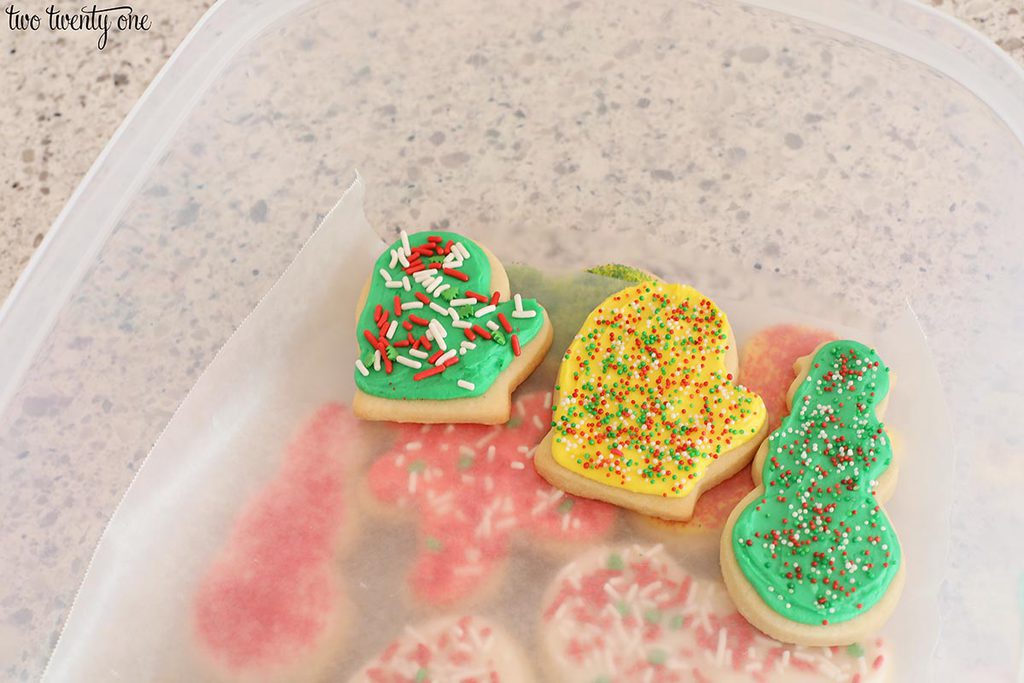 Sprinkles
I feel like most sprinkles I buy don't have expiration dates on the containers. I researched and most sprinkles last 3-5 years. So I'd recommend writing the month and year you purchase the sprinkles on the bottle or container so you can keep track of the age.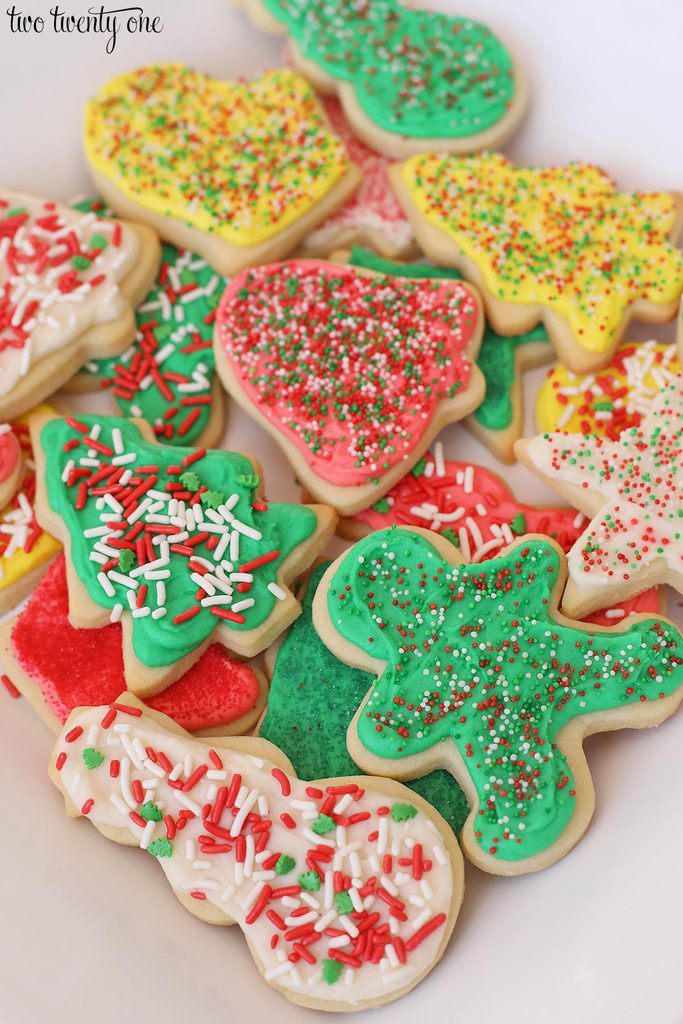 Cut Out Sugar Cookies
Soft, buttery sugar cookies that hold their shape!
Keyword:
cut out cookie, sugar cookie
Ingredients
Cut Out Sugar Cookies
3 1/4

cups

all-purpose flour

1

teaspoon

baking powder

1/2

teaspoon

salt

1

cup

butter, softened

1 1/2

cups

white sugar

2

eggs

2

teaspoons

vanilla extract

1/2

cup

flour

set aside for flouring rolling surface
Icing
4

cups

powdered sugar

1/2

cup

butter, softened

5

tablespoons

milk

1

teaspoon

vanilla extract

food coloring

sprinkles
Instructions
Cut Out Sugar Cookies
Sift together 3 1/4 cups flour, baking powder, and salt. Set aside.

In a large bowl, cream together butter and sugar until light and fluffy.

Beat in eggs one at a time.

Gradually blend in the sifted dry mixture until fully absorbed.

Form dough into ball and place on top of plastic wrap. Wrap the dough with the plastic wrap.

Chill dough for at least 2 hours.

Prepare cookie sheets by lightly greasing them or use parchment paper.

Using the reserved 1/2 flour, sprinkle some on a clean surface.

Roll out small portions of chilled dough to 1/4 inch thickness. Cut out shapes using cookie cutters. Place cookies on cookie sheet.

Bake 8-12 minutes, or until edges are barely brown. Remove from cookie sheets to cool on wire racks.
Icing
In a large bowl, cream together the confectioners' sugar and butter until smooth. 

Gradually mix in the milk and vanilla with an electric mixer until smooth.

Add food coloring if desired.

Ice cookies and top with sprinkles if desired.
Recipe Notes
Use a decorating bag with the end snipped off to apply icing to the cookies for a cleaner look.
Apply the sprinkles sooner rather than later so they stick to the icing.
After icing cookies, allow them to set out for a couple hours so icing can harden.
Store cookies in airtight container, separating each layer of cookies with wax paper.