Last Wednesday I got the sudden urge to bake cookies so I whipped up some chocolate chip cookies. I posted a photo of them on Instagram and Facebook, and everyone was all "you better post the recipe or we'll stab you!" Just kidding, no one threatened to stab me.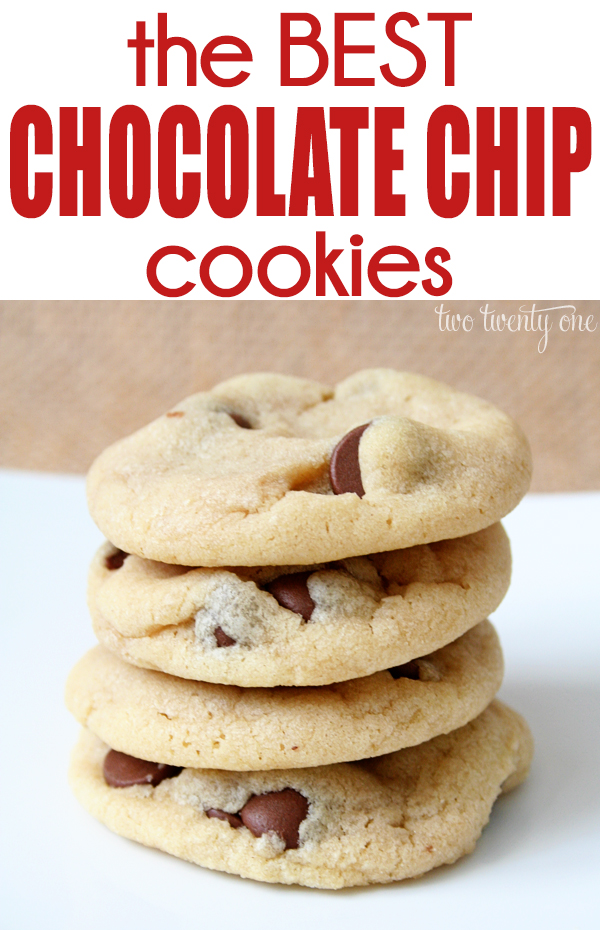 My friend Rachel, from Maybe Matilda, did crack me up by saying, "Your baked goods are the Victoria's Secret models of the culinary world. Mine are the Danny DeVito's".
I think part of the reason why my cookies come out looking like the Victoria's Secret models of the culinary world is because of my AirBake cookie sheets. I love them so much I could marry them. The mega size cookie sheet is my favorite because you can fit like 100 cookies on it. Not really, but it seems like 100.
I should also add that I use parchment paper with the AirBake cookie sheets. Why the parchment paper? Because I'm super lazy, and I don't want to have to hand wash the baking sheets when I'm done.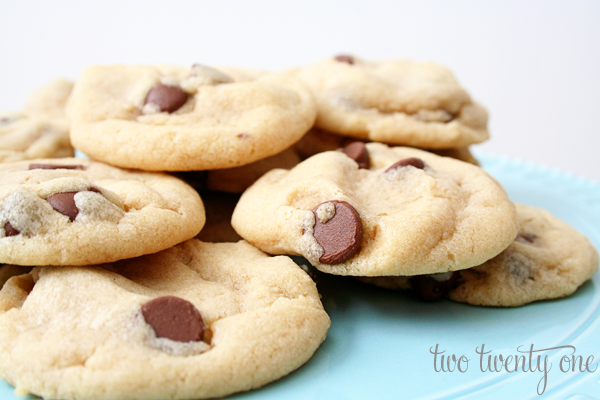 Another tip in case you want to know: I don't trust the time on recipes. I undercut the time by 2-3 minutes, check on the cookies when the timer beeps, and I add 1-2 minutes if they don't look done yet. I'll keep doing this until they look right. So, basically, I'm a slave to my oven when I bake. I also know my oven runs a little hot, so I bake everything at 340-345°. I don't know if that makes a huge difference, but it's what I do.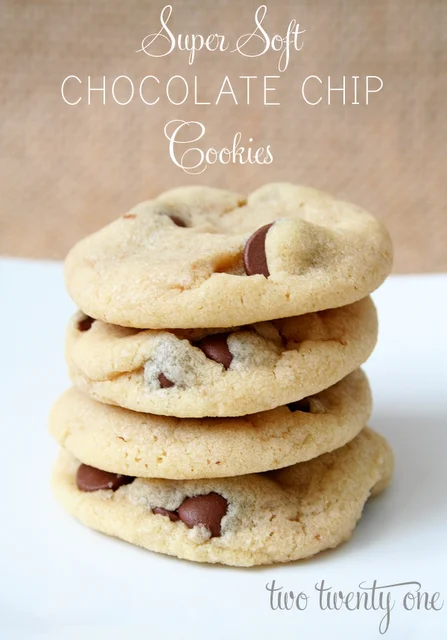 Last chocolate chip cookie baking tip:  I found that these cookies look best, in the end, if you roll them into balls. I've tried dropping them on the cookie sheet with my cookie scoop but they don't look as pretty as they do when they're in ball-form.
Here's your printable 3×5 recipe card. Click on the image to download it.
Are your baked goods Victoria's Secret models or Danny DeVito's?
Have you tried AirBake cookie sheets?
Any cookie baking tips for the rest of us?

Disclaimer:  The AirBake people have no idea who I am. They didn't give me any dough (money or cookie) to mention them in this post. I just wanted to share my love of them with you.
Like this recipe? Then you should definitely check out my other recipes!