Today I thought I'd share some home staging tips. We had 8 showings over the course of 4 days before we accepted an offer on our house, so I feel like we did a fairly good job.
I think home staging is very important when it comes to selling your house– and selling it fast. You want to show the best version of your home. Think about it– would you show up to a first date dressed in SpongeBob SquarePants pajama pants, a t-shirt with holes and stains, $3 Old Navy flip flops circa 2012, your hair a mess, and smelling like you hadn't showered in a week? I don't think so. So the same goes for your house because you're technically trying to find the best suitor for your home.
Allow me to brag– one realtor said our house was the best staged house he'd seen so far this year. And we got tons of compliments on the interior and exterior of the house from other realtors and potential buyers. So I'm going to use that as proof that I would've earned an A in staging our home.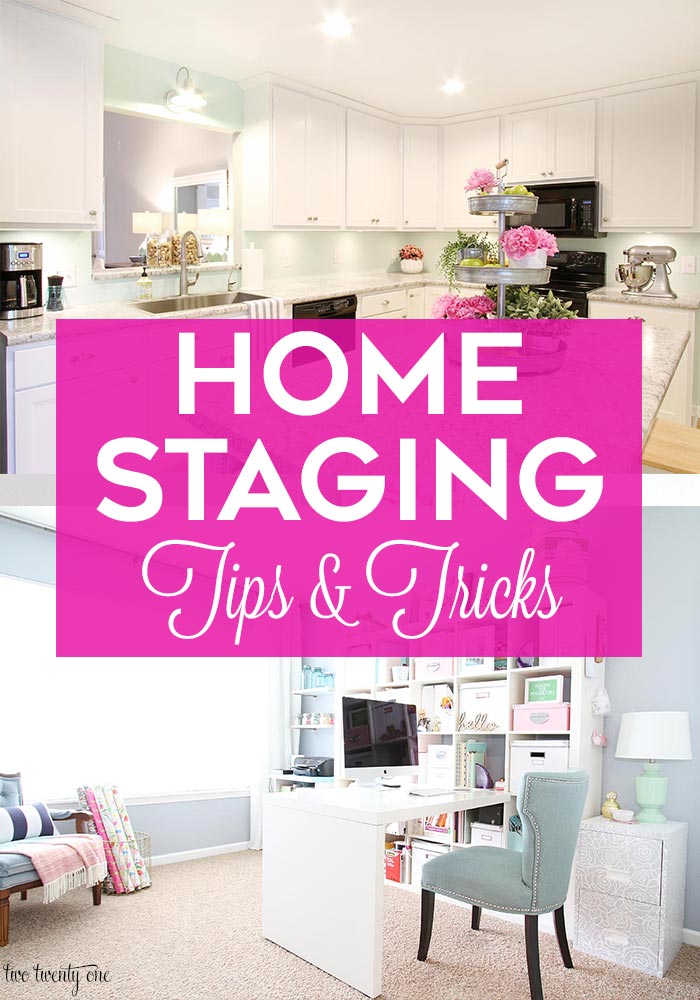 Clear the Clutter
No one wants to see your toothbrush, deodorant, prescription meds (seriously, take these with you when you leave the house), tweezers, face wash, contact solution, etc. on your bathroom sink. No one wants to see your mail and paper clutter either. (I stored our mail in one of those baskets on top of the fridge.)
Also, don't leave 50 things on your fridge and kitchen countertops. You want people to observe the space and having a bunch of clutter will distract them.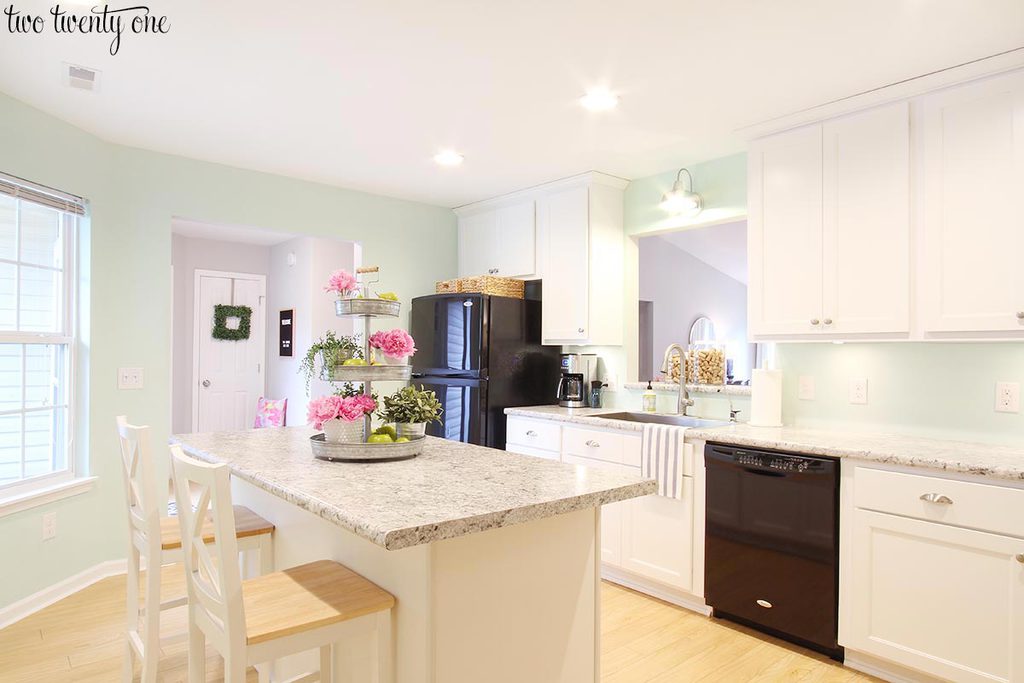 Pump Up the Curb Appeal
Paint your mailbox post. Invest in a new mailbox. Mow your lawn. Trim trees and bushes. Pull weeds. Lay down some fresh mulch. Plant flowers in planters. Spruce up your outdoor lighting with spray paint or replace them. Pressure wash your fence, walkways, and driveway, if needed.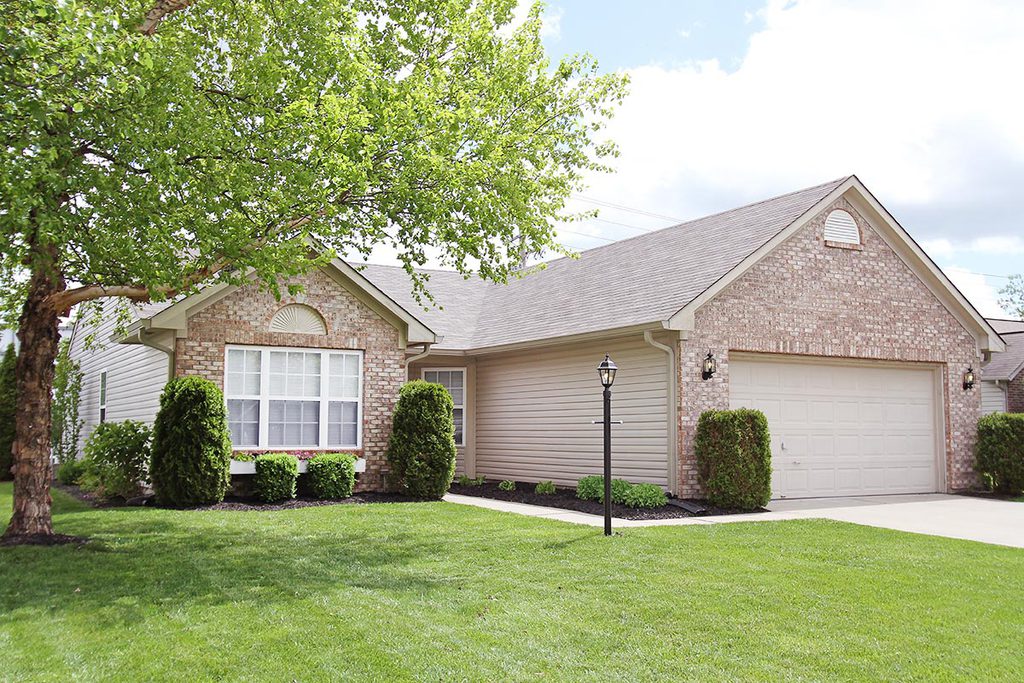 De-Personalize
Remove all traces of your face and name from your house. I'm not kidding. People get distracted by family photos because they try to figure out if they know you from somewhere. When I staged our house, there were zero photos of us out in the open. I even covered our names on our wedding guestbook tree that we displayed in our living room.
Tip: Replace large family photos or canvases with framed wrapping paper. Realtors and potential buyers may think that only a woman lives in the house but that's their problem.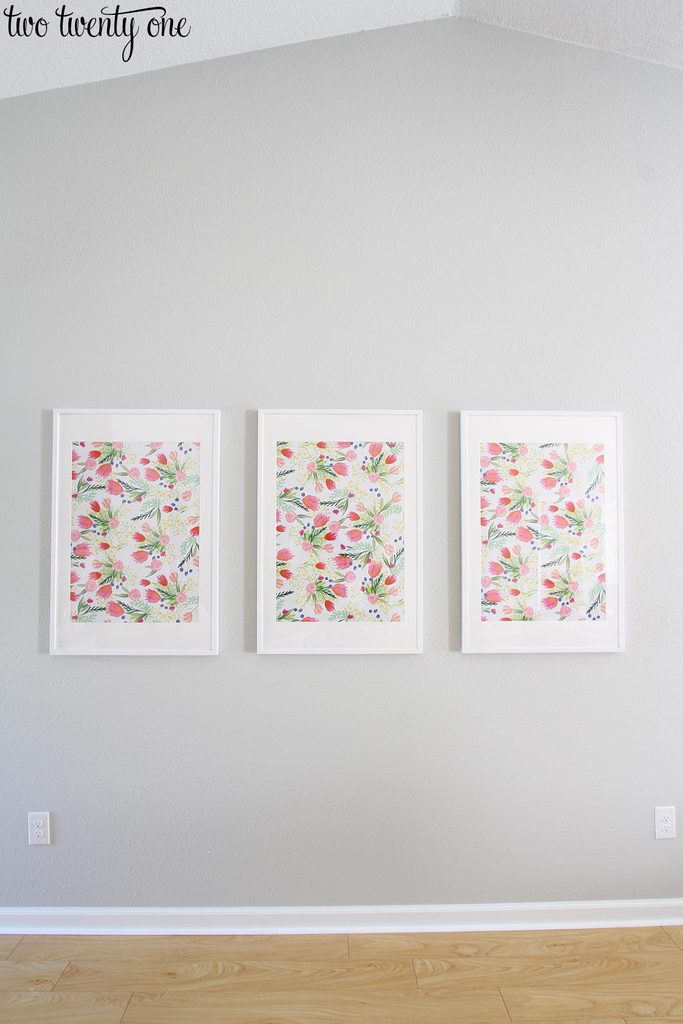 Reign In the Toys
I'm not going to lie– when I used to come across home listings with toys lined up against a wall, I'd cringe a little. It just doesn't look good. So get those toys under control. Donate some. Store some in your garage or basement in cabinets or on shelves. (We stored Owen's excess toys in these in our garage.) Toss them up in the attic or take them to a storage unit. If you're worried your kid will miss the toy, the chances are he won't. And when you reintroduce the toys, your kid will act like it's Christmas morning.
If you have kids, you don't want your house to look totally devoid of children. Our living room doubles as Owen's playroom so the majority of his toys are in the room. I use large decorative baskets and bins to curtail his toys. There's still signs of a toddler but it's not screaming it.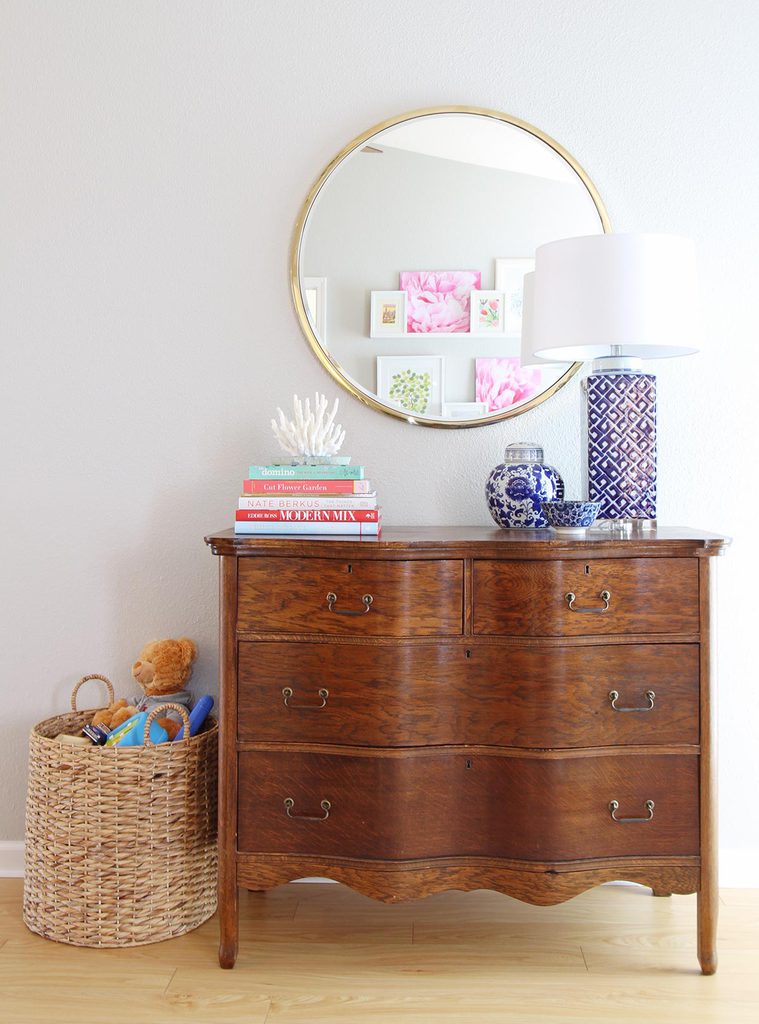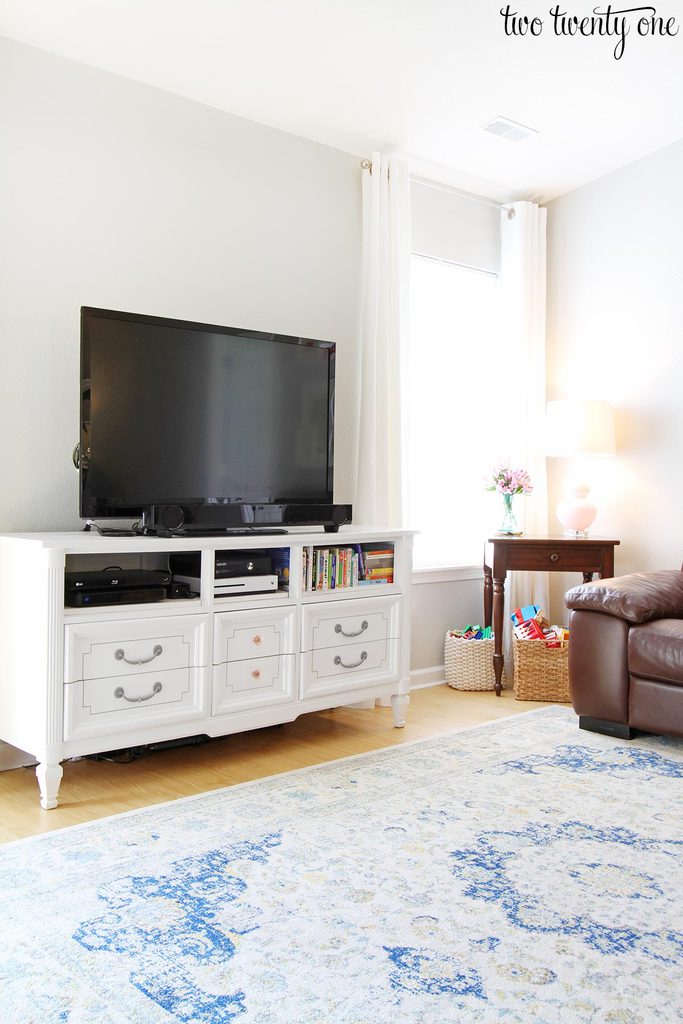 Organize the Closets & Drawers
Don't use your closets to stash stuff like when you have company coming over. Because potential buyers WILL OPEN THE CLOSET DOORS. This is also a great time to go through your stuff and donate, store, or throw away things you don't need. And when in doubt, invest in some cheap fabric bins to throw loose things into. These bins are great.
People are also going to open kitchen and bathroom drawers. They want to make sure they work properly and aren't rickety. So use smaller containers to curtail drawer clutter. Donate some cooking utensils you haven't used in forever. You know the drill.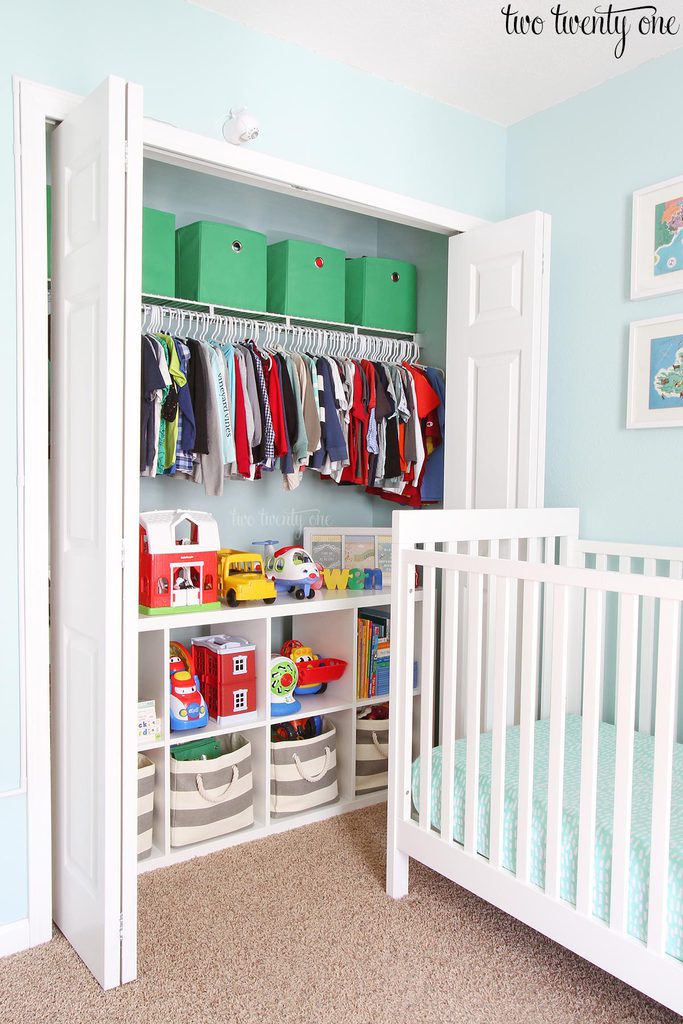 Freshen Up the Paint
You don't have to go through your house and paint every room, but take the time to touch up any scuffs. I had our great room painted SW Repose Gray because the color of the new floors (we thought we'd get to enjoy for a longer period of time) clashed with the old wall color.
And don't forget about the exterior. We painted our backyard shed the fall of 2009, but after 8 years out in the elements it was starting to look rough. So I paid to have it painted– the best $250 I've spent.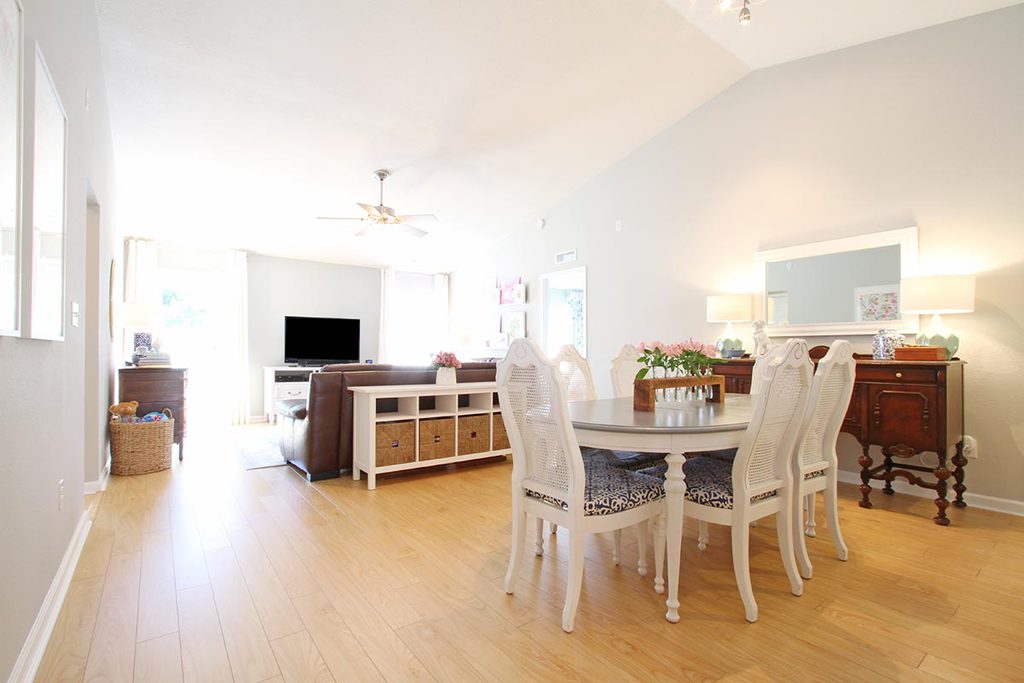 Get a Storage Unit
If your house is brimming with furniture you've collected over the years, or you get excited about your next house and started buy furniture for it, invest in a storage unit. We got one to store random pieces of furniture, like my sewing cabinet and treadmill, and some of Owen's bigger toys, like his basketball hoop and giant car play set. We also used the storage unit to store other random things like stuff we were hiding in the closets.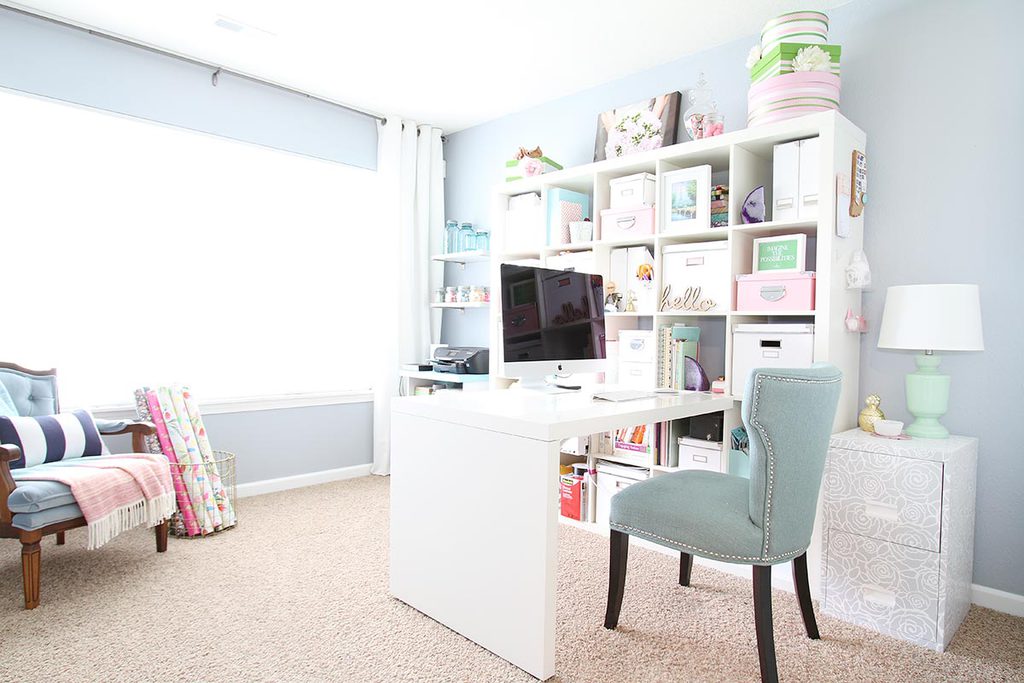 Leave On All the Lights
For showings, turn on every single lightbulb in your house– ceiling lights, lamps, bathroom vanity lights, hallway lights, porch lights. Seriously, your house should be glowing. We even left out a framed sign on our kitchen island that read: "Welcome! Please remove your shoes. Please leave all lights on."
Don't forget to open all of your drapes and blinds too. Unless you're trying to hide something, like your neighbor's unkempt yard.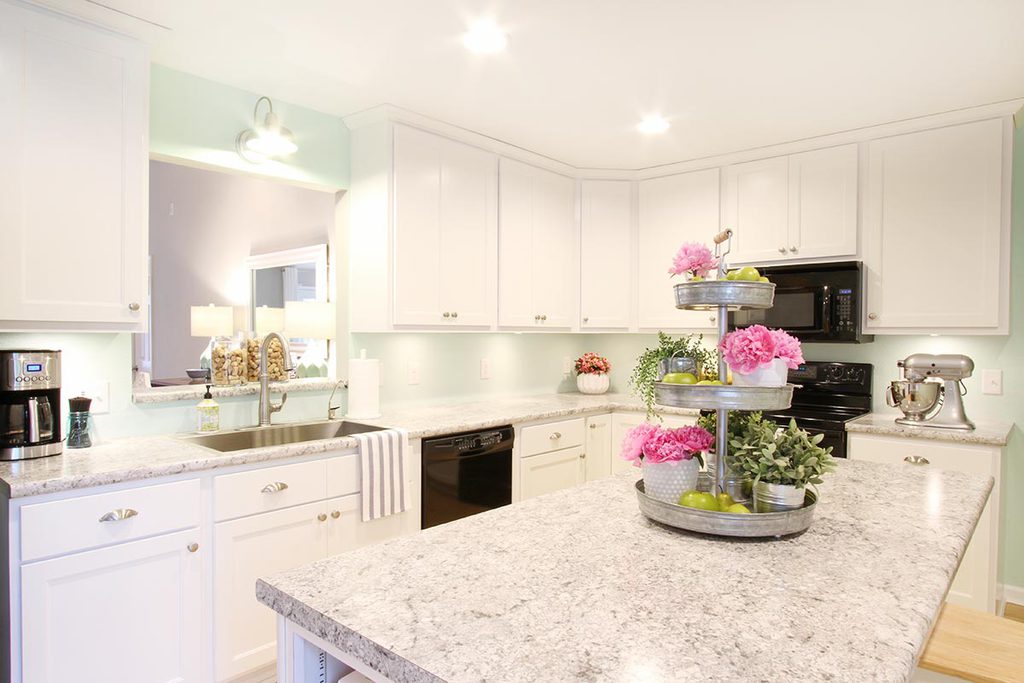 Don't Cook Food
Food smells can be really off-putting for people, so refrain from cooking in your house as much as possible. Plus, if you're like us, you don't have to have to constantly clean your electric stovetop. We did a lot of salads and sandwiches the 4-5 days we had showings. Or we got take out and ate outside on the back patio.
Pull Up the Bath Mats
Bathrooms look larger without bath mats on the floor, so either box them up or hide them in the washing machine during showings.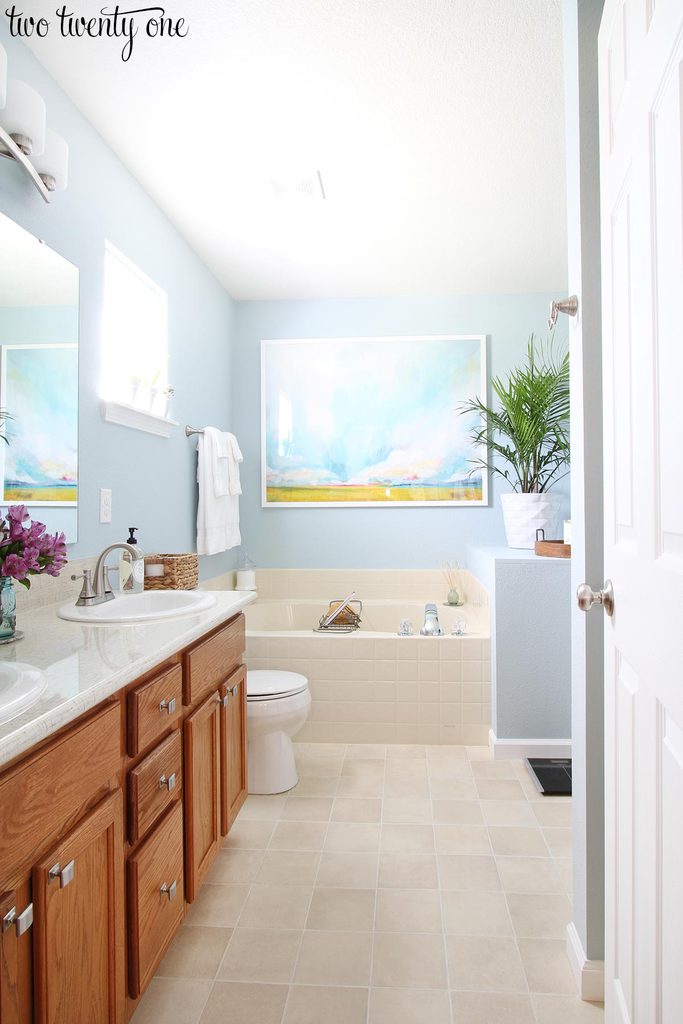 Send Your Dog on a Mini-Vacation
Our black puggle mix, Jack, sheds like crazy, and I didn't want to have to constantly sweep up his black hair. So we sent him away to Brad's parents' house 5 days before we listed the house, and then he came back after we accepted an offer. I can't tell you how much time I saved by not having to repeatedly vacuum up and lint roll all of his dog hair out-of-sight. Now I know this isn't possible for everyone, but if you can swing it, I highly recommend it.
Make the Beds
I know this is probably a no-brainer, but make the beds look nice.
Some of you may believe this, and some of you may not, but I'm not a fan of the bed-making art form. It took me a good 15-20 minutes to make our bed just how I wanted it for our first showing. And I'm so nutty that I didn't want have to do this every morning with Owen's "help" while Brad was at work, so Brad and I didn't sleep in our bed for almost a week. You read that correctly– I'm next-level crazy. The night after our first day of showings, I drove down to Walmart, purchased a $15 queen-size blow up mattress, and we slept in the middle of the living room. I told Brad it was like we were camping. He wasn't very amused. In the morning, I'd deflate the bed, fold it up, and toss it in one of the handy, blue IKEA bags with the fitted sheet and blanket. Then, I'd toss the bag in the back of my car. Believe it or not, this process was a lot less stressful than making our bed.
And since Owen likes to sleep with two pillows, four stuffed animals, a wooden garbage truck, and a couple small toy trucks, I'd grab all of that stuff, throw it in an IKEA bag, and then throw it in my car with the rest of the random bedding.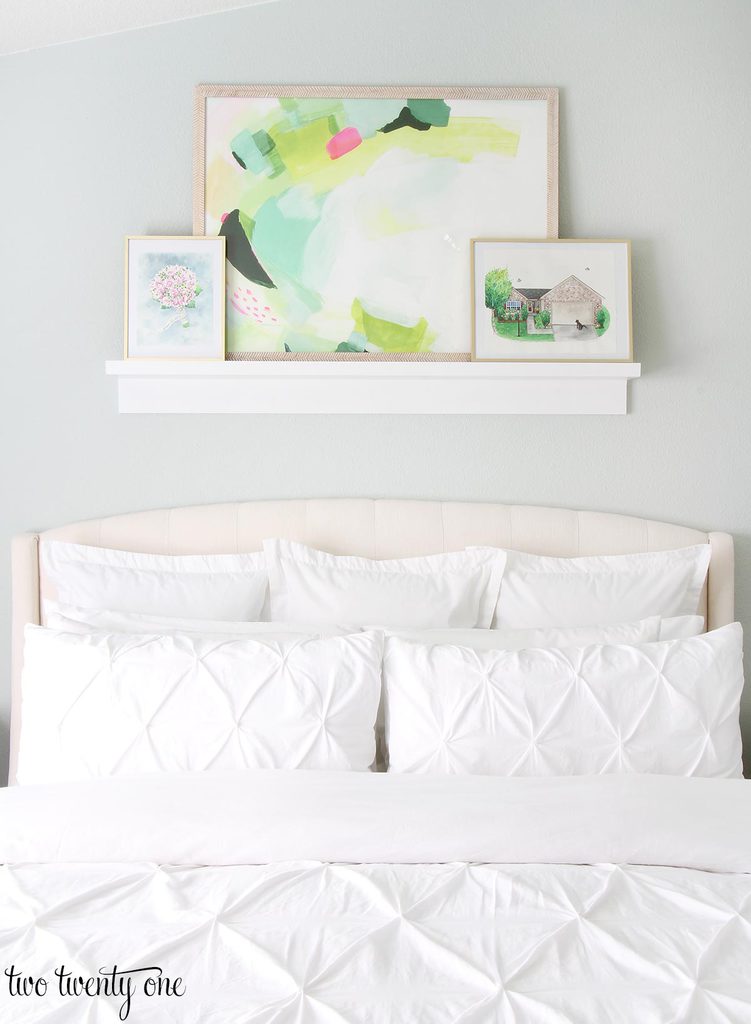 Laundry Baskets & IKEA Bags are Your Friends
All that random stuff you don't want to leave out for showings? Throw it in a laundry basket or IKEA blue bag, and then take it with you in your car.
Store Stuff In Your Car(s)
During the 4-5 days we showed the house, we stored things in Brad's car and my car. You may know Louie, Owen's giant Costco bear. Well, Louie sat in the driver's seat of Brad's car, which was parked in our garage, during weekend showings. (We wondered if anyone noticed him).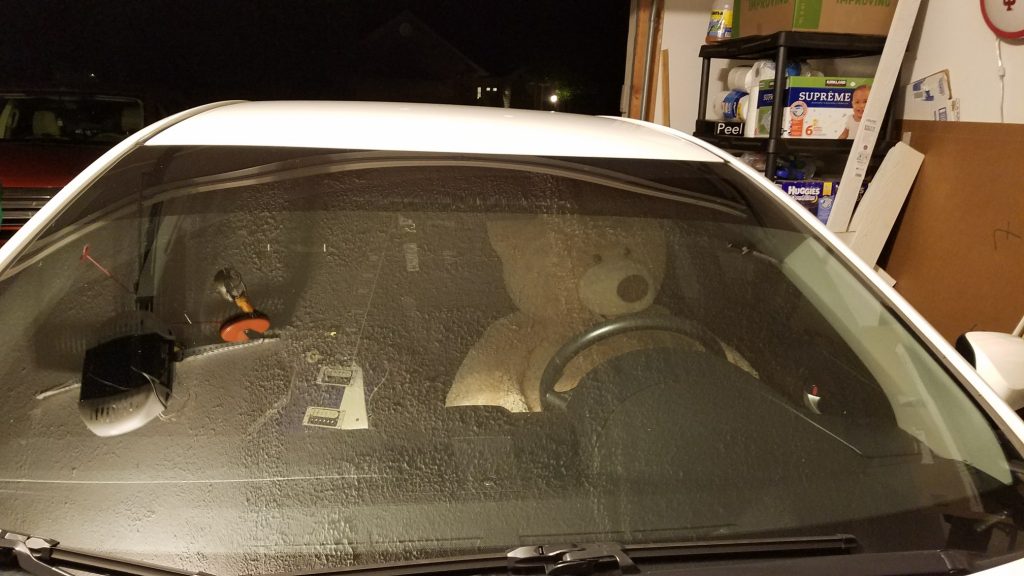 Shampoo Carpets
If it's been a while since you've shampooed your carpets, now is a great time to shampoo them again. Shampooing the carpets will remove odors and fluff up the carpet. If you're short on time, hire it out. If you have the time but don't have a carpet shampooer, ask a friend if you can borrow theirs (and repay them with dinner) or rent a shampooer from a store.
Flowers
This isn't necessary, but I think fresh flowers here and there is a nice touch. I like Alstroemeria because they last forever (1-2 weeks), they're scentless, and they're inexpensive (~$4 per bundle).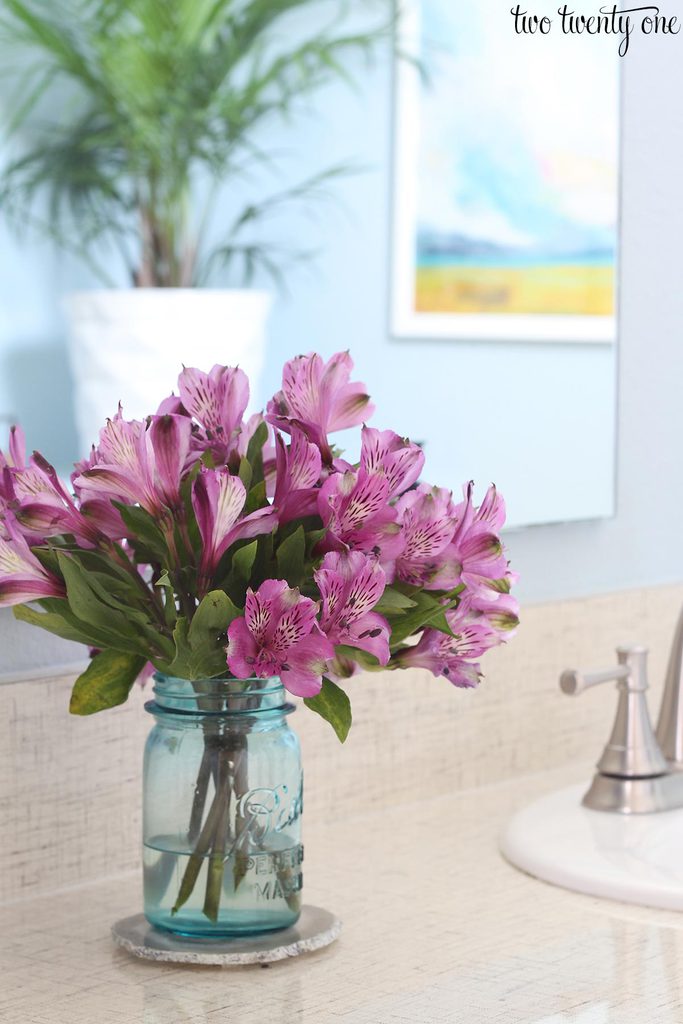 Listing Photos
Make sure your house is staged when the listing photos are taken. I had an advantage because I took our listing photos. So I could move piles of stuff from one room to another, whereas if your realtor or a real estate photographer take your listing photos you'll have to have the entire house photo-ready at the same time. Just keep in mind that photos are king. The listing photos are what bring potential buyers into your house. Because who wants to take time to go look at a house that looks less than ideal? So don't be afraid to ask your realtor to retake a photo. Or ask if you can take and edit the photos yourself.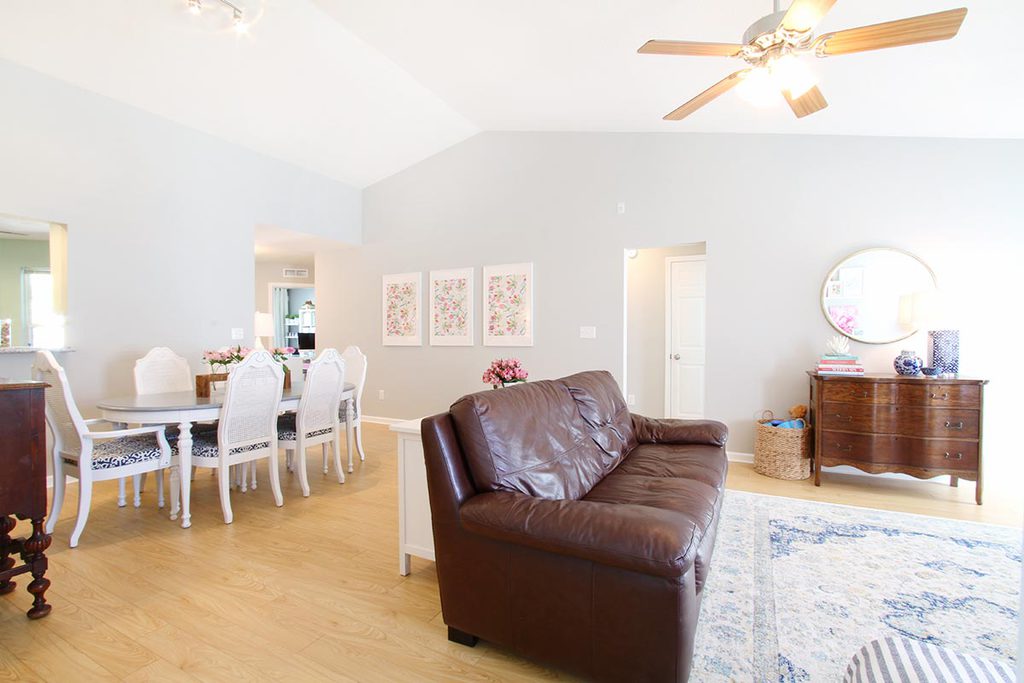 Don't Bake Cookies
Some realtors will tell you to bake cookies before showings. I was told by our realtor not to because then people wonder what smell you're trying to cover up. I did put a few reed diffusers around the house for a slight pleasant scent but it wasn't anything overpowering.
Have A Friend Walk Through Your House
I think we can become nose blind to how our house smells. Have a friend or family member, who will be completely honest with you, walk through your house and tell you if they smell anything funky. This is a must if you have pets. You may no longer be able to smell your cat's litter box, but others will definitely be able to smell it.
While your friend is there, ask them if they have any suggestions. They may suggest draping a blanket over a chair or de-cluttering a certain area that's a distraction.
Leave A Not-So-Subtle Message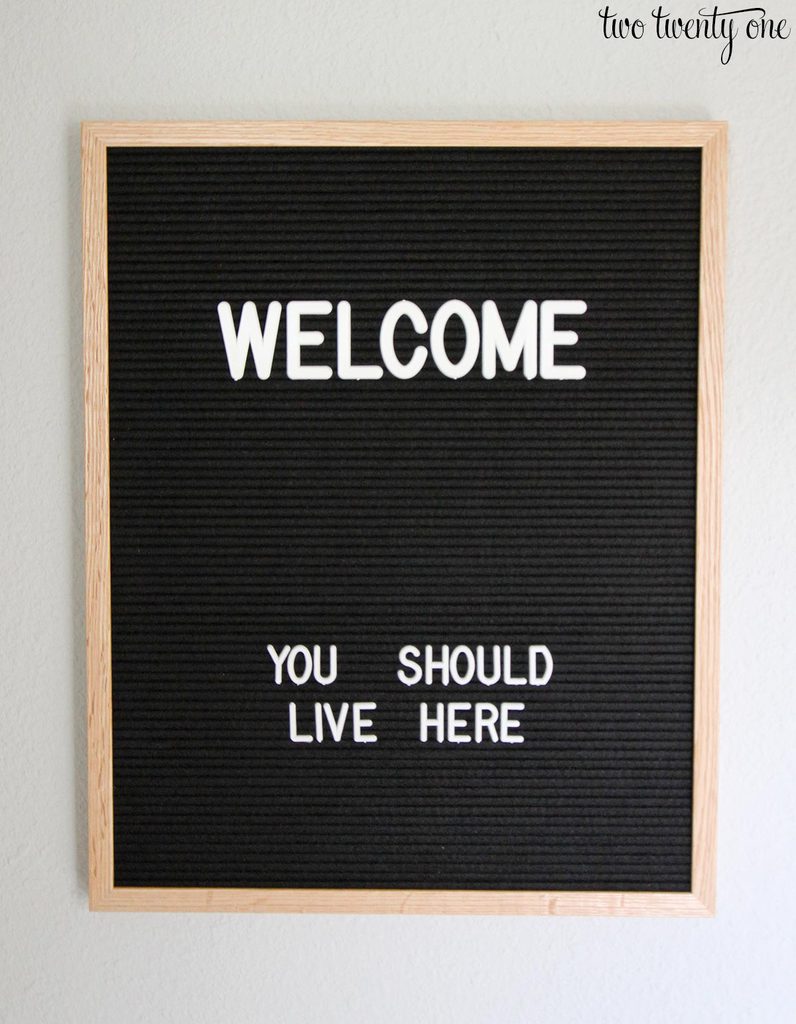 Other Home Staging Things I Did
Since all of our appliances except the washer and dryer were being sold with the house, I cleaned the oven and refrigerator. To get the grime off of the oven racks, I soaked them in our master bathroom garden tub with liquid dish soap and dry sheets. Yes, dryer sheets. I let the racks soak for a few hours in the tub with the soap and dryer sheets, and then I used the dryer sheets to scrub the racks clean.
I set out our home binder, which contained paint colors and all the updates we'd done to the house over the years. People LOVED this!
I'd polish our stainless steel kitchen sink after breakfast (before the first showing) and X it off with painters tape so we wouldn't accidentally use it. Then, I'd remove the tape before leaving the house.
I'd vacuum my way out of rooms as to not disturb the vacuum lines. If for some reason I'd have to enter a room after vacuuming it, I'd skate back out of the room in an attempt to blend my footprints into the carpet.
I hid things in our washer and dryer (they weren't included with the house so there was no reason why anyone should've been scoping them out anyway).
All dirty diapers went directly into the main garbage can in the garage, NOT the DiaperGenie in Owen's bedroom.
I cleaned our laminate wood floors on my hands and knees to make sure they were really clean.
I hid random things in pieces of furniture. There was no reason potential buyers should be looking in our furniture.
One Last Thing
Keep in mind that if you want a real look at how to stage a home, tour some model homes or parade of homes, which are professionally decorated and staged, and take photos.