Laundry Room Storage Ideas
This post is sponsored by Better Homes & Gardens at Walmart. All opinions are my own. 
Laundry rooms can be tricky when it comes to organization. So today I'm sharing some laundry room storage ideas to get the most out of your space.
This month Better Homes & Gardens at Walmart asked me to share some of their products that bring me joy. I had to go with their everyday organizational and functional living items. And to showcase those items, I chose to give our laundry room a little refresh.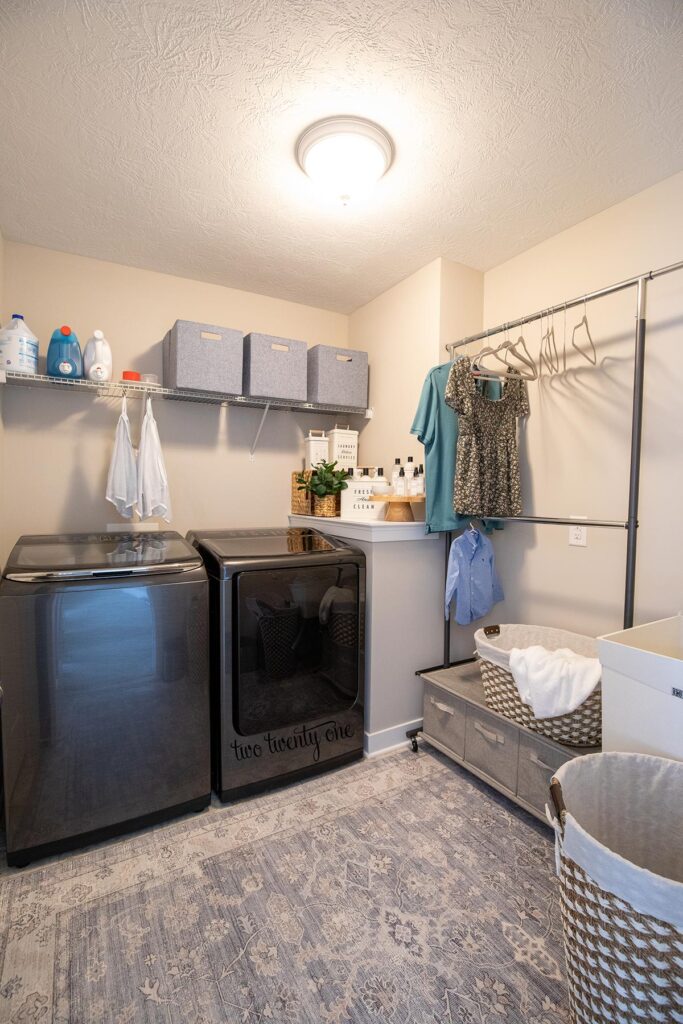 Garment Rack with Storage
We hang up a lot of our clothes to dry– Brad's work shirts, my tops that I don't want to risk shrinking, my bras, some of the kids' nicer shirts and sweaters. If space allows, I suggest getting a garment rack. This Better Homes & Gardens at Walmart garment rack has to hanging bars and storage on the bottom.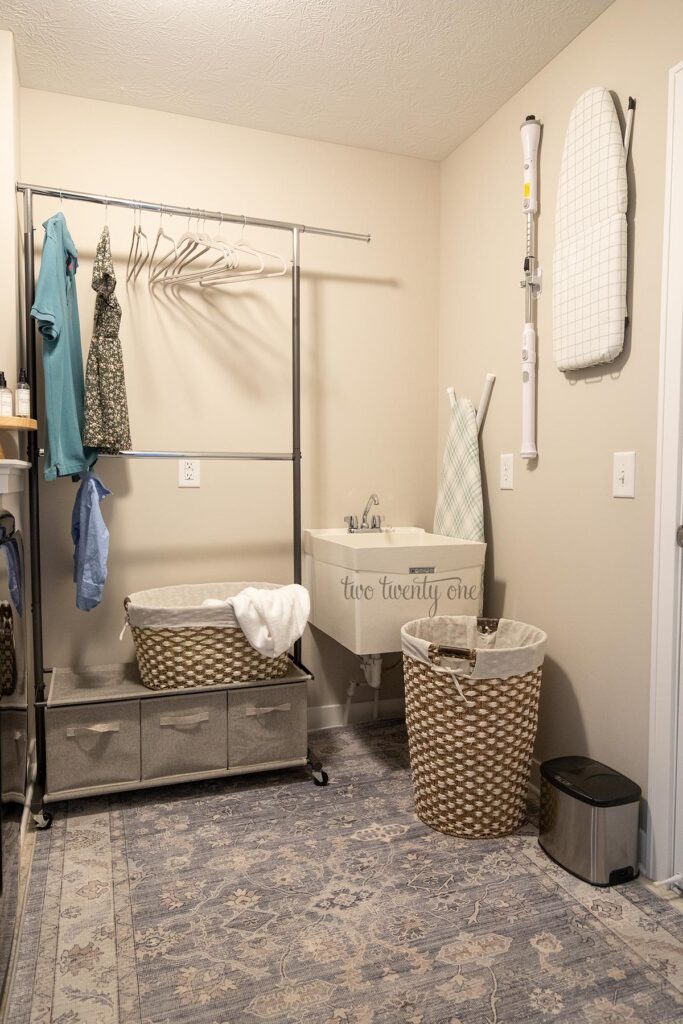 I'm able to hang things on the top and bottom bars.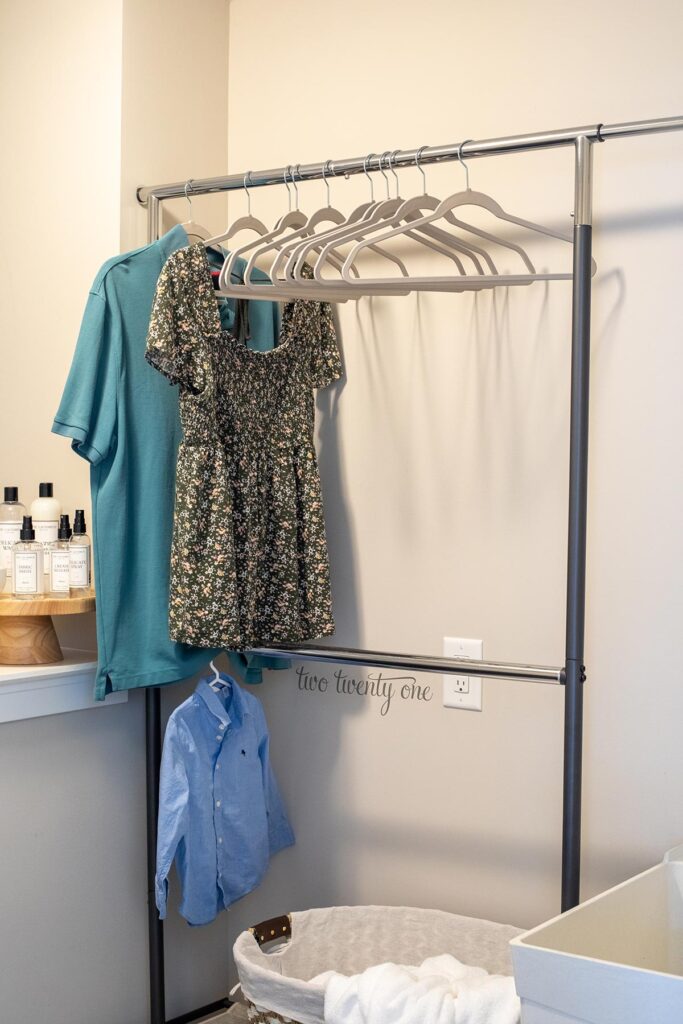 I keep a laundry basket for dirty bath towels on top of the built-in storage area.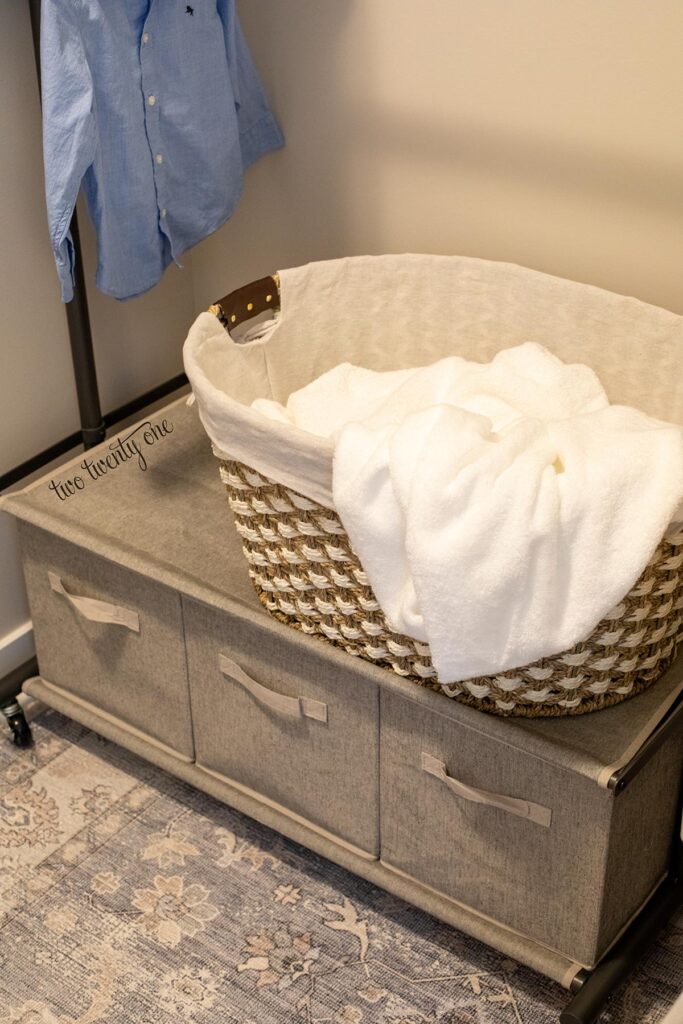 These drawers are so handy. I store our iron, steamer, and fabric shavers in the first drawer. Wool dryer balls, washing machine cleaner, and another cleaner are in the middle drawer. And the attachments and charger for my shower brush are kept in the third drawer.
Take Advantage of Vertical Space
I know everyone says this but it's true, take advantage of vertical space. I keep our full size ironing board with a new cover, between our utility sink and the wall. That way it's tucked out of the way. Our electric shower brush hangs on the wall and so does our smaller ironing board.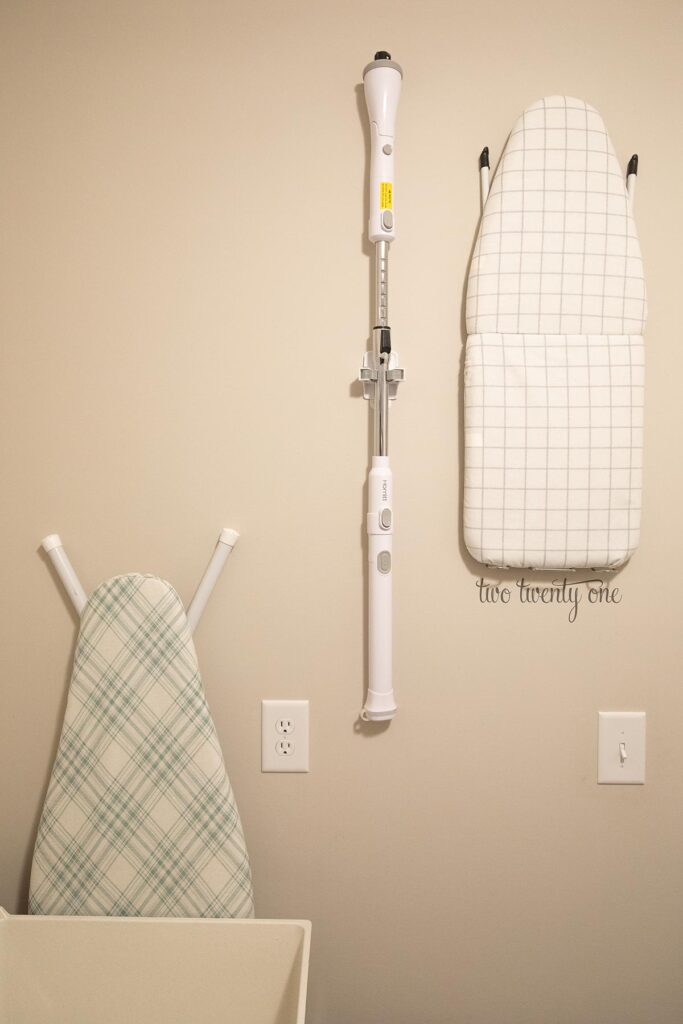 Bins On Shelves
To organize items and clear the visual clutter, use fabric storage cube bins or baskets on shelves. I keep cleaning rags, dusting supplies, and other cleaning supplies.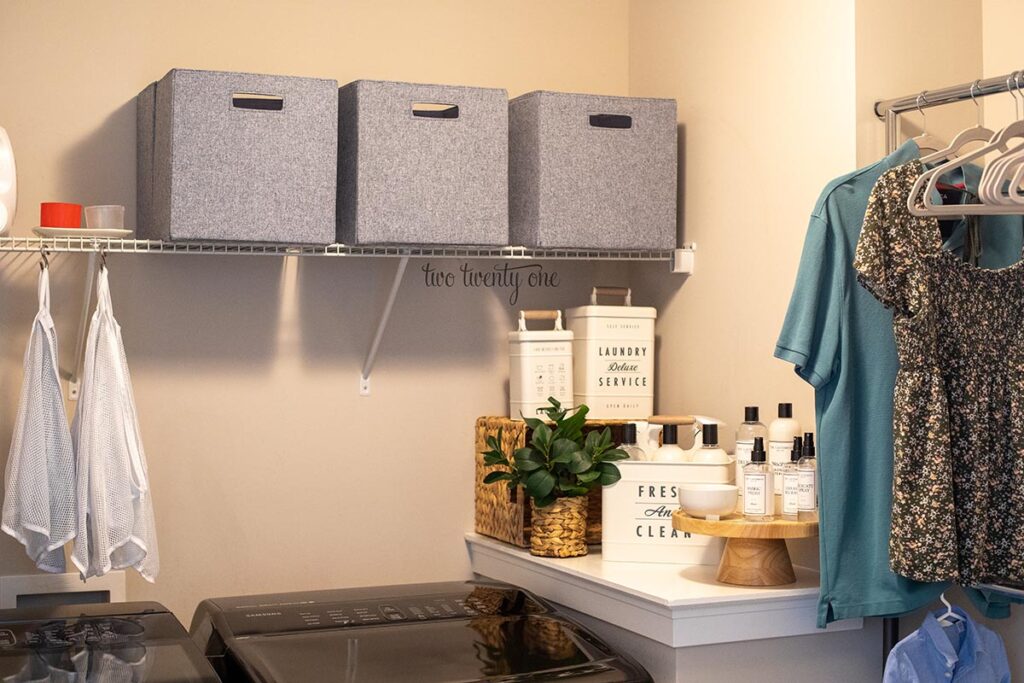 Hooks On Wire Shelves
We have a wire shelf in our laundry room, which isn't my favorite, but renovating the laundry room isn't at the top of my list right now. I like to take advantage of the wire shelf and use it to hang my mesh laundry bags. I wrote an entire post all about how I use mesh laundry bags.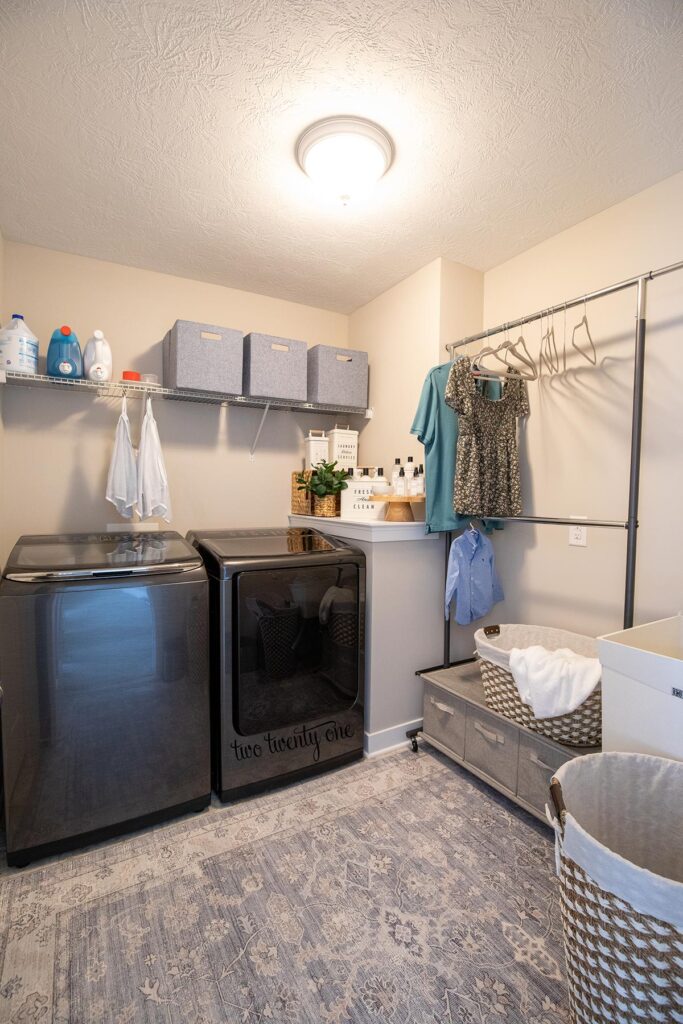 Baskets as Makeshift Shelves
Need extra storage area but don't want to add a shelf? Use a basket turned on its side. You can place things on top of the basket and in the basket.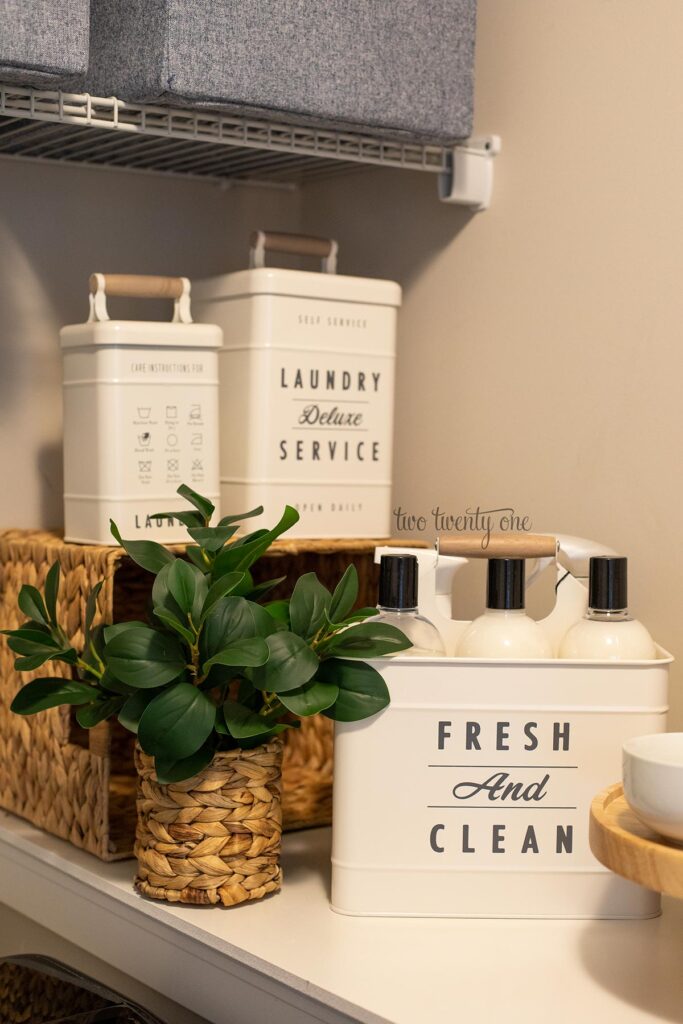 Utilize Trays and Stands
Trays and stands keep laundry items neat and tidy. They can also add pop of color or texture. I like how this rubber wood cake stand has a slight lip to it so things can't easily slide off.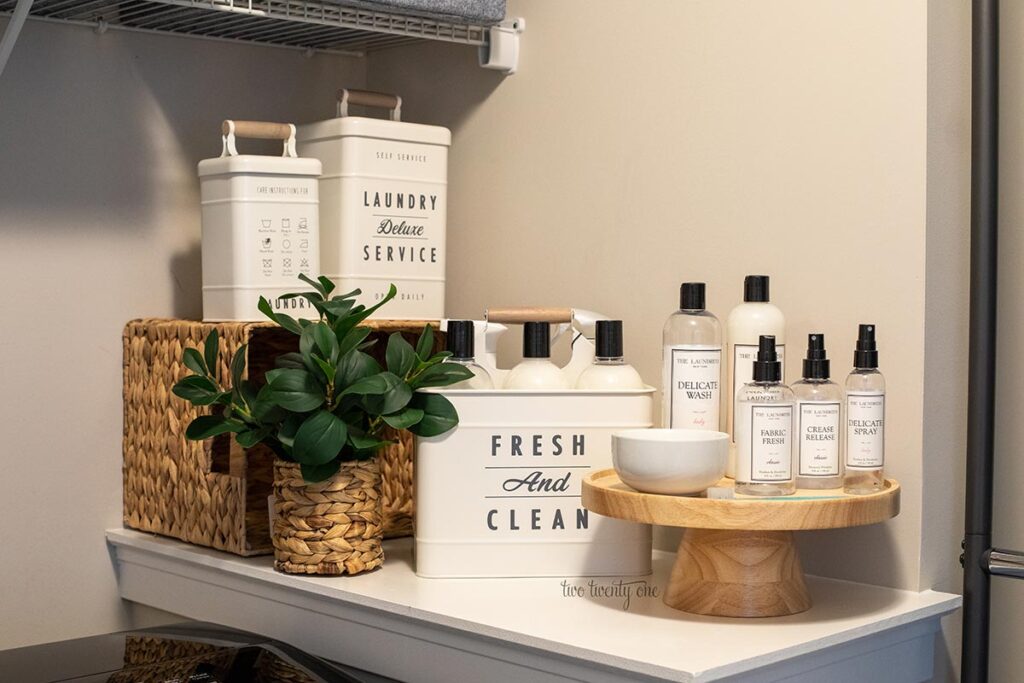 Laundry Room Source List

This post is sponsored by Better Homes & Gardens at Walmart. All opinions are my own.