Now that Emmett is five months old, I feel confident sharing my baby essentials. This list is a little different from the list I compiled for Owen because they're brothers, not clones. So what worked with one baby, didn't work for the other when it came to certain things. For example, Emmett never really cared for the Rock N Play, whereas Owen slept in that sucker all the time for the first 6 months of his life. Owen loved the Mamaroo, while Emmett hasn't been that big of a fan.
So, here are my 15 baby essentials.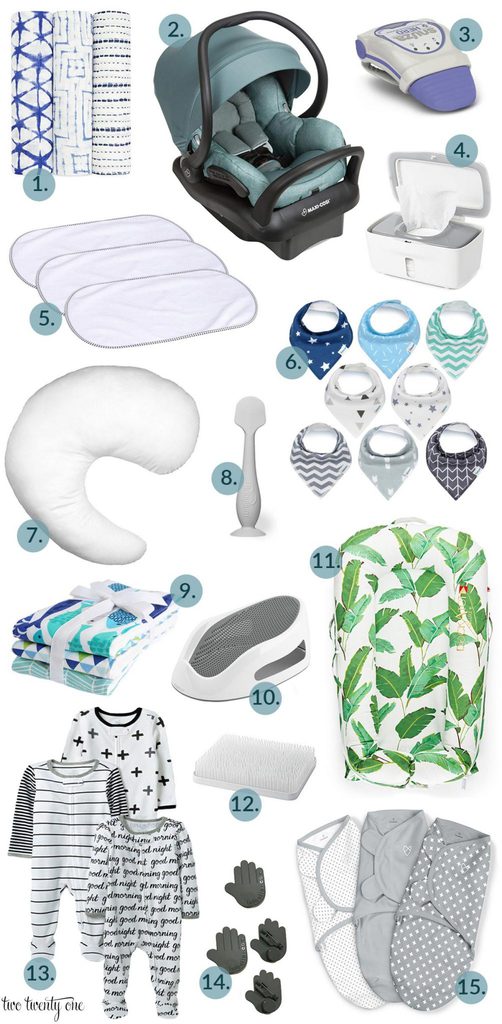 1. Bamboo Swaddle Blankets
We used these bamboo swaddle blankets with Owen, and we're reusing them with Emmett. I love how soft they are– softer than muslin.
2. Maxi-Cosi Mico Max 30
Owen used a Maxi-Cosi Mico AP, and we loved it. Maxi-Cosi was so sweet and sent us a Mico Max 30 for Emmett. The car seat is the lightest premium car seat in its class (8.9 pounds). And bonus! His exact car seat + base is currently on sale for $160!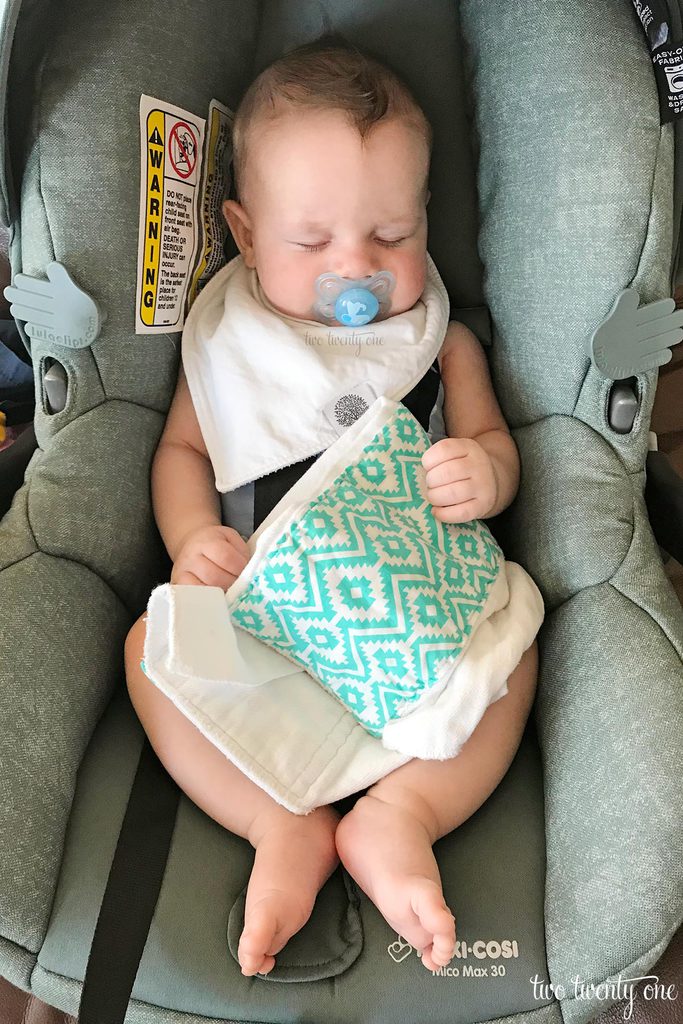 3. Movement Monitor
We used this movement monitor with Owen, and we're using it again with Emmett. All I had to do was buy a new battery. A few weeks after Owen was born, another blogger posted about how her infant daughter nearly died from a SIDS episode. Her experience, which she details here, shook me to my core and left me in tears. Around the same time, a friend of mine told me about this clip-on movement monitor, which is perfect because it can travel with the baby when going to visit family, or even to the babysitter's. We used the monitor up until Owen was around 6 months old, and we intend to use it until Emmett is 6+ months.
Here's how it works: You slide it onto baby's diaper and turn it on. If it doesn't detect abdominal movement (breathing) for 15 seconds, it vibrates in an attempt to rouse baby. If movement isn't detected within 5 seconds of the vibration, a loud, audible alarm sounds. Seriously, I love this thing.
4. Wipe Dispenser
I love this wipe dispenser. We've used it for both boys, but it's especially handy now that we rinse Emmett's baby wipes because he has a sensitive tush. The best rinsable wipes I've come across are Kirkland brand from Costco. It worked out perfectly because I already love those wipes. I tried different "sensitive" wipes and WaterWipes but none of those worked. To rinse them, I open up a package, grab a section of wipes, run them under the faucet, squeeze, rinse, squeeze, rinse, and then I plop them into the wipe dispenser.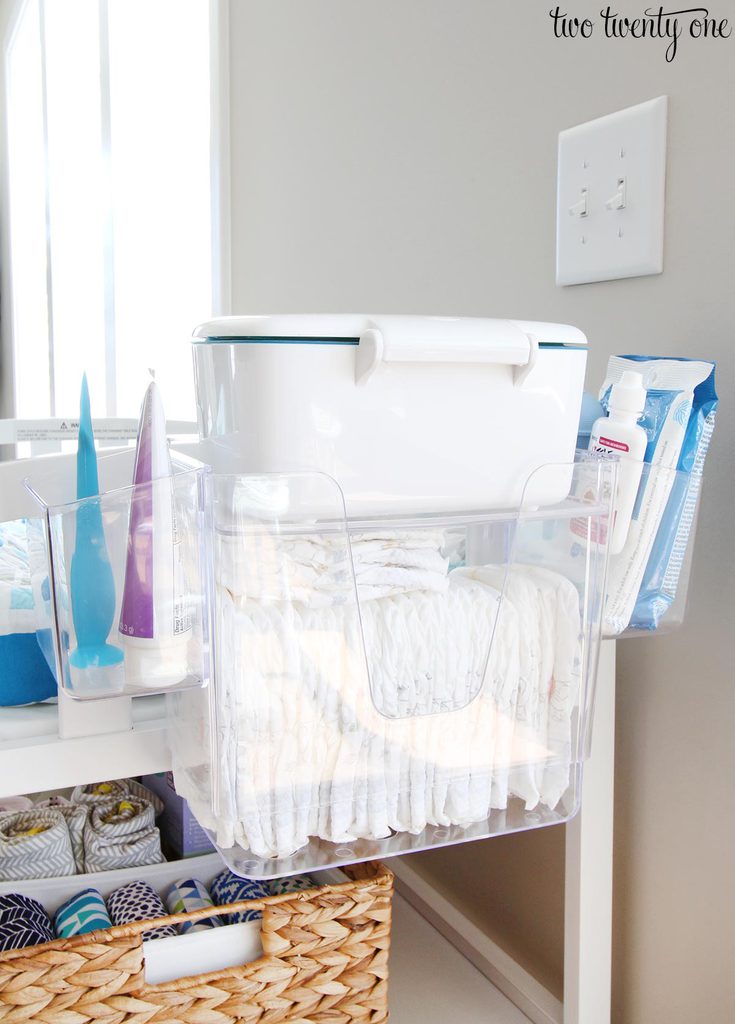 5. Changing Pad Liners
These changing pad liners are great because you can lay them on top of your pretty changing pad cover and you don't have to worry about getting poop on the pretty cover. I also keep one in the diaper bag to use on public restroom changing tables because I like the idea of being able to wash it, unlike the faux leather pad that came with our current diaper bag. I store the liner in a random zippered pouch I have.
6. Bibdanas
Emmett has reflux so he spits up often. As a result, we go through multiple bibdanas a day. Sometimes they catch his spit up, sometimes they don't, but they're still handy to have. They're also nice for drool.
7. Feeding Pillow
I'm not a Boppy girl. This is by far, my favorite pillow for feeding (breast or bottle) and holding baby.
8. Diaper Cream Applicator
Since Emmett has a sensitive bottom, we use a lot of diaper rash cream in this house. I love this applicator because I don't have to get diaper cream on my fingers. They even make a travel size that I keep in the diaper bag. And in case you're wondering, we use this diaper cream.
9. Burp Cloths
My mom makes these awesome burp cloths (here's the tutorial). I pick out the fabric and she sews them. They're great for burping and putting under baby so if he spits up it only gets on the burp cloth.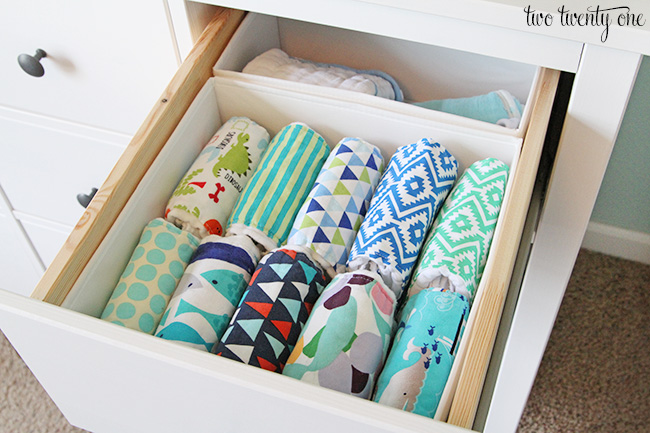 10. Baby Bath Tub
This tub is especially nice if you have two kids and want to bathe them together.
11. DockATot
Whenever I post a photo of Emmett in his DockATot on Instagram Stories, I always get messages asking what I think about it. We love it. We use it, as directed, for co-sleeping. We co-slept with Owen from 6 months to 12 months. We didn't intend on co-sleeping with Emmett so soon, but he didn't sleep well anywhere else. So he sleeps in the DockATot between our heads in our king-size bed. Brad and I use separate comforters so nothing is draped across him. And Emmett sleeps with this movement monitor for extra safety and peace of mind. He has slept really well in the DockATot– typically going for 7-9 hour stretches at night since he was around 10 weeks old (he did 3-6 hour stretches at night from birth to 10 weeks). I know co-sleeping isn't for everyone, and it can be a controversial topic. You know your family best, so do what feels right for you.
The DockATot can be used for supervised tummy time, resting, and playing (you can get the toy arch & toy set)– not just co-sleeping. We also have the travel bag, which has come in handy when we've traveled. We throw the DockATot and everything he needs for sleeping (swaddle, blanket, pajamas, etc.) in the bag. The bag obviously isn't necessary, but it's nice to have, especially if you travel often.
It washes well. I will say that putting the cover back on can be kind of a pain, but it needs to be tight because you don't want loose fabric on something your baby sleeps in.
I know it's an investment, so my honest advice is to buy the DockATot while it's currently on sale here or here and here (sale ends August 5th). And if doesn't work out for your baby, you can resell it without losing much money. Or, add it to your baby registry and someone can gift it to you.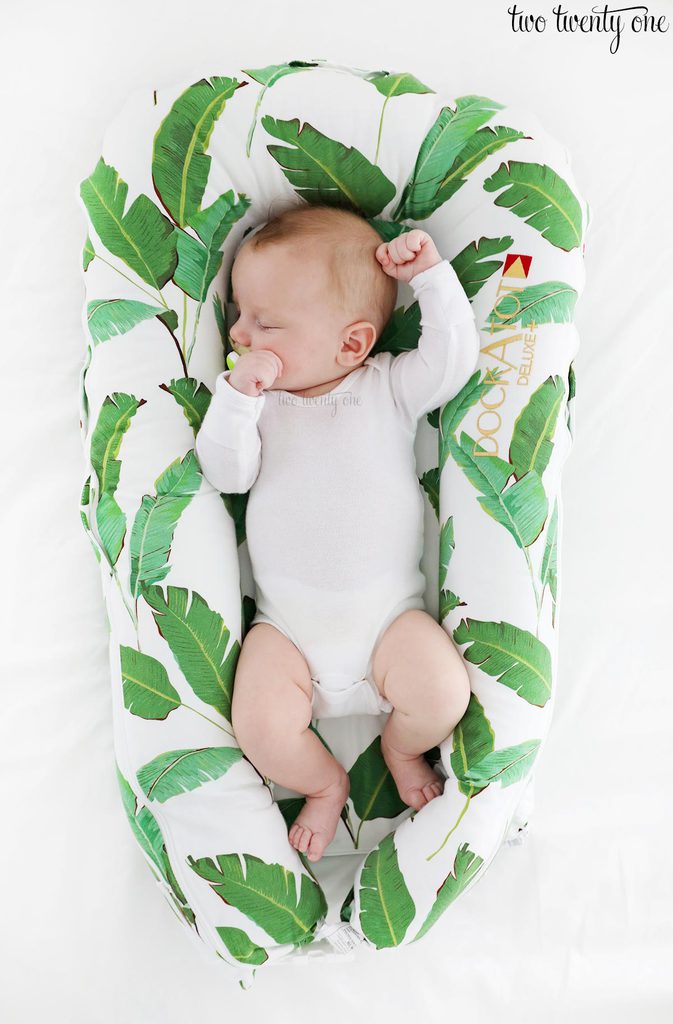 12. Drying Rack
I like this drying rack because it can hold a lot of stuff, especially when you get some of the cool accessories. I prefer the white because it blends in with our kitchen. This is another great drying rack if your countertop space is limited.
13. Sleepers
These are my favorite sleepers. I love how they zip from the feet up, which makes diaper changes much easier. And you can't beat the price for the set of three.
14. Car Seat Clips
It's really annoying when you're trying to get a sleeping baby into his car seat to pick up his older brother from preschool and the car seat straps are in the way. These handy little guys keep the straps out of the way.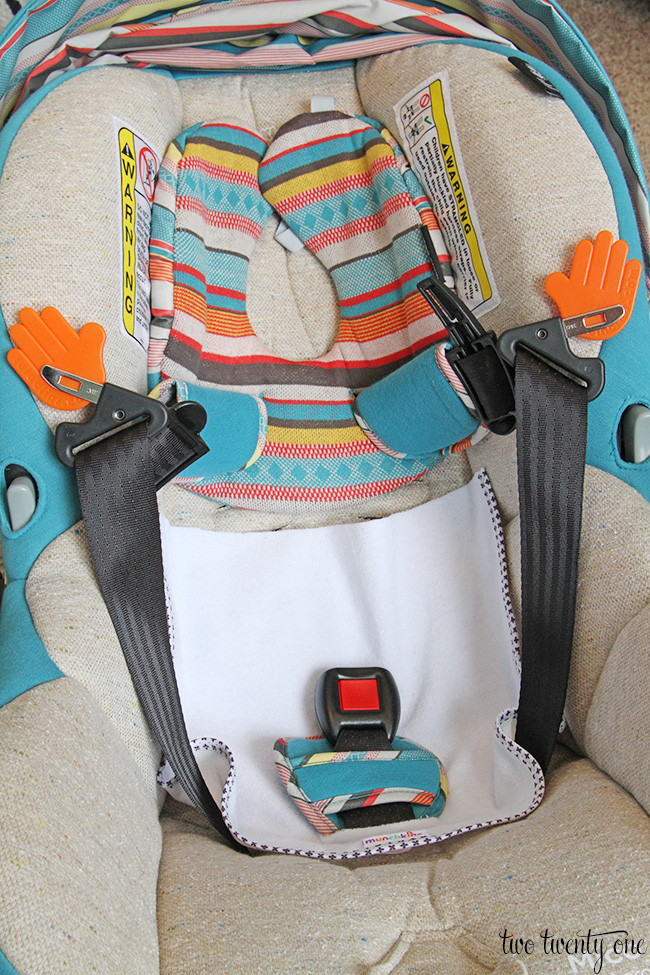 15. Swaddles
We used these swaddles with both boys, and loved them.