We've always spent a decent amount of time out on our back patio in the fall. Last year we didn't get to as much because Owen was only a couple months old, and I never wanted him to get too chilly. But now that he's nearly 14 months and walking we're outside a lot. And I will say, having a fenced in yard with a little one is definitely a plus.
Since we're in the backyard a lot, I thought I'd add some fall decorations.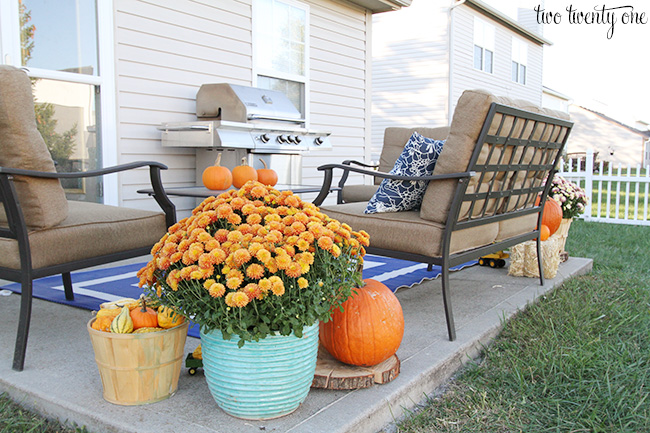 We added the patio furniture and outdoor rug back in the spring of 2014. We really like it, the only somewhat annoying part is bringing the cushions in when it's supposed to rain. We're still trying to figure out a storage solution instead of stacking the cushions and pillows in our dining room area.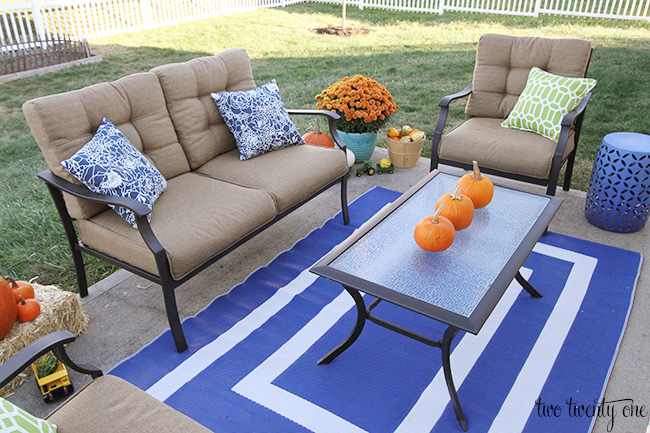 In one corner, I planted a mum in one of my planters that I always keep on the patio.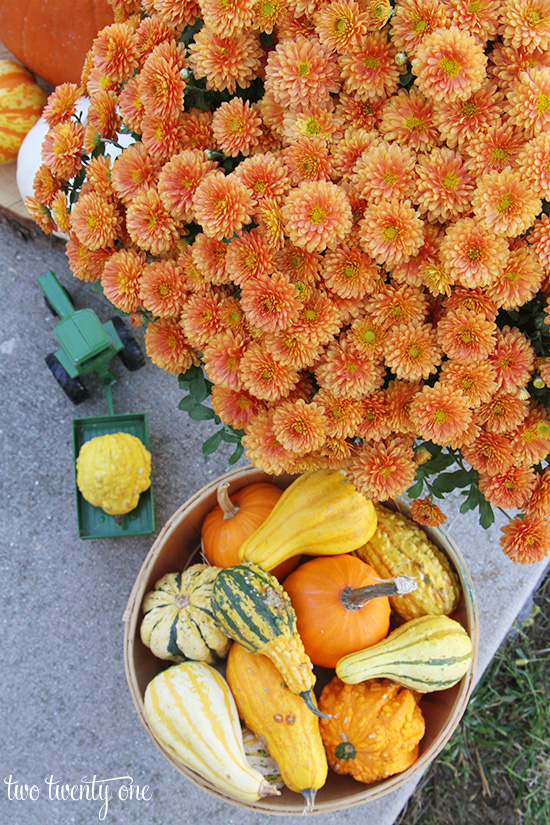 I grabbed one of my apple baskets and filled it with gourds. Well, after I did my clear, plastic food storage container trick.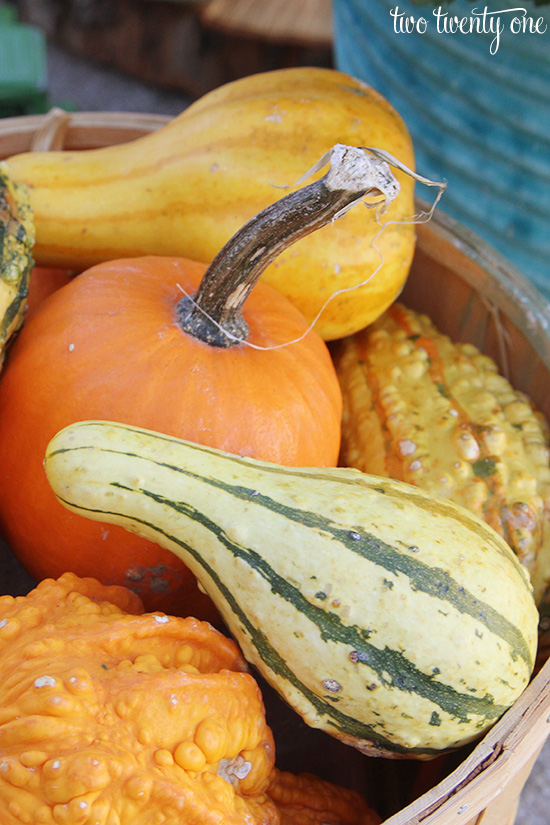 I have a few wood slices that I keep in our shed, so I brought one out and added some pumpkins and a gourd.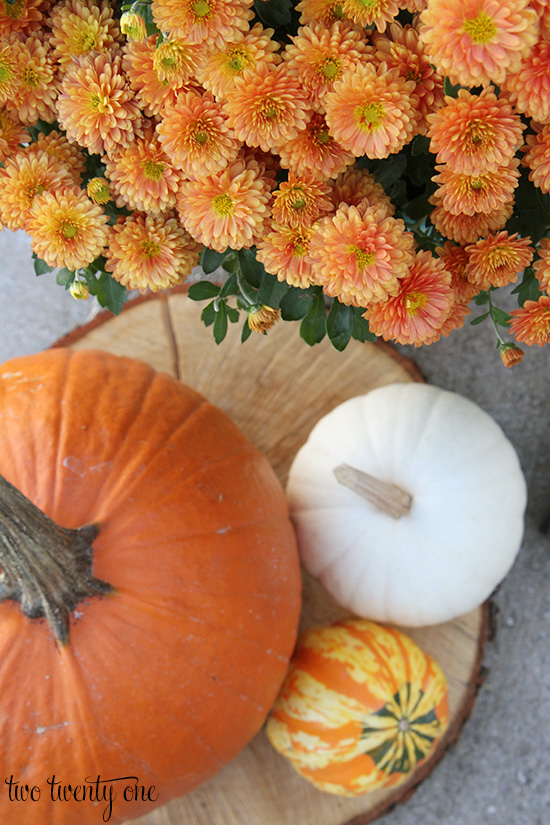 And since Owen loves to play with anything with wheels, I worked some of his hand-me-down vehicles, that used to be Brad's when he was little, into the decor.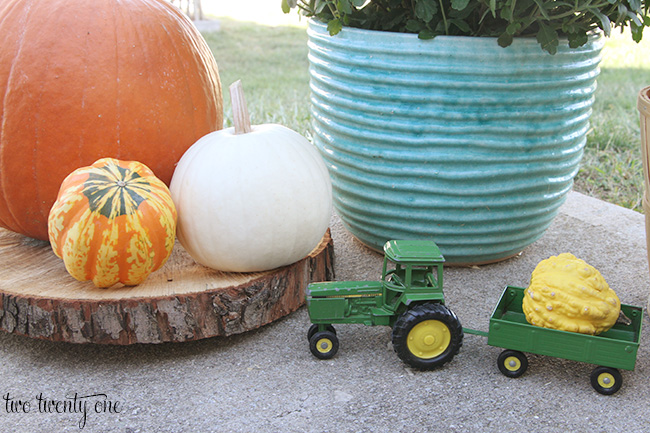 You can keep your pumpkin spice lattes. I'll take all the mums.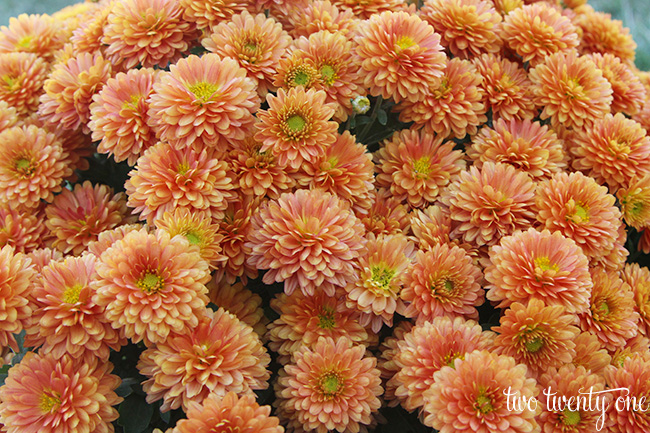 Don't worry, we move the grill away from our house when we use it. You wouldn't believe how many comments I get on our back patio makeover about our grill being too close to the house. In case you don't know, a hot grill will melt vinyl siding.
Unfortunately, our new neighbors (first time homeowners) didn't know that, and they now have warped siding on the back of their house where their grill is. So remember that, friends– move your grill a few feet away from any structures.
Aren't these mums gorgeous?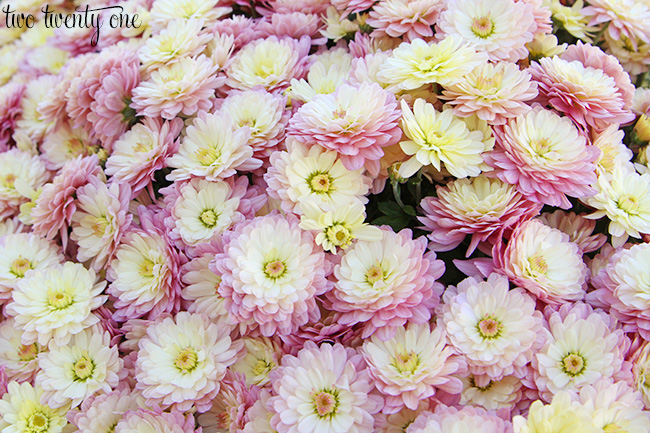 As you can see, more of Brad's Owen's toys worked their way into the decor.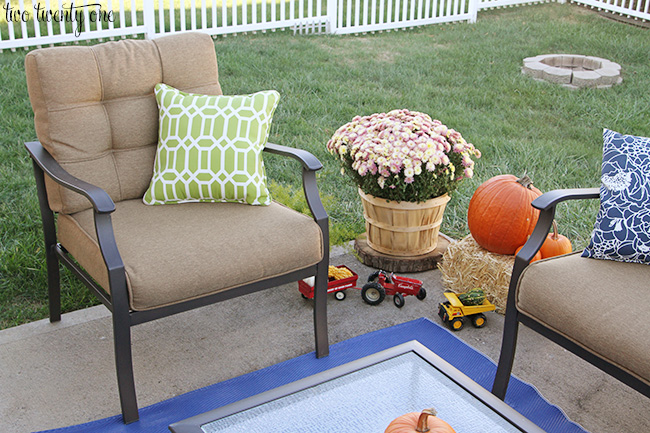 We plan on carving the big pumpkins with Owen this week. Don't worry, we won't give him our sharpest knife.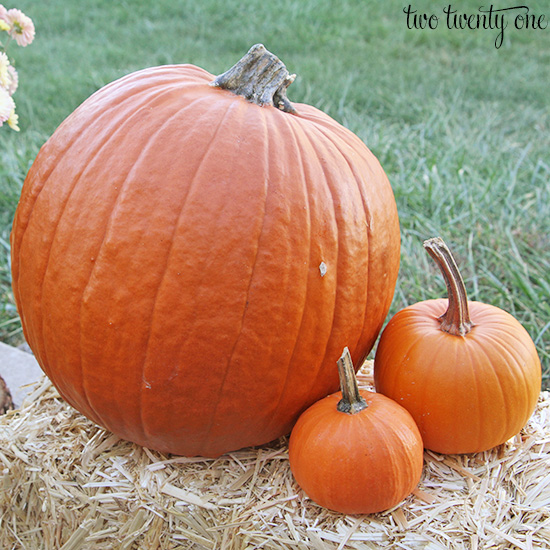 I've decided that buying the small bay of straw was a mistake.
Shortly after taking these photos, Owen discovered that he can pull the straw out and sprinkle it all over the patio. But I guess it could be worse.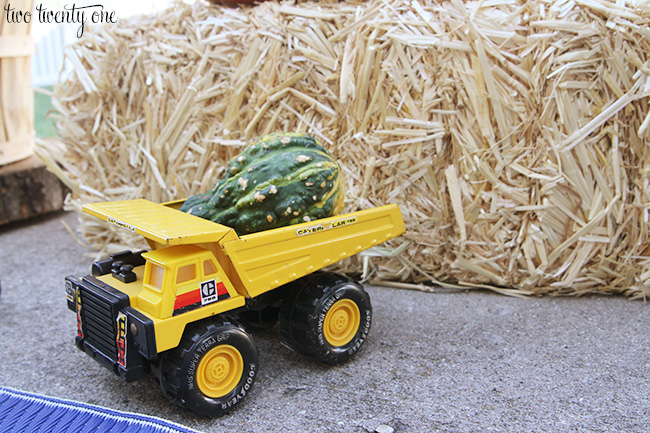 He also didn't think that the gourds required transportation, so he promptly removed them from all the tractors and dump truck.
As you can see, I went all out on the centerpiece for the table– three pie pumpkins.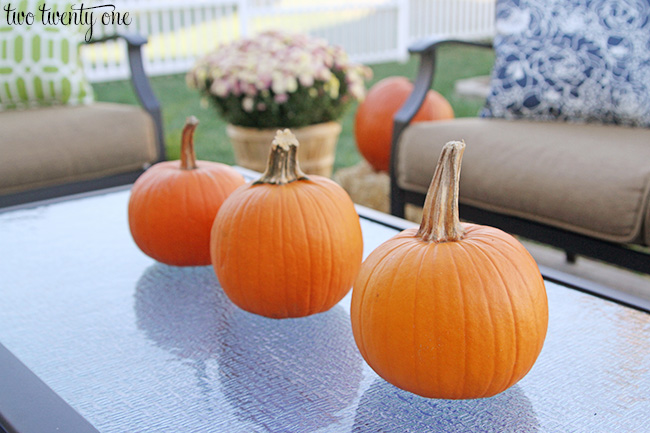 We're looking forward to spending more fall evenings out on the patio before it gets too chilly in the evening. And before it gets dark at 5PM. The shorter days are my least favorite part about winter. If it's going to be cold it might as well be light outside until 9PM. Who's with me?