This post is brought to you by Lowe's. As always, opinions are 100% my own.
We've been spending the past couple weeks getting our yard ready for summer.
Brad and I have our different outdoor departments. I take care of the flowers, trees, and shrubbery. Brad is in charge of the lawn. And both of us tend to the garden, although Brad is much better at pulling garden weeds than me.
Brad has been trying to whip our lawn into shape for years. It's been difficult because our neighbors upwind from us don't really care about their lawns so their weeds tend to invade our yard. But we're fighting back this year with Sta-Green Weed and Feed lawn fertilizer, which kills over 250 weeds. I'll be posting throughout the next few weeks to show you guys the change.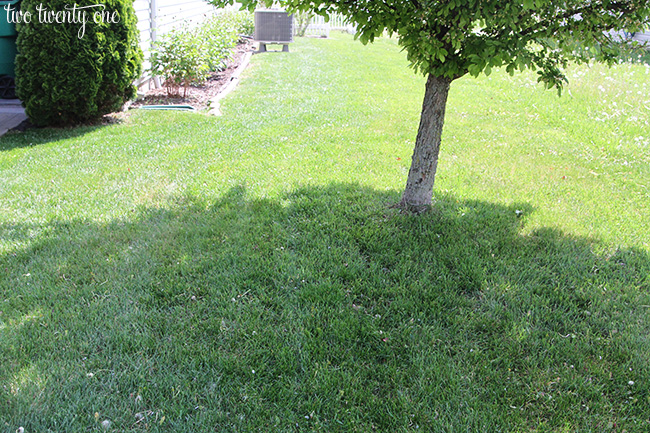 Every spring I plant flowers in our flower planters. Yesterday, I tackled our back patio planters.
I used Sta-Green potting mix plus fertilizer because it will feed up to 9 months, which will last well into fall.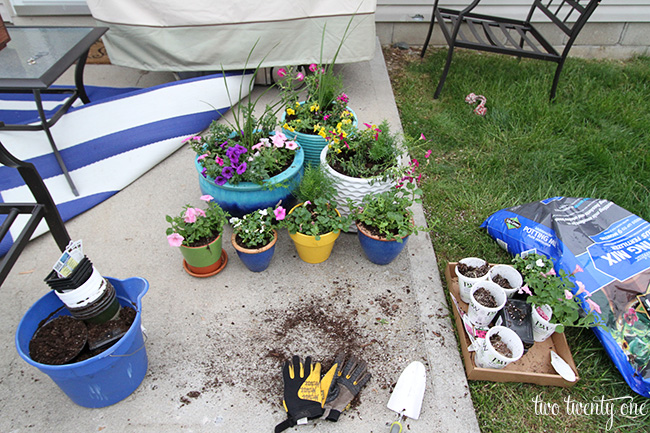 I don't follow a set formula when it comes to assembling the flower planters. Choosing flowers and greenery that can withstand full sun is my only criteria.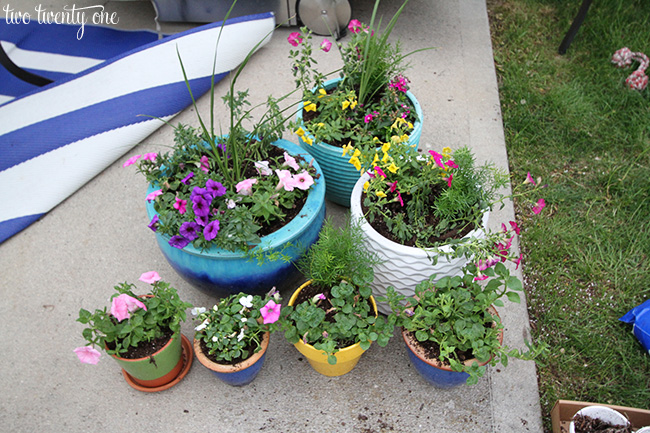 I really like using spikes (Dracaena) in the middle of my larger flower pots because they give the arrangements a little more height and visual interest. Just think of them as greenery fountains.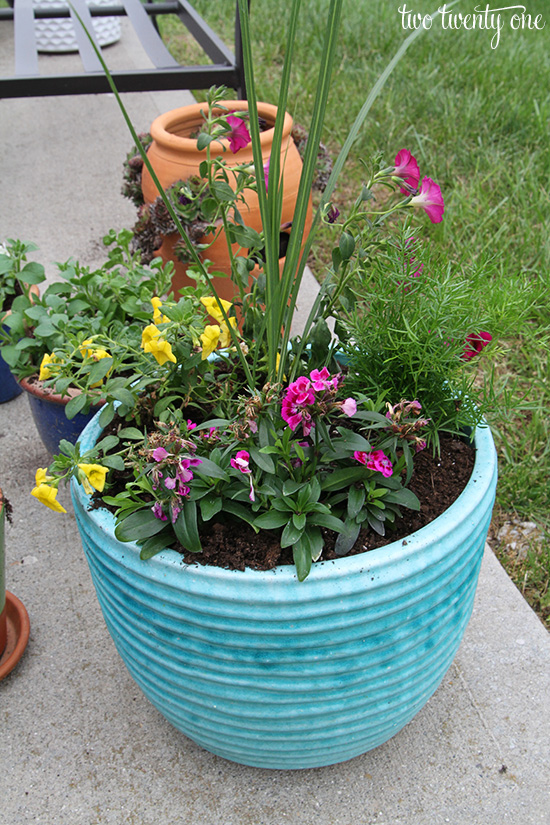 Petunias are one of my favorites because they mound and trail out of the planters. I also like Million Bells (Calibrachoa) for the same reason.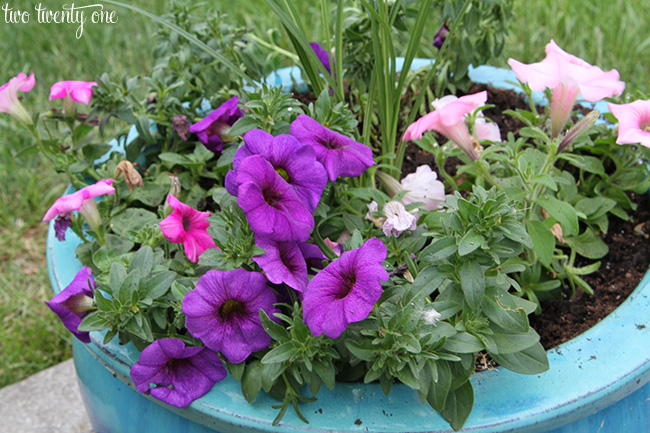 We also tackled our vegetable garden this week.
As you can see, the garden soil was looking a little rough, so Brad added a bag of Sta-Green Flower and Vegetable Garden soil, a bag of Sta-Green potting soil, a little compost, and tilled everything together.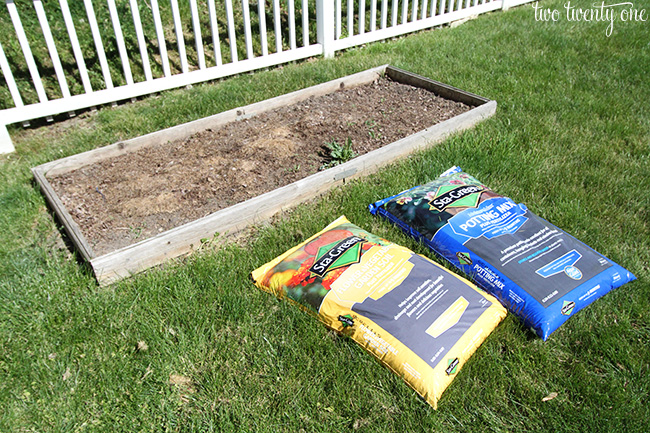 Like last year, we're only planting three types of tomatoes (cherry, roma, sun sugar) and two varieties of lettuce (romaine and butter). We've tried cucumbers and peppers and it just doesn't go well– probably because the garden gets full sun from basically sunrise to sunset.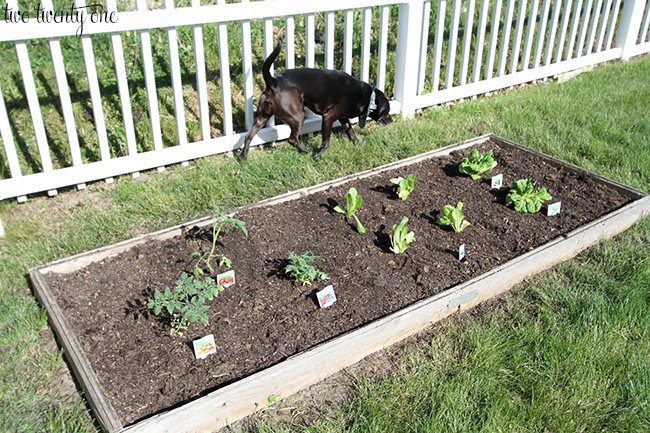 We finished off the garden by putting up the garden fencing I made a couple years ago to keep the rabbits out. Not gonna lie, the fencing hasn't aged gracefully. But I guess getting full sun for a couple years will do that.
In case you're wondering, the buckets with the bottoms cut out are for keeping the wind from knocking the tomato plants down. Once the plants are tall enough, we stake them.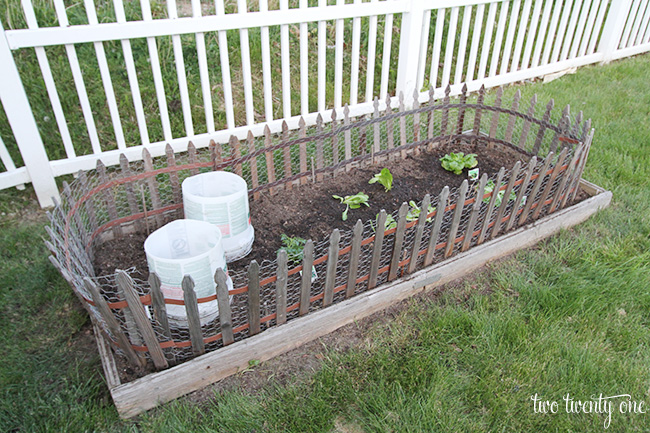 I put together a thrilling GoPro video (did you know they make an affordable version?) compilation for your viewing pleasure. I wore the GoPro on my head to film myself potting some of the flowers. I'm sure our neighbors think I'm a wackadoodle, but it was fun to create and watch.
This post is brought to you by Lowe's. As always, opinions are 100% my own. This post contains affiliate links.