Outdoor Potting Bench and Console Table
This post is sponsored by Better Homes & Gardens at Walmart. All opinions are my own.
An outdoor console table that can double as an outdoor potting bench? Sign me up! I recently came across this Better Homes & Gardens table that I can use to pot flowers and succulents. And the table can function as an extra table for outdoor gatherings– think food and drink station.

Outdoor Potting Bench
With it being springtime, I currently have the table set up as a potting bench. I'm using the top shelf to do my planting.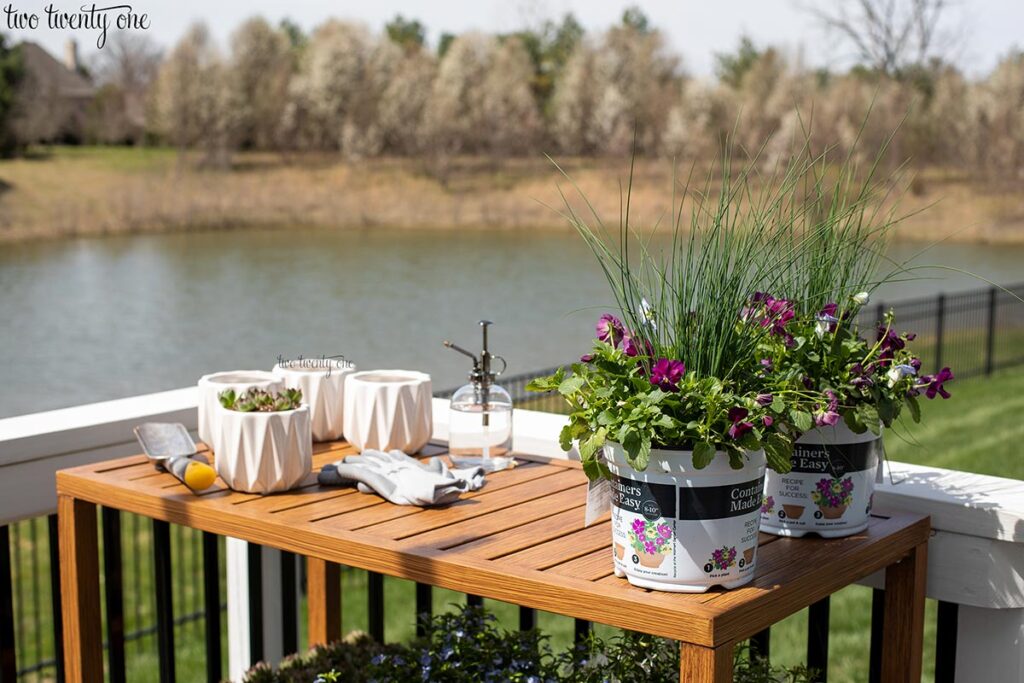 For end-of-the-year teacher gifts, I like to give small planters of hens and chicks (along with gift cards). I try to get them planted a month or so before the end of the school year so the hens and chicks have time to root and fill out a little. This year I'm using these small, white ceramic pots.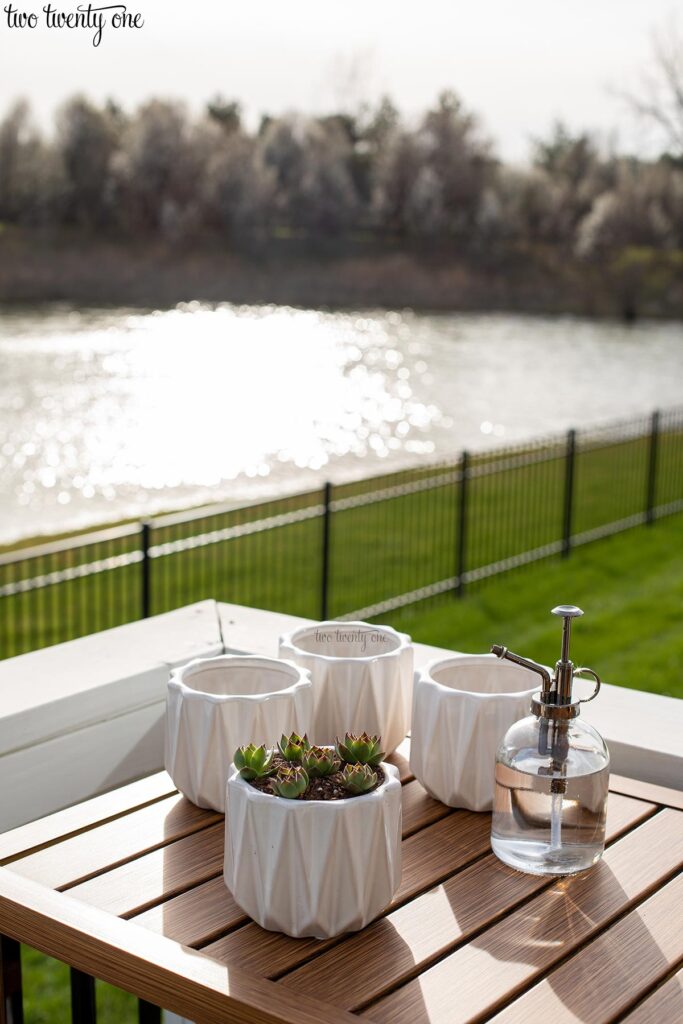 The middle shelf of the potting bench is where I've been storing plants. I have a tray of hens and chicks and two trays of flowers I'm using in the planters on our front porch.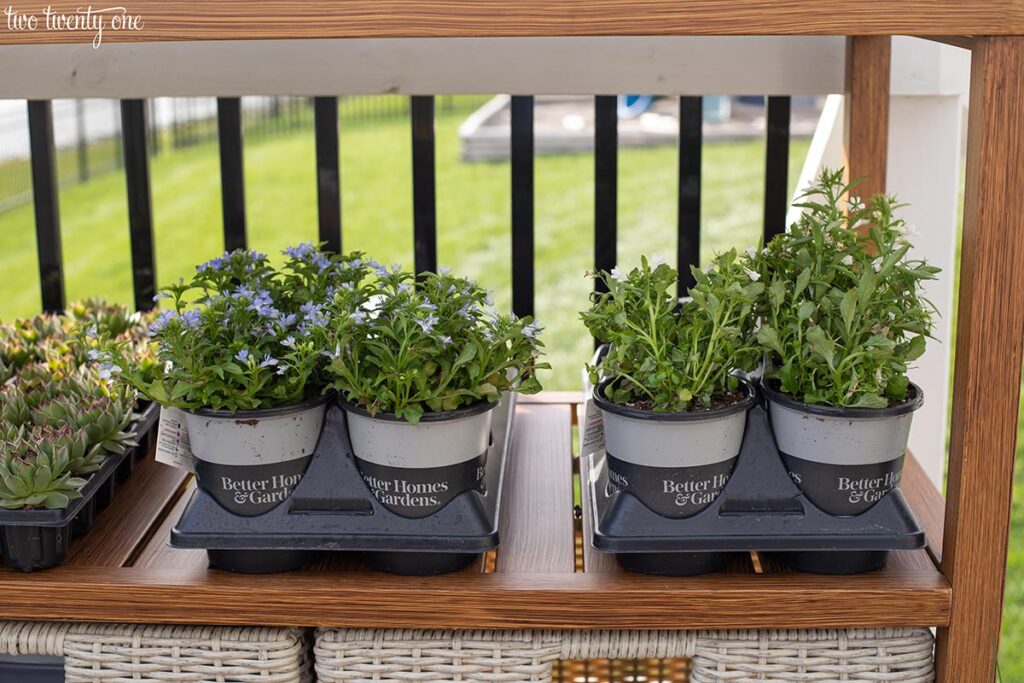 The table comes with two baskets on the bottom shelf which is really handy. I'm using one basket to store all of my utensils. The other basket contains my potting mix storage bin. I use this potting mix in smaller planters. When I'm not using the potting mix, I put the lid on so it stays dry. It works out perfectly!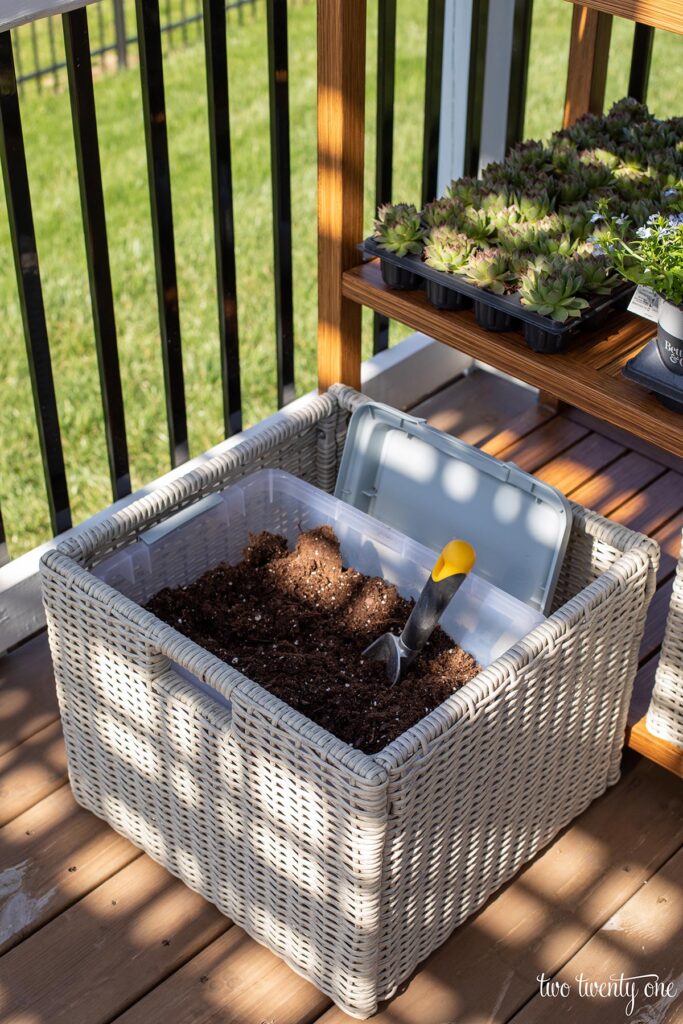 I love how the table fits perfectly in this little area of our deck. The view while planting is pretty nice.
Spring Planters
I created this spring planter using a Better Homes & Gardens at Walmart Containers Made Easy container in the center. The container has pansies, which I surrounded with Lobelia. My plan is to remove the center flowers and greenery when it gets warmer. I'll replace them with flowers that are more suited for summer temperatures. The Lobelia will do great in summer and start trailing out of the planter.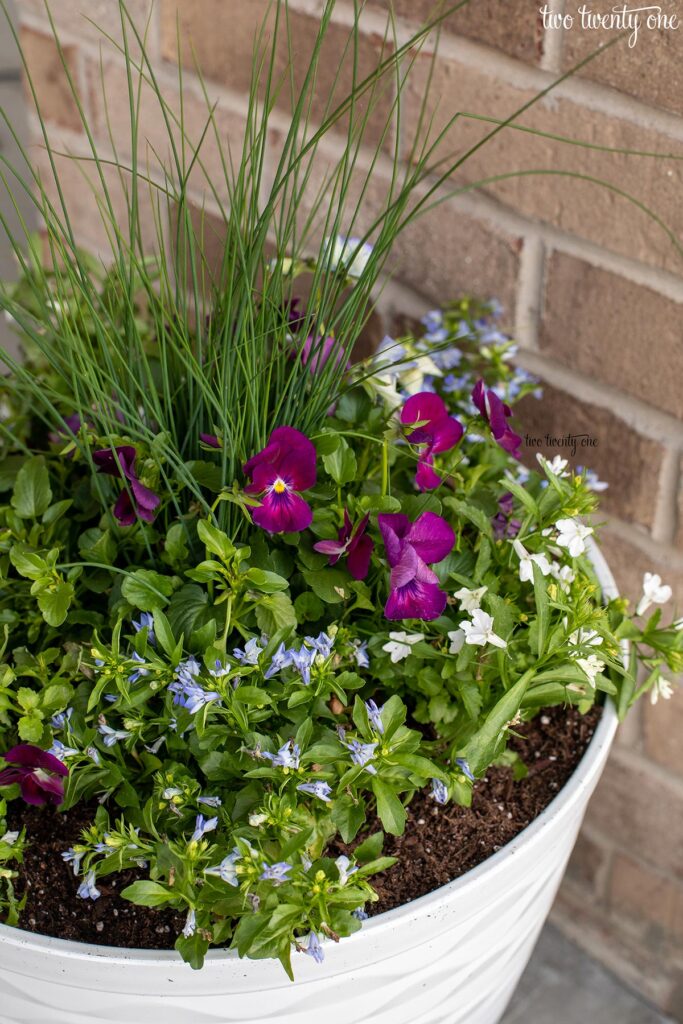 Spring Front Porch
I put together two identical white planters to flank the front door. These black and glass outdoor lanterns caught my eye because I love some outdoor accent lighting. So I grabbed four in two different sizes to set on the front porch steps.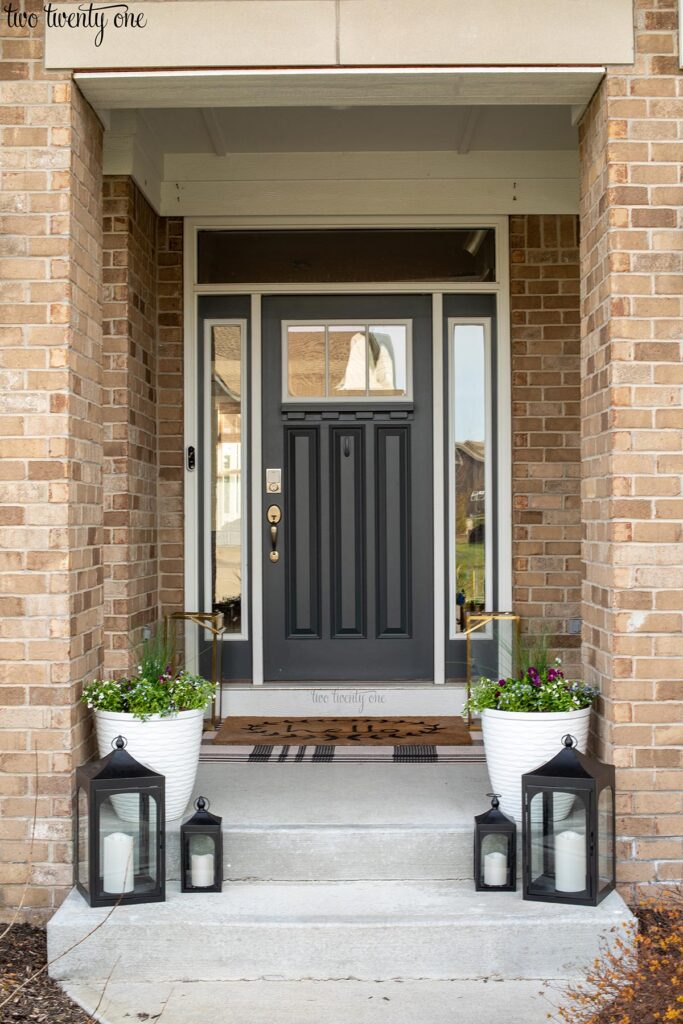 The lanterns come with battery-operated candles that have timers so you can set it and forget it.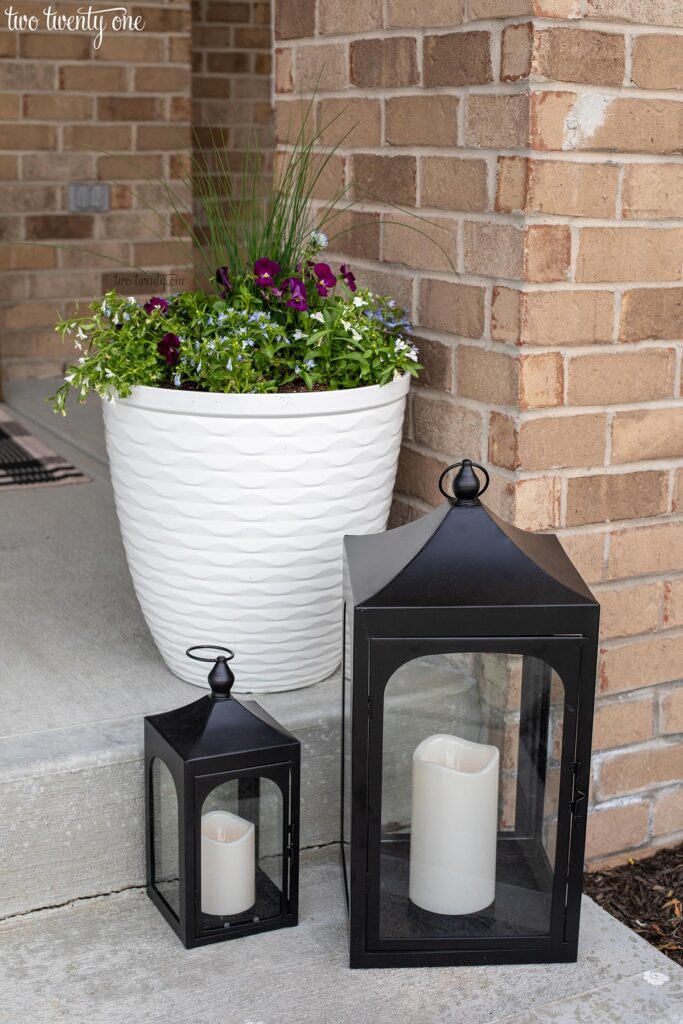 Tabletop Torches
I also added these tabletop torches to our deck dining table. They provide ambient lighting for the table and deter bugs because I filled them with citronella oil. The black inserts can be removed and the lid unscrews so the vessel can be filled with oil.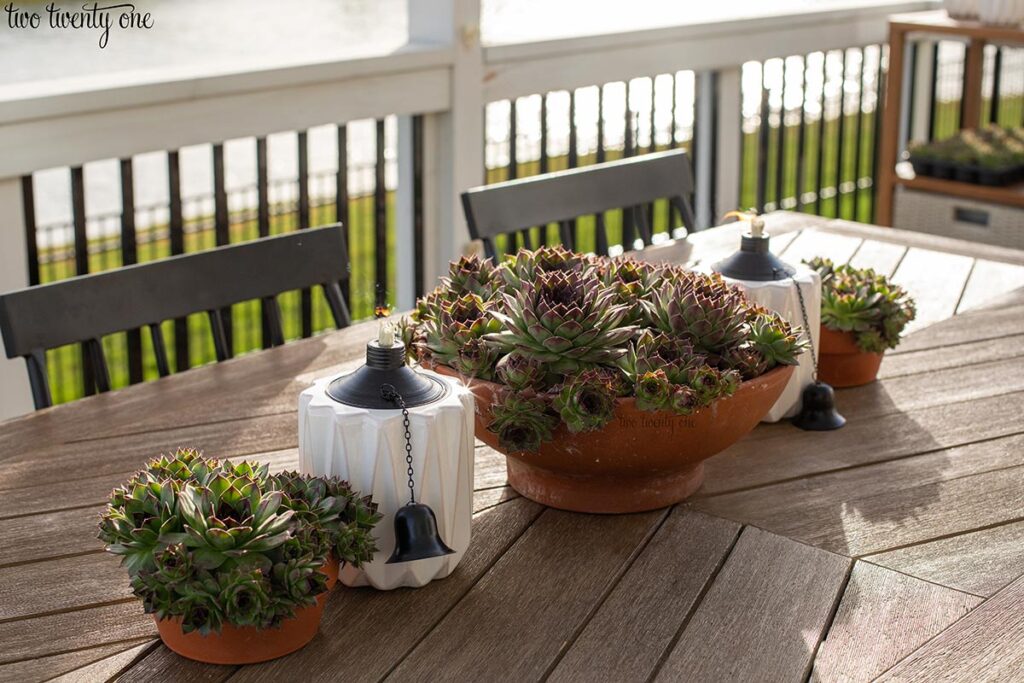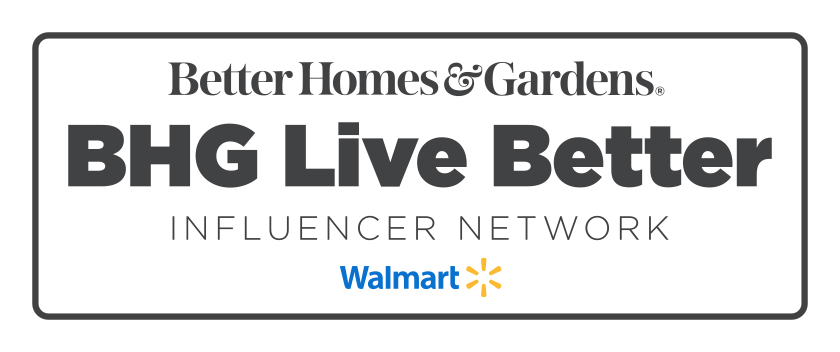 This post is sponsored by Better Homes & Gardens at Walmart. All opinions are my own.