Spring Fashion for Little Boys
I get a lot of questions on Instagram about the boys' clothing. So today I thought I'd share my spring fashion for little boys finds from my favorite kids' clothing brand. Not only is the clothing affordable, but it lasts. Emmett has been wearing stuff Owen wore, and it still looks almost brand new. It's durable, and it washes up really well. I've never not been able to get a stain out of these clothes.
AND they're having a 20% off a $60+ purchase + free shipping with code 3367 until the 15th!
This is a good deal because they don't have a ton of sales, and 20% is usually the most they offer.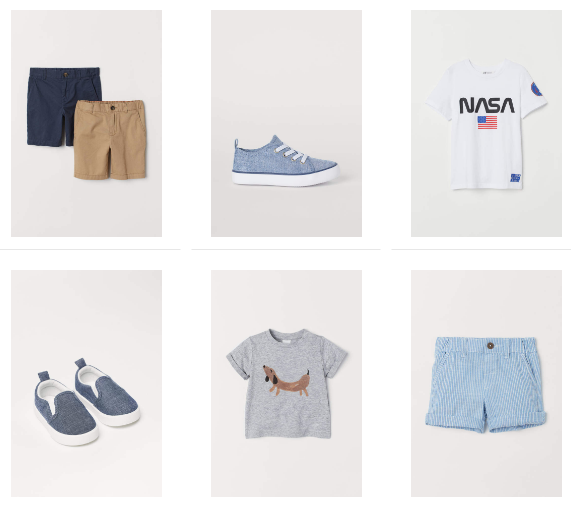 The girls' clothing is also on sale– as well as the 0-9 month baby clothes. And they have some super cute stuff. So definitely check it out if you have a girl and/or infant!
Baby Boys – 4 Months to 4 Years
Let's start with the little littles first. These clothes range from sizes 4-6 months to 3-4 years. I find that these clothes run on the bigger side. Emmett is currently in a size 12-18 month. Although some 9-12 month stuff still fits. For reference, Emmett is 26 pounds and 31.5 inches.
I picked out some of my favorite short-sleeved and long-sleeved shirts. Most of the t-shirts are $5, so with the sale, it takes them down to $4. And trust me, these don't start to look worn after a couple wears and washes like Old Navy t-shirts. Honestly, I had to stop buying kid shirts from Old Navy because they look terrible after two wears.
Since spring weather can be bananas, I chose some of my favorite shorts and pants. Their shorts are some of the cutest and very comfy for little guys with the elastic waistbands. A lot of the bottoms also come with those adjustable waistbands. And you better believe I bought Emmett a pair of those adorable overalls.
The chambray slip on shoes (we call them slippies) are my summertime favorite for little feet.
Boys – 1.5 Years to 10 Years
The boy clothes range from sizes 1.5-2 years to 9-10 years. Owen is in a weird size situation where some of his 4-6Y stuff is getting too short. But the 6-8Y size is too big or too long. For reference, Owen is around 45 pounds and 44.5 inches.
Like with the baby boy t-shirts, a lot of the boy t-shirts are regular $5-$6. They carry a lot of great band (Johnny Cash, Nirvana, Run DMC, Metallica, Led Zeppelin, The Ramones, etc.) and movie t-shirts (E.T., Jurassic World, Transformers, Jaws, Top Gun, Tom & Jerry). And they also have licenses with Disney (Star Wars, Mickey Mouse, The Lion King, etc.), Marvel, DC Comics, Lego, Nintendo, Peanuts Worldwide, Sesame Street, and PAW Patrol.
When we're at home, I tend to dress the boys more comfortably because they're always on the floor playing. I love these joggers. Owen has a few pairs of Cat and Jack joggers,  but he's managed to wear holes in the knees in all of them. But these joggers have held up the past two winters. I'm also a big fan of the jersey shorts for warmer days. They're light, comfy, and hold up well.
The boy underwear is great as well. I initially bought Owen some Cat & Jack briefs and boxer briefs from Target, but the butt tends to get stretched out on those and sag. Not these boxer briefs. And after many washes, they still look brand new. I will say that with the 5-pack that I bought, there was a giant tag in the back. It was soft, but I hate when companies do that with underwear. Print it on the underwear, people. So I had to take a pair of scissors to the tag. With the sale, a 5-pack comes out to be $2.88 per pair. If you're hesitant, they also make 3-packs. Note: we've only tried the boxer briefs, I can't speak about the regular briefs but I'm sure they're just as good.
The black and navy slippies are a favorite of ours as well. They're so easy for kiddos to slip on and run outside. Plus, they hold up really well, and I can wash them in the washer and set them out to dry when they start to get stinky.
I try my best to keep my Shop Baby & Kid page up-to-date with the boys' clothes, toys, and gear. So if you see something they're wearing or playing with, you can always head to the Shop Baby & Kid page. Keep in mind sometimes I can't link stuff because Emmett is wearing a hand-me-down from Owen. But please never be afraid to message me on IG and ask!