Introducing: The Two Twenty One Car Series
Say what!? A car series? Heck yeah, people. The Two Twenty One Car Series starts next Monday. Get excited.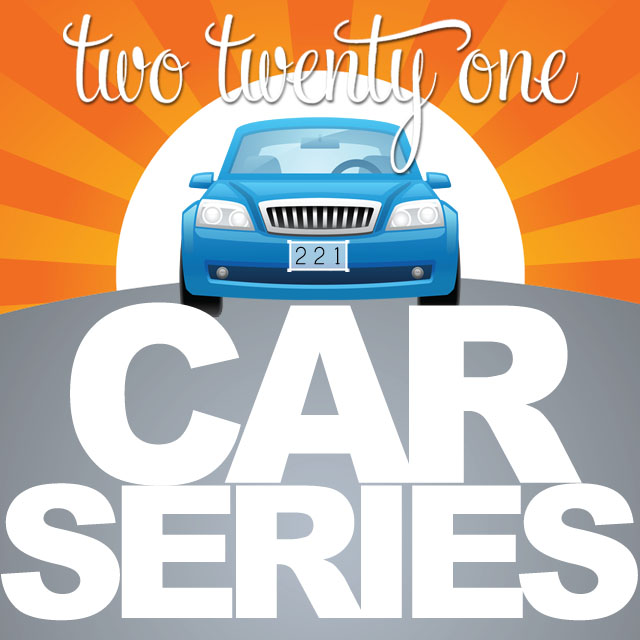 What's this all about? Well, it's mostly going to involve photos of me lounging on top of cars in scantily clad bikinis while working on small DIY projects. Hah. Just kidding. That'll never happen.
I decided to do this car series to educate my fellow female brethren on car care and maintenance– stuff you can do in your driveway with minimal tools. Brad knows WAY more about cars than me, and I could depend on him to take care of everything car related for me but I don't want to be that girl who relies on her man or another man (mechanic) to fix everything. Think Rosie the Riveter, mechanic style.
How am I qualified to host this series topic? I know a fair amount about car care and maintenance through my experiences with my cars– how to check the oil, add oil, check brake fluid, add brake fluid, add washer fluid, check coolant, add coolant, check tire pressure, add air to tires, add air to air shocks, jump a car, remove spark plugs, change wiper blades, how to find out if a battery isn't charging, determine if a turn signal or taillight is about to go out, and I know how to troubleshoot some minor problems.
Where did all of my car knowledge originate from? Brad and I come from car families. Brad's dad built and raced mud drags and sand drags, and my dad built and raced funny cars and dragsters. That, and between Brad and I we own 6 vehicles. Yes, 6 (s-i-x). More on that tomorrow.
So here's the deal. All of next week I'll be posting about car related things– I may even throw in a video. Gasp. I have a lot more post topics written down so I'd like to continue the car series as a weekly thing after next week. If there's something car specific you'd like to know, leave a comment below.
Stop by tomorrow to read about Brad and I's vehicles and our family histories with cars and other motor vehicles. Pictures included.
P.S. A big thank you to my best blog buddy, Erin, for whipping up the car series graphic for me.
CAR SERIES
[catablog_gallery id="4114″ catablog template="gallery"]