A couple weeks ago I shared my inspiration for our guest bedroom makeover. Well, I thought I'd share how the guest bedroom looked before its grand makeover.
The room wasn't anything special. It was kind of a hodge podge. I mean seriously, in the almost 5 years we've lived in this house the guest bedroom has been occupied less than 100 nights. So needless to say, I didn't put much effort into decorating it. And it shows.
I never painted the room. It's the same color out entire house was painted when we moved in. Like I said, I didn't put much effort into this room.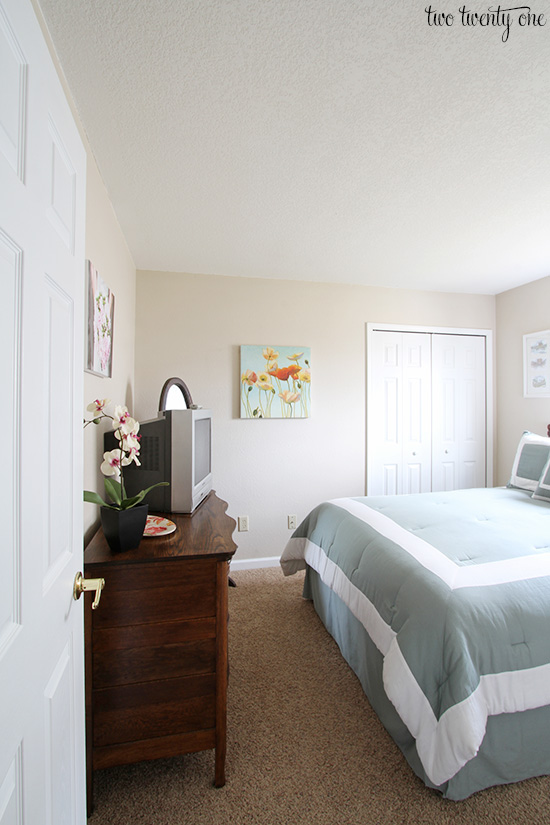 I liked the bedding (from Kohls). But I hated how I couldn't wash the comforter in our washer. So I vowed to switch to duvet covers from here on out.
The best location for the bed is in front of the window. I strongly dislike when beds are pushed up against a wall on one side so someone has to crawl to get in and out of bed. It's a pet peeve of mine.
The headboard was a hand me down. I never liked it, but I strongly dislike beds without headboards. That's another pet peeve. So into the guest bedroom it went.
There's a white, $10 thrift store nightstand to the right of the bed but I forgot to squeeze it into the photo. Sorry about that.
The art was random stuff. Framed prints I picked up while in Paris, a faux poppy painting on canvas, and an extra canvas print of my wedding bouquet (the company messed up this one, the good version is in my home office).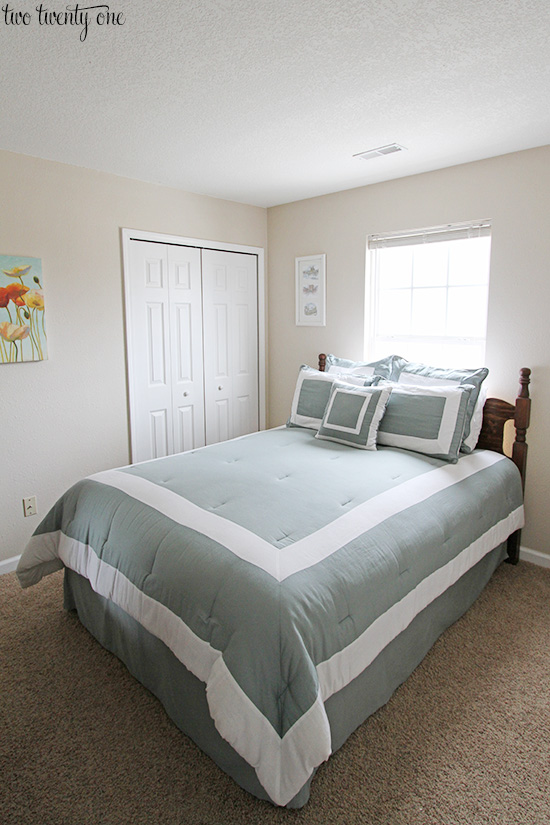 The only things in the room with sentimentality are the dresser (my mom and aunt used it as little girls) and mirror, which belonged to my mom. Those two things, and the bed, were the only things I deemed crucial to the room. Plus, we needed to move some stuff out to make room for some of Brad's stuff– mainly his guitars and equipment.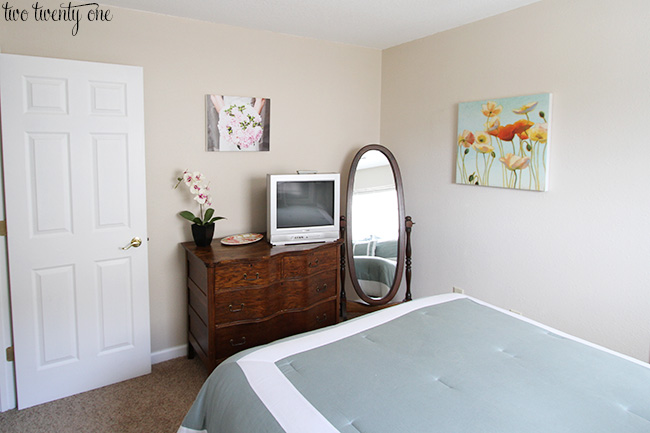 That's about it for the guest bedroom before tour. It's not a very big room so there's not much to discuss.
I'm super pumped to show you guys the makeover on Monday! I love how the room turned out. My best friend was the inaugural guest (we had a ribbon cutting ceremony and everything– just kidding that didn't happen), and she loves the new look too. So make sure you come back on Monday and check out the new and improved guest bedroom!
Do you have a guest bedroom in your house? Does it look more put together than this hodge podge?