Favorite Sleep Products for Kids
I've randomly shared my favorite sleep products for kids on Instagram throughout the years. And I frequently get questions about or requests for links to certain products. So I wanted to create this blog post where all my favorite sleep products for kids can live.
Currently, the boys have two different sleeping set-ups so I'm going to address both. For reference, Owen sleeps in a full size bed and Emmett sleeps in a crib. I also should let you know that my children are hot sleepers so I buy a lot of products with that in mind.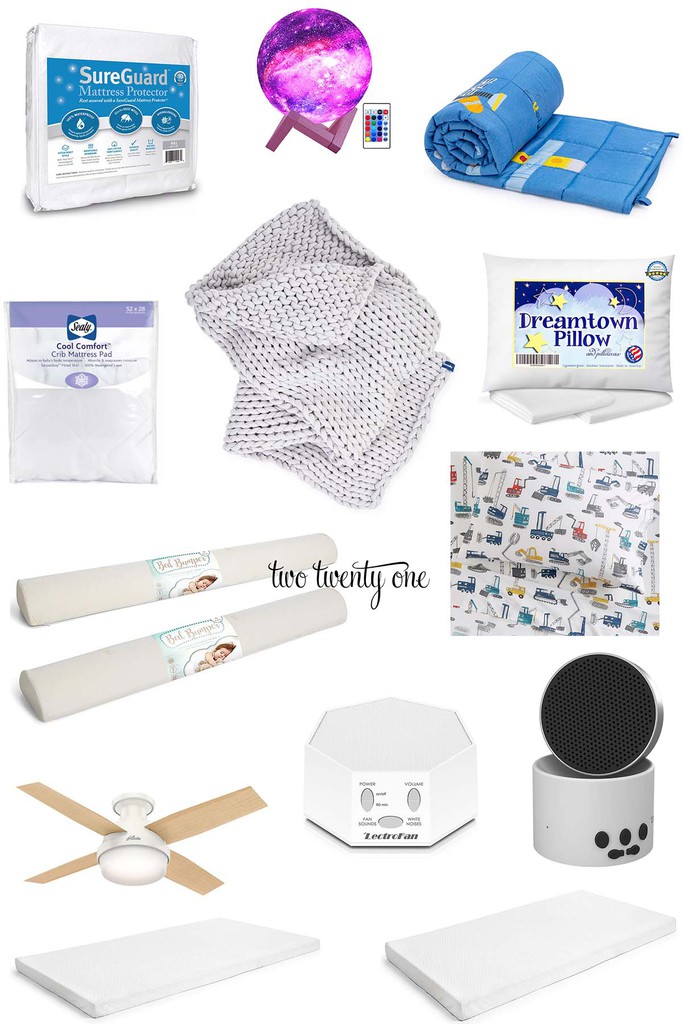 Mattress Protectors
Mattress protectors for children's beds are a must in our house. We own two Sure Guard mattress protectors for Owen's full size bed. Why two? Because accidents and vomit happen. I always have a back-up for those reasons.
I like these mattress protectors because they're vinyl, PVC, phthalates, and fire retardant free. However, if you have a frequent or heavy bed wetter, I wouldn't recommend this mattress protector. When Owen was first starting to sleep in underwear I would put a waterproof bed pad under the mattress protector just to be on the safe side.
Emmett is a very hot sleeper so he uses a Cool Comfort mattress protector in his crib. Since using this mattress protector, he doesn't get nearly as sweaty, especially in the summer months. Yes, it's pricey but I was tired of having to wash his bedding multiple times per week because he was getting so sweaty. We only own one of the cooling mattress protectors because if we need to change his sheets in the middle of the night, he can rough it on one of our older crib mattress protectors.
Tip: Layer baby and kid mattresses with mattress protector, sheet, mattress protector, sheet. That way if your kid gets sick or has an accident in the middle of the night, all you have to do is strip the first layer of sheet and mattress protector instead of completely remaking the bed.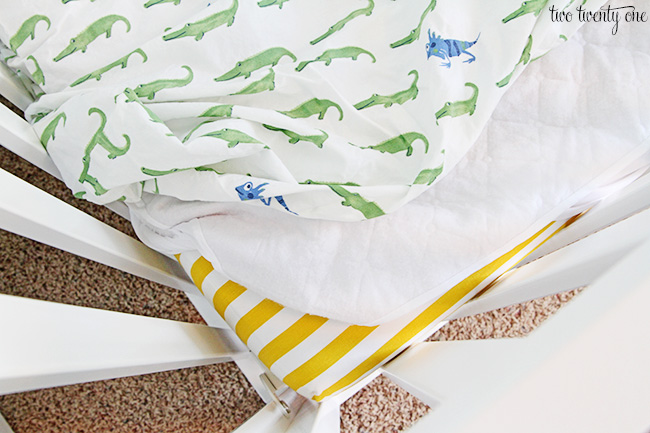 Night Lights
Owen actually has five different night lights in his room, but his moon/galaxy lamp is the coolest night light. You can do all kinds of cool stuff with it– change it to a certain color, let it fade into different colors, etc. It's a great item to put on kids' Christmas or birthday lists.
Update: The boys recently received projector nightlights for their bedrooms. They're obsessed with them. It's a 3-in-1 projector, Bluetooth speaker, and sound machine. Owen doesn't use the sound machine function. Emmett likes the the cricket sound because it makes him feel like he's outside.
Emmett doesn't have a cool night light yet. However, I did put one of my favorite regular night lights in his room. I have these nightlights throughout the house– in bathrooms, hallways, by the front door, by the backdoor, etc. Highly recommend. Five stars.
Weighted Blankets
I bought the kids weighted blankets this year. I figured it couldn't hurt to try them out. I'm no scientist, but I feel the blankets help them fall asleep faster and stay asleep longer. Again, not a scientist.
If you're new to weighted blankets, the general rule is that the weighted blanket shouldn't weigh more than 10% of the person's body weight. So if you have a 50 pound kid, get a five pound weighted blanket. If a five pound blanket isn't very comfortable for them, you can always go down to a three pound weighted blanket.
Owen sleeps in the hottest room in our house, so when looking for a weighted blanket, I wanted something with breathability for it wouldn't heat him up in the summer. I had been eyeing the chunky, hand-knitted cotton blankets for myself for a while when it dawned on me that the lightest one would be perfect for Owen. The weighted blanket he uses contains no fillers. It's soft and breathable. Yes, it's eight pounds and Owen weighs 60 pounds. But because of how it's made, only a fraction of the blanket covers him, and he's never complained about being uncomfortable.
Emmett uses more of a traditional weighted blanket. The blanket manufacturer claims the blanket is breathable, and I agree. He doesn't get sweaty when sleeping under this blanket. Emmett is 35 pounds and uses the three pound weighted blanket.
Sheets and Pillows
I love Pottery Barn Kids sheets for cribs and kid beds. They don't fade or pill. They're soft but crisp. The sheets also come in cute prints. Are they on the pricey side? Yes, but you can buy two sets and use them for years and you'll still probably be able to sell them on FBMP or a garage sale for $5-10. I have a set of train sheets (discontinued) and a set of transportation sheets for Owen's full size bed.
Emmett is still using PBK crib sheets that we used when Owen was a baby.
The standard pillow Owen uses is discontinued. Emmett has slept with his toddler pillow for a couple years. It's lumpy from being washed so many times but he refuses to use the new one I bought earlier this year. So I suggest buying two and rotating them. An extra pillow is also handy if you have a heavy sweater or if your kid gets sick in the middle of the night and you have to wash the OG pillow. I also suggest getting some extra pillowcases. We have these.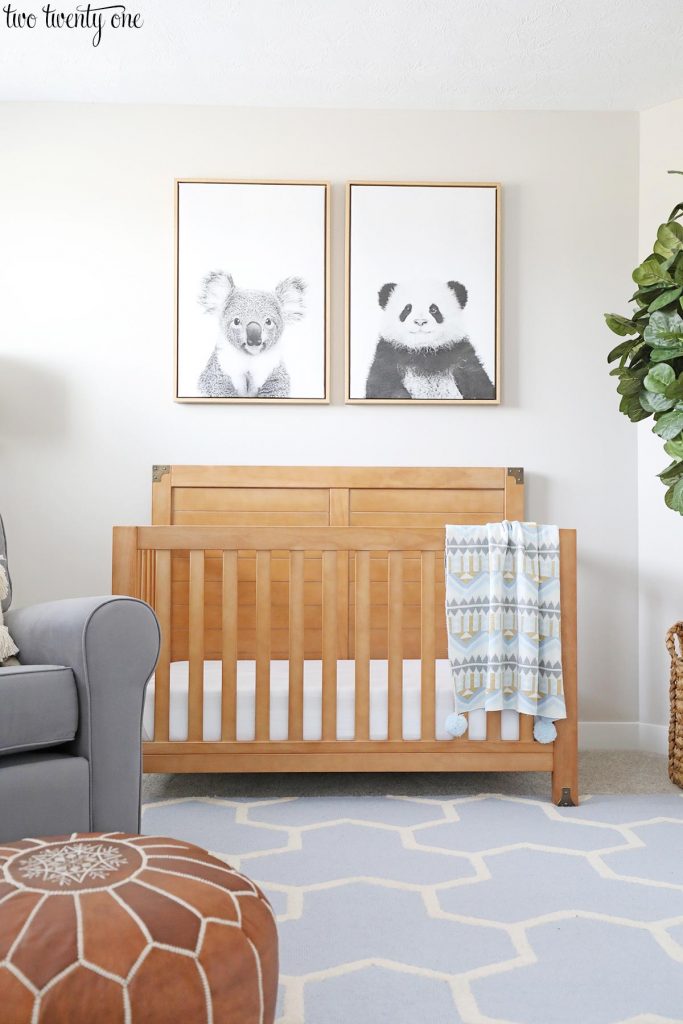 Bed Bumpers
When Owen transitioned into his full size bed he was almost four years old. Yes, I believe in keeping my kids in their cribs for as long as possible. It helps me sleep better at night knowing they can't escape. Anyway, I didn't like those baby gate bed things you attach to the sides, so I bought a pair of bumpers that slide under the mattress protector. I'm happy to report that Owen never fell out of bed in the middle of the night. He could easily climb in and out of his bed, and changing the sheets and mattress protector was no big deal. I saved the bumpers for when I finally deem Emmett trustworthy enough to graduate from his crib. And according to my current forecasting, that will be in 5 years.
Ceiling Fan
Have I mentioned my kids are hot sleepers? I know everyone wants to hate on ceiling fans because they aren't cool light fixtures kids can break. But like with laminate flooring and countertops, ceiling fans have come a long way. We have these 52″ low profile ceiling fans in both boys' rooms and the guest bedroom. The ceiling fans are great at moving the air. And I can't hear the fan motor, just the sound of the air being whooshed around when the fan is at the highest setting. The blades are a light wood tone on one side and white on the other side so you can pick your poison.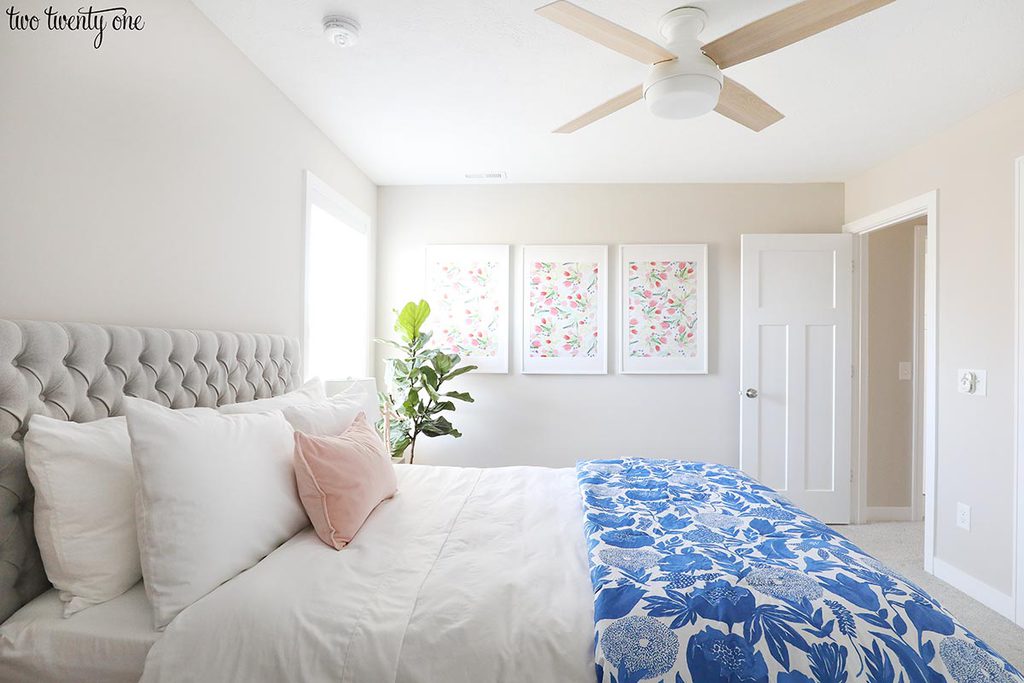 Sound Machines
My children have been addicted to sound machines since birth. I highly recommend the use of sound machines. I don't have to tiptoe around my house during nap time or at night because it sounds like an idling Boeing 737 in my kids' bedrooms. Each child has a LectroFan white noise machine in their bedroom. Owen actually has a second SoundSpa noise machine because he's scared of thunderstorms so it sounds like an idling Boeing 737 and a Boeing 767 in his bedroom. He doesn't wake up during thunderstorms and jump in our bed anymore though. I much prefer the LectroFan to the SoundSpa. The SoundSpa white noise is too abrasive. The LectroFan comes with 10 fan sounds and 10 white, pink, and brown noises. Our preferred LectroFan noise setting is a pink noise, which is more like a steady rain.
We love the LectroFan sound machine so much, we have two of their travel sound machines. The sound machines are great for trips to the grandparents' house and vacations. They're very compact. We even have the carrying cases. The sound machine, cord, and a wall plug (not included) fit nicely inside the carrying case. My only complaint about the travel sound machine is I wish the volume would go higher.
Mattress Toppers
Owen had a hard time transitioning to his crib when he was 12 months old so I purchased a crib foam mattress topper. His risk of SIDS was very, very low at that point so I felt it was safe, but consult with your pediatrician. The foam mattress topper added some additional cushion to his firm crib mattress. This helped his sleep immensely. Emmett sleeps on the same foam mattress topper.
Can we even call Pack N' Play mattresses mattresses? There's less cushion on those things than the labor and delivery beds in the hospital. So we purchased a Pack N' Play sized foam mattress topper to take with us when we travel. And by "travel" I mean to see grandparents. The mattress topper rolls up nicely and comes with a handy carrying strap. Note: we have a 4Moms Breeze, which is 43″ long, at my mom's house and the topper is 38″ long so it comes up a little short. It works out fine though.
Bumpers and Topper In Use
This concludes my favorite sleep products for kids. Because I'm a nice lady, I put together the little video below of the bed bumpers and crib mattress topper in action.