Pregnancy Announcement Mugs + Video of Reactions
When it came to telling our families our big news, I couldn't imagine just walking up to them and saying "We're pregnant!" No, no, no. I needed to go a little further. So I made custom grandparent and great grandparent mugs for our parents and Brad's grandparents.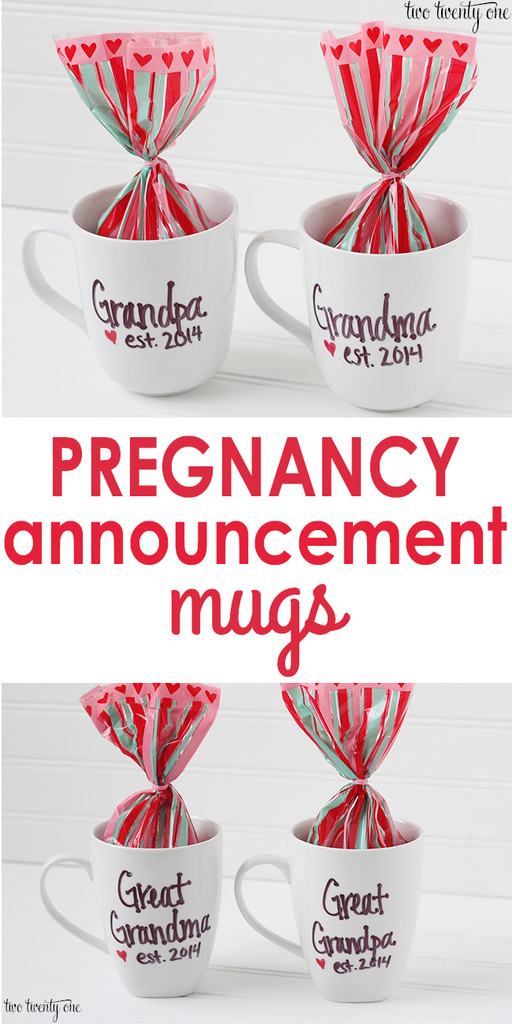 I was inspired by these mugs I spotted on Pinterest one day.
These were super simple to make. But I must tell you, I wasted 2 hours trying to make vinyl stencils and using them to paint onto the mugs. It was a disaster. Frustrated, I grabbed the nearest Sharpie and used my own chicken scratch to pencil the message onto the mugs. 20 seconds per mug. Done.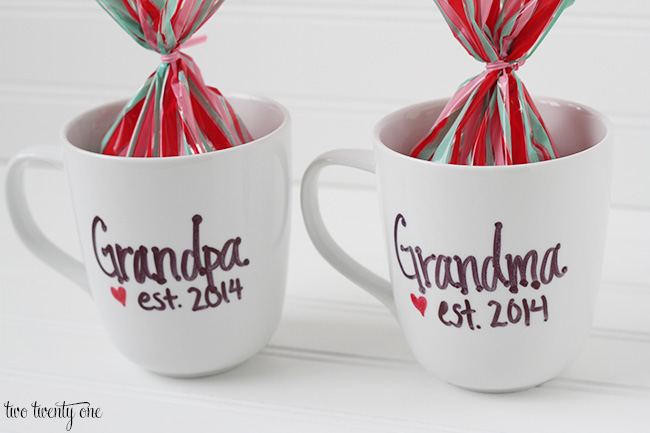 Here's the full tutorial in case you want to make these.
Supplies
mug(s)
Sharpie
Instructions
1. Wash your mug(s).
2. Using a Sharpie, write your message on the mug. If you mess up, use rubbing alcohol to remove the mistake.
3. Allow to set overnight.
4. Put mug(s) on baking sheet and into a COLD oven.
5. Turn the oven to 350 degrees.
6. Once oven reaches 350 degrees, set the timer for 30 minutes.
7. When the timer goes off, turn the oven off. But DO NOT open the oven door!
8. Leave mug(s) in the oven to cool as the oven cools (this takes a few hours).
9. Once the oven is cool, remove the mug(s).
When needed, hand wash mugs (I wrote "hand wash" on the bottom of the mugs when I wrote my messages).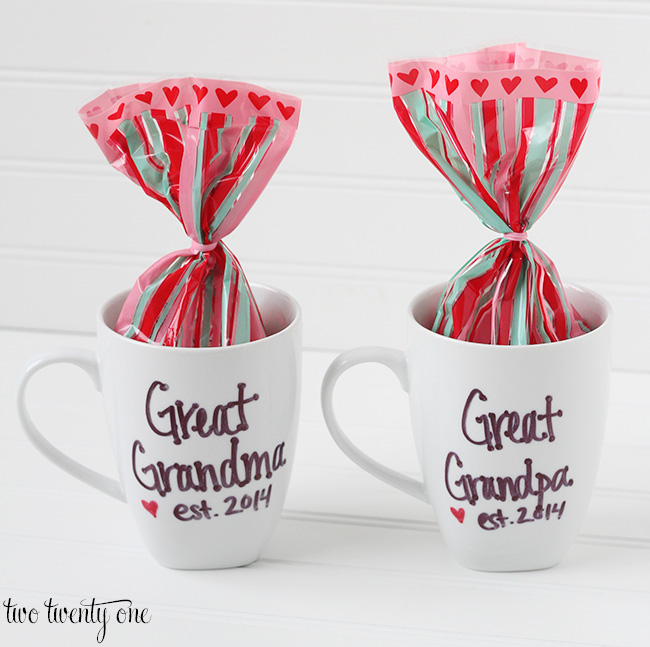 I bought these mugs at Walmart for around $3 each. But you can find similar mugs at the dollar store.
I added a bag of candy to each mug, wrapped the mugs in tissue paper, and put them in gift bags for our family members to open. When I gave out the presents, I told each person I brought them something from my New Orleans trip I took a month earlier.
And of course I couldn't let them open their gifts without filming their reactions. This is the first grandchild on both sides and first great grandchild for Brad's maternal grandparents. I made a 2 minute compilation video of us telling our families and my best friend (I bought her this T-shirt and gave it to her as part of her birthday gift).
Here's the line up of characters in the video in case you're curious:
my mom and stepdad > Brad's parents (and youngest brother) > Brad's maternal grandparents > Brad's paternal grandma and aunt > my best friend
If for some reason, the video doesn't embed, here's the link: http://bit.ly/1mn78UV
Stalk away!