Two Twenty One Talk 005 : How to Nest for Less
It's a new week so that means a new episode of Two Twenty One Talk!
My guest this week is my buddy, Erin, from How to Nest for Less. Sit back, relax and enjoy my conversation with Erin!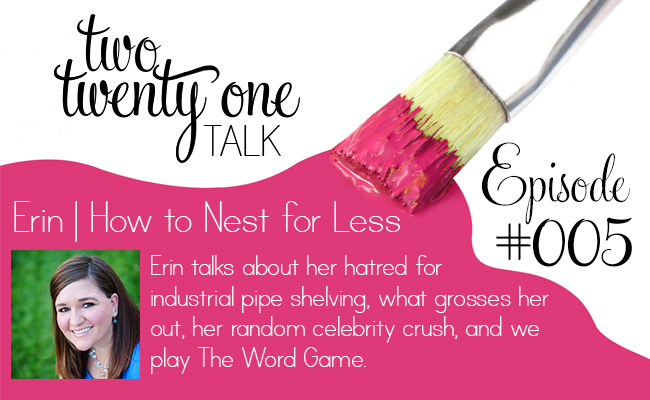 Erin's most popular posts:
5 Things I Wish We'd Done Differently When Building A Home
How to Make Your Own Chalkboard Printables
And here's the one about how she threw her wedding dress in the trash:
Why I Threw Away My Wedding Dress the Day After I Got Married
Check out previous episodes of TTOT:
002 with Liz Marie from Liz Marie Blog
003 with Kelly from View Along the Way
004 with Katie from Bower Power
You can listen to TTOT on iTunes and Stitcher!
If you enjoy the TTOT podcast, I'd LOVE for you to take a couple minutes and leave a positive review on iTunes.
Do you have a favorite blogger (other than me, of course) that you'd like me to talk with? Tell me in the comment section.