Thanks so much for all your sweet comments about my post yesterday about my grandparents' and the buffet. I read every single comment, and I'm working on replying to everyone. Those of you who were all "Whew! Glad you didn't paint it. I almost lost sleep over that" cracked me up. I had you on the edge of your seats, eh?
Alright, let's get down to the nitty gritty of how I cleaned up and re-coated my grandparents' 1920s buffet. As I said yesterday, Bruce from Minwax told me everything I needed to do to bring new life to this beauty.
Here's the before picture of the buffet taken last fall. Before it sat in our garage collecting dust for months.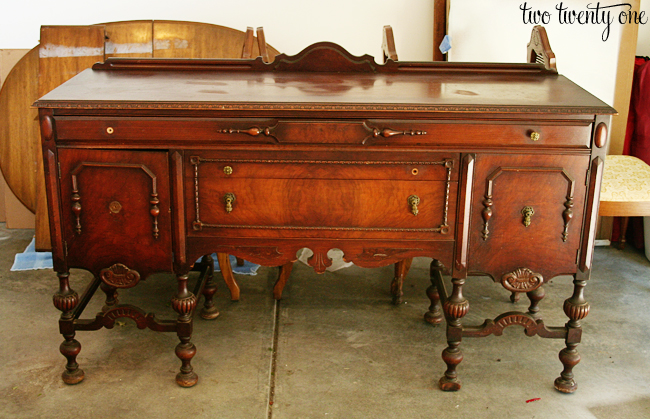 And here's the after.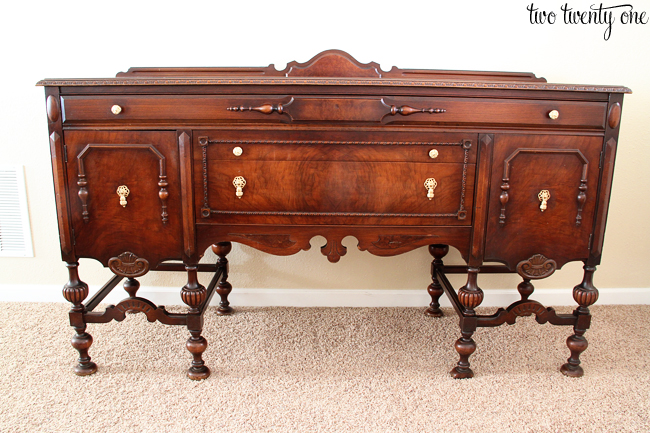 I started by cleaning the dresser with TSP substitute (the old TSP has been outlawed in some states and is bad for the environment), which you can find at Walmart or any home improvement store. If you're afraid to use TSP try making a soap and water solution. That didn't work very well on the buffet so TSP it was. I used a rag for larger areas of the buffet, and a toothbrush to get into all the grooves. I wiped the excess TSP with a rag, not letting the TSP sit on the piece for too long. Make sure you wear latex and nitrile gloves when using TSP.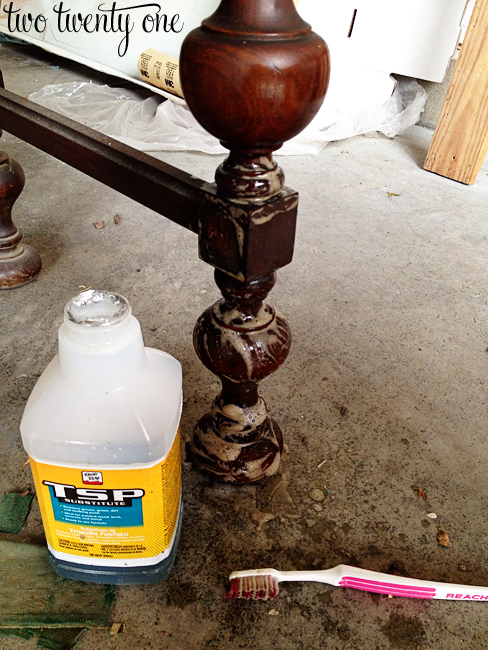 After cleaning the dresser I used a Minwax stain marker to touch up some scratches on the top. I didn't even realize what I had written out in the photo below– I was merely tracing scratches when my mom, who was looking over my shoulder as I used the stain marker, said, "Does that say 'Dawn'?" Uh, yeah it does. Thanks, a lot, Dawn. She even took it an extra step by underlining her name. (We don't have a Dawn in the family so this was from a previous owner. I hope you're happy, Dawn.)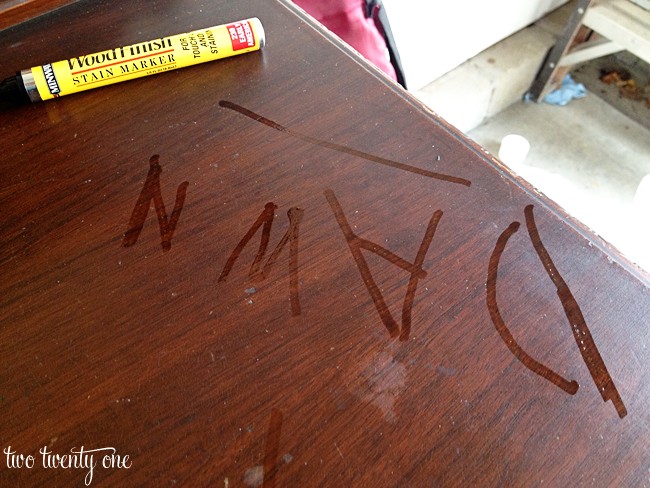 I did the best I could with the stain marker, but you can still see some scratches on the buffet. It is what it is.
After I got done with the stain marker I started to apply Minwax Wipe-On Poly with a clean, lint-free rag.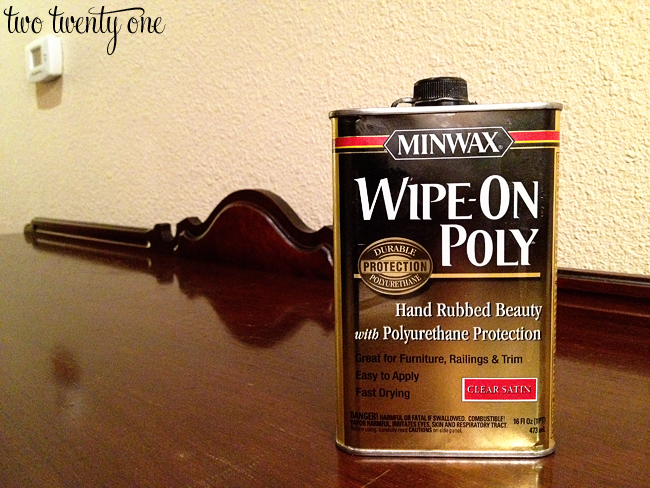 Here's a before-during-after photo. The first photo is what I started with. The second is after cleaning with TSP. The third is after applying the wipe-on poly.
I like how the wipe-on poly brings out the color of buffet and gives it just enough shine.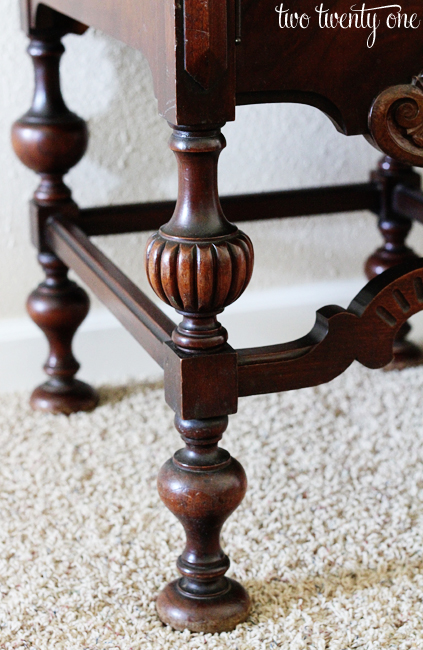 Okay, on to the hardware. I cleaned them up because they were gross. Patina lovers, please refrain from punching me in the throat.
I get that some people love patina. And antique collectors and dealers love patina. But here's the deal, folks, in my opinion, the patina hid the beauty of the hardware. The hardware on the buffet is so pretty and intricate. You could barely see that with all the gunk layered on it.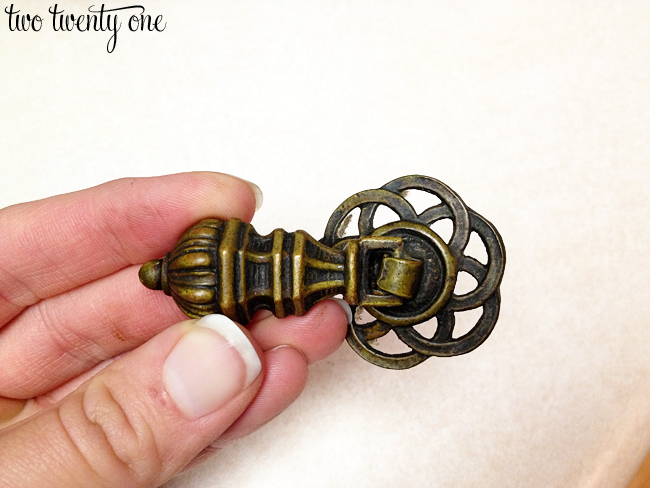 Here's the thing about the buffet. It's my buffet. I never plan on selling it so I don't care if I devalued it by taking 90 years of dead skin cells, dust, and tarnish off of the hardware. Anyway, there's other things about this buffet that devalue it (see Dawn above… and keep reading).
I cleaned the hardware and applied some antique gold Rub n Buff to spruce them up a bit. Again, please don't punch me. Brad made me feel bad enough for removing it when he told me he liked the patina… after I had already removed the patina from one piece of hardware.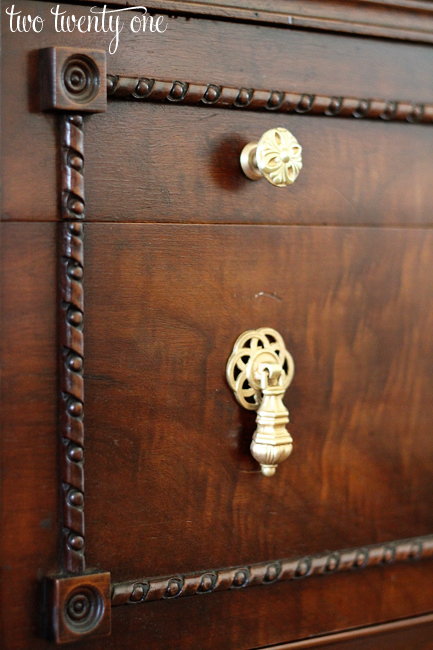 I'm still not done with the buffet. Eventually I'll have to attach the new leg brace on the right side. The original piece broke off and couldn't be salvaged so my uncle made a new one for me. It's a little long so I have to cut it down, stain it to match, and attach it to the buffet. This is another reason why the buffet has probably devalued, but I don't care about its monetary value.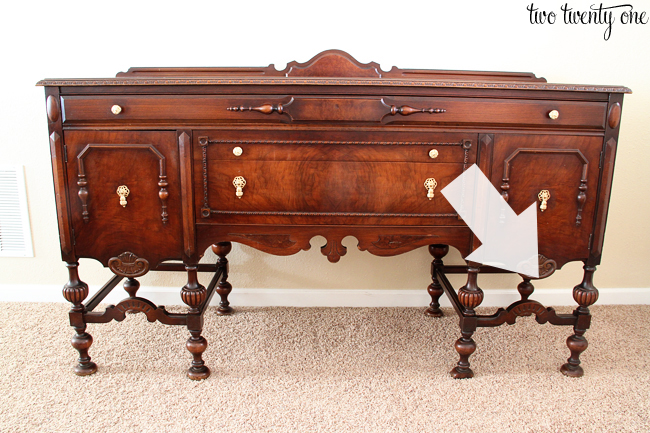 All in all, I spent around 6 hours cleaning and re-coating the buffet and hardware.
At the end of the day I'm happy with how the buffet turned out, and that's what matters most.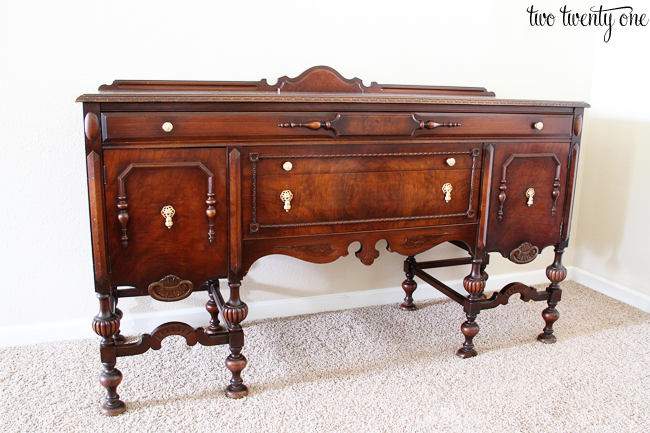 Now all I have to do is style it. Fingers crossed it takes me less than 8 months to get that done.
What do you think about the buffet makeover? Can you believe that Dawn chick? The nerve. Who's excited to see me style the buffet?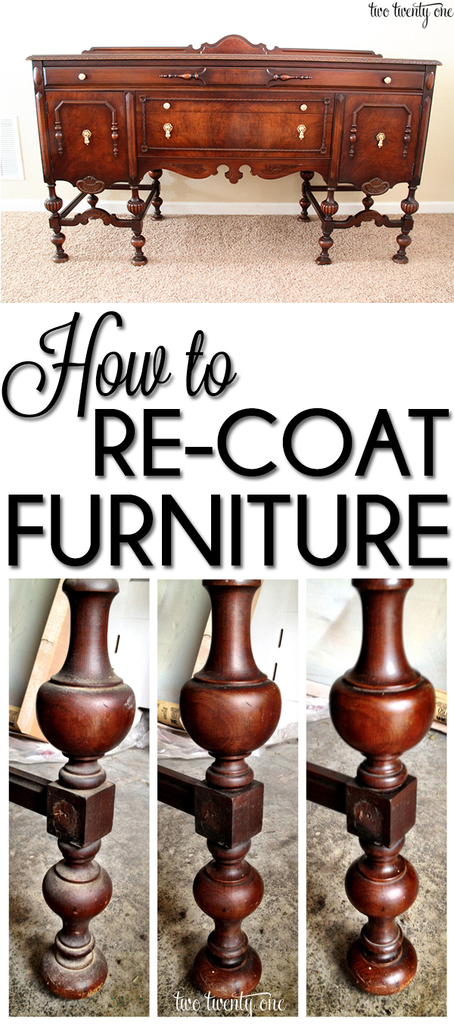 Note: Minwax didn't pay me to mention them or their products. Bruce from Minwax did give me the stain marker and his free advice.
This post contains affiliate links.