About a month ago I asked you guys to tell me a little about you. A big thank you to the nearly 400 of you who played along. I learned a lot from the survey.
Today I'm sharing your responses to the blog-related questions. I'll share the results of the demographics on Thursday. Covering both in one post would have given you a cramp from scrolling so I decided to break it up. Alright, let's dive in!
The majority of you have been a reader for less than a year, and most of you don't have blogs of your own. Many of you read Two Twenty One from the comfort of your homes. You guys seem to prefer to read comments rather than leaving comments. Don't be afraid to comment. I'm trying to my very best to set aside time during the week to reply to comments. I haven't been the best at that in the past but it's a new goal of mine I'm working on. Moving along, you seem to be happy with the frequency of posts, although some of you want more, which is better than asking for less because that's basically like saying "stop yammering, Chelsea".

Now on to the open ended questions.

The most frequently listed blogs were:
Young House Love  •  IHeart Organizing  •  Bower Power  •  House of Smiths  •  Centsational Girl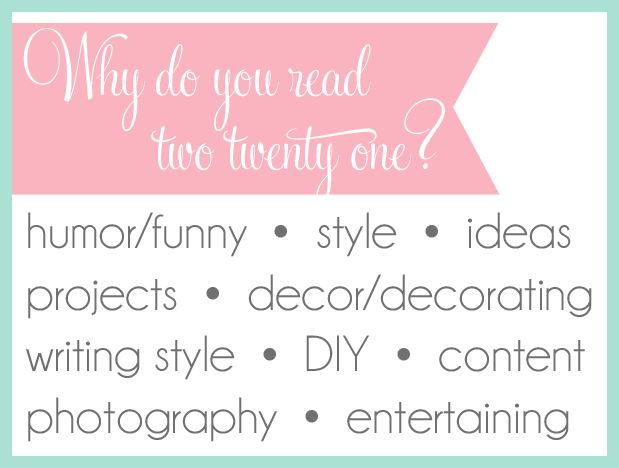 •  "I like your approach and that you appear to keep it real. You do real projects on a real budget. Many of your projects I could see myself doing."
•  "It's inspiring! It offers so many great tips and tricks and it's almost as I feel apart of your life. Creepy? Haha, sorry!"
•  "I love the clean uncluttered look of your blog, topics and past projects are easy to find and your photography is awesome."
•  "I like your style, your easy DIY ideas, and your tone/sense of humor. You're entertaining to read, and inspire me to create for my own home."
•  "It inspires my homemaking and creative juices. Also I am heartened that such a young woman is so intentional about life–homemaking, networking, writing (her writing style is witty and elegant). Many women deny their creative sides and pour themselves into work and agenda-based activities. Through this blog and some others I've found through her blogroll I have discovered kindred spirits regardless of age (I am old enough to be Chelsea's mother…) who can express their passion and activism through their blogs. It's very inspiring."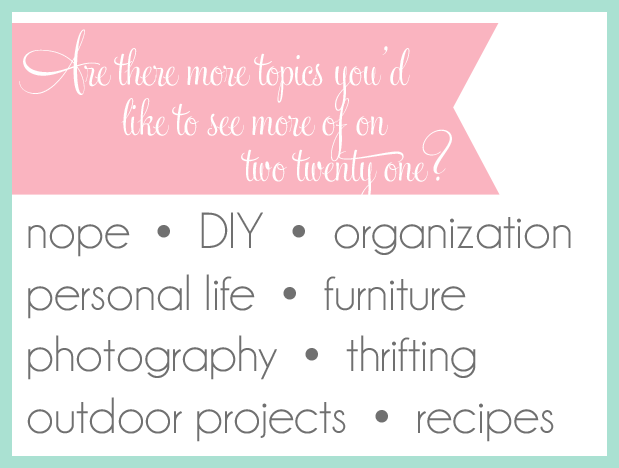 •  "I'm happy with whatever you want to blog about– I think that's why blogs are so appealing."
•  "I always love the way you put spaces together, so more "space reveals"/tips would be great. Photography tips would be wonderful too because your photos are awesome!"
•  "More of your personal life! You have such a cute little family so we'd love to see more of you and your family along with your house!"
•  "I'm really interested in DIY home decor. I'd love to see how I can find something at a thrift shop or very inexpensive items at the dollar store and make it into a nice decoration for the home."

•  "Just that I admire anyone who can work, take care of a hubby and meet all of the other of life's demands and still write a blog that is so inspiring and well written."
•  "More vlogs! The one you did for Haven was hilarious."
•  "You have such a fun blog and I can tell you take the time to thoughtfully craft your posts and readers appreciate that!"
•  "Your creativity inspires me to improve my own surroundings."
•  "Please be my friend."
That's it, friends. Thanks so much for participating in my little experiment. You were great lab rats. And I truly appreciate you taking the time to answer the surveys.
I must say thanks to those of you who "get me" and my sense of humor. It meant a lot to me to read that you enjoy my humor and writing style. It proves that many of you actually read my blabbering rather than just looking at the photos. I try my best to write how I talk in real life. Although I was told at SNAP! conference a few weeks ago by Allison from House of Hepworths that I'm "so much more hilarious in person". No, I didn't pay or bribe her to say that, and no she wasn't intoxicated when she made that statement. I think. So if you don't like my humor or how I write we probably wouldn't be friends in real life, which is totally cool.
If you want to see how I talk in real life watch my vlog. Many readers said the vlog enhanced their reading experience because they could put an actual voice to the words. Don't let the vlog make you feel awkward. I felt awkward enough going through with it to cover your feelings of awkwardness and my own.
Any reactions to the blog survey results?
General statements?