Last night Brad and I hit up the local Home-A-Rama, located in the Brookside neighborhood in Westfield, Indiana. If you're not doing anything today or this weekend you should definitely hit it up– it ends this Sunday the 22nd.
There's five custom built houses in the tour.
Sorry the photos aren't the absolute best. I used my iPhone and it was raining and overcast the entire time we toured the houses. The rain helped in a way because the homes weren't crowded with gobs of people. We rarely bumped into people while looking through the houses which was nice. It's like we lived there– only we don't.
I'm starting with our favorite house on the tour, which is built by G&G Custom Homes and designed by Hilari Goris Designs.
We love the modern craftsman look. The exterior of this house is definitely what our dream house looks like.
Oh, and here's the floor plan if you're interested.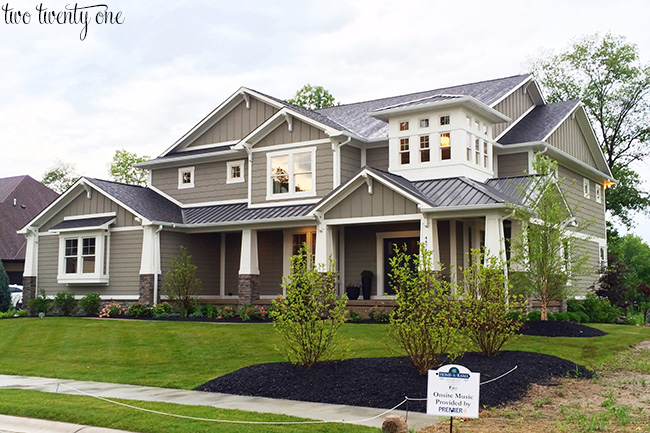 This is the rotunda ceiling. Gorgeous, right? I love the dark wood and the chandelier.
I also want to be able to casually mention to other people that I have a rotunda in my house.
"I was walking through my rotunda this morning and nearly tripped over the nugget's toy truck. Kids and their toys, I tell you what."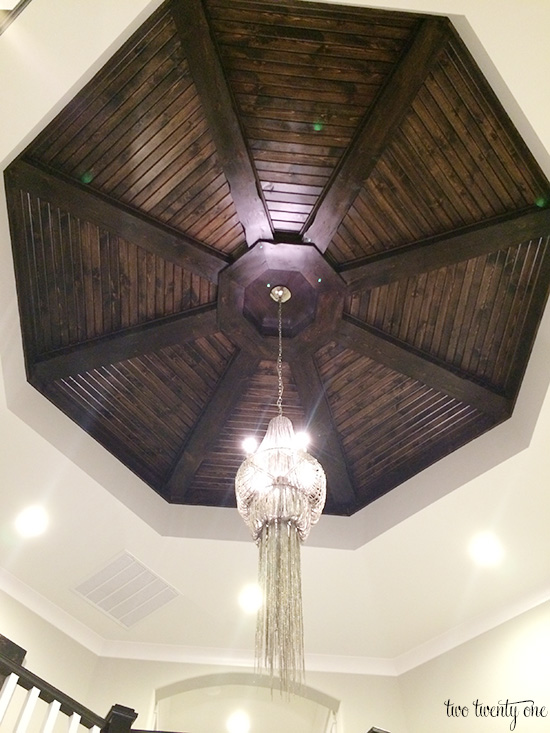 I loved the wallpaper in the downstairs powder room off the rotunda. The gold background of the wallpaper had an awesome shine to it, almost like gold leaf. The perfect punch for a small, half bath.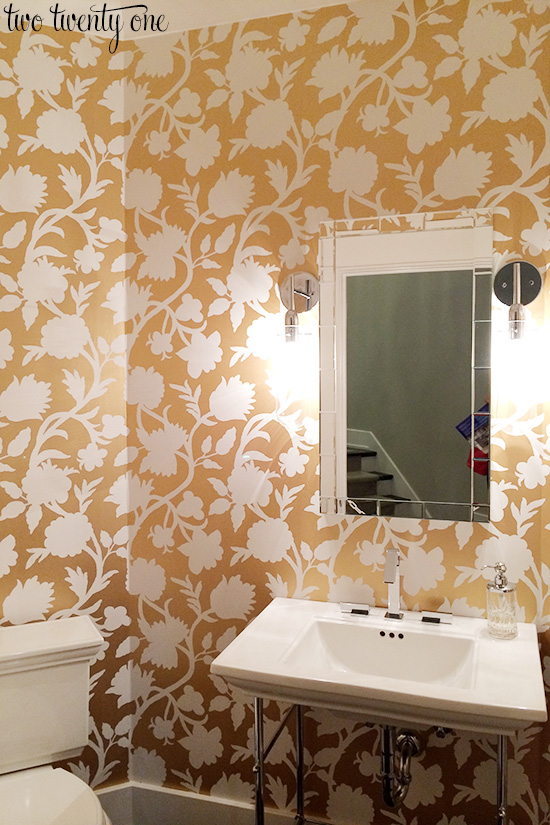 Walk directly through the rotunda and you'll end up in the family room, which has a large window that overlooks the backyard.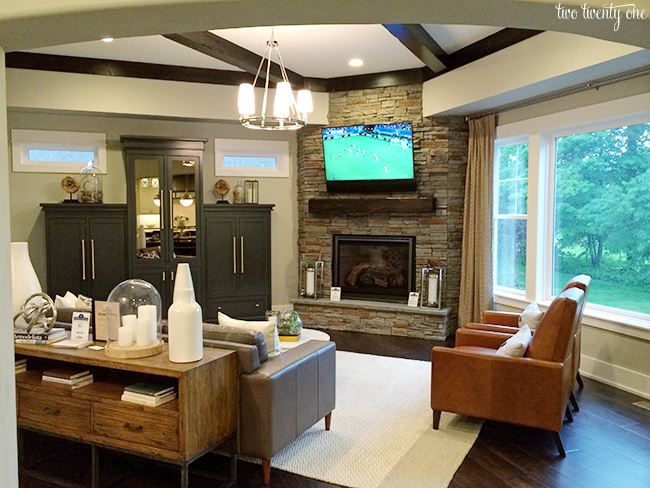 Turn to your right and there's the gorgeous kitchen.
I love everything about this kitchen. The white cabinets, gray island and hood, marble countertops, brass pendant lights– swoon. Brad even caught me petting the backsplash and fondling the hardware.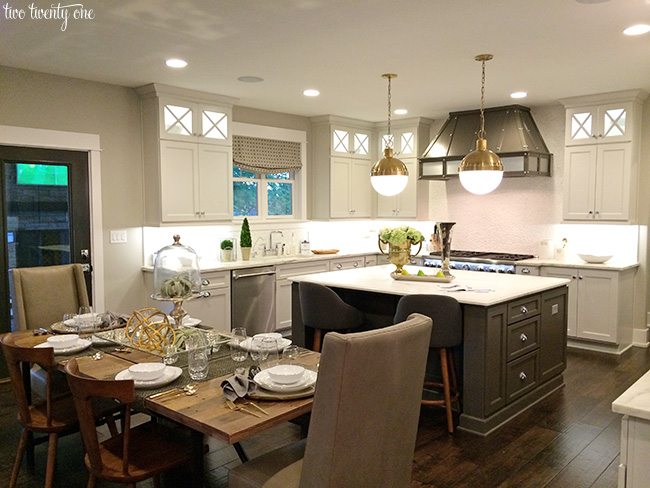 If you go through the doors behind the dining table, you'll end up in the outdoor living area.
Brad said, "Now this is what I'm talking about!" when we walked outside. I completely agreed with him. If it wasn't so humid outside, I would have passed out in one of those chairs.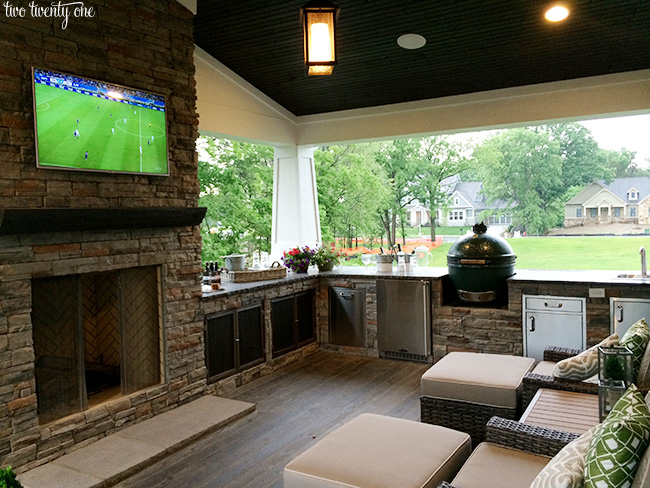 This area is perfect for grilling out and relaxing or entertaining family and friends.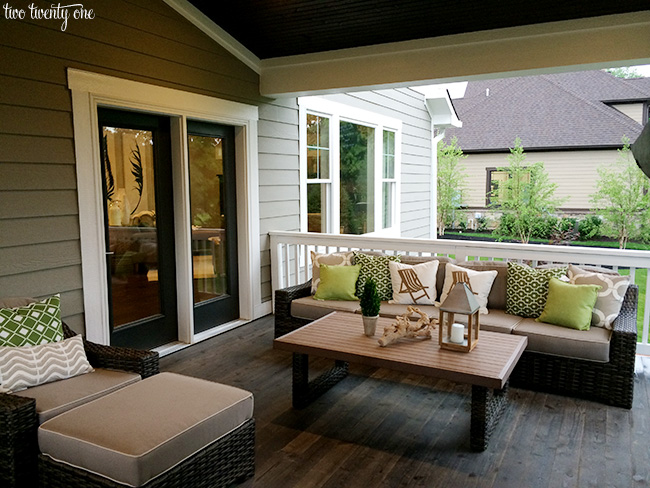 How awesome is this landing area on the second story of the house?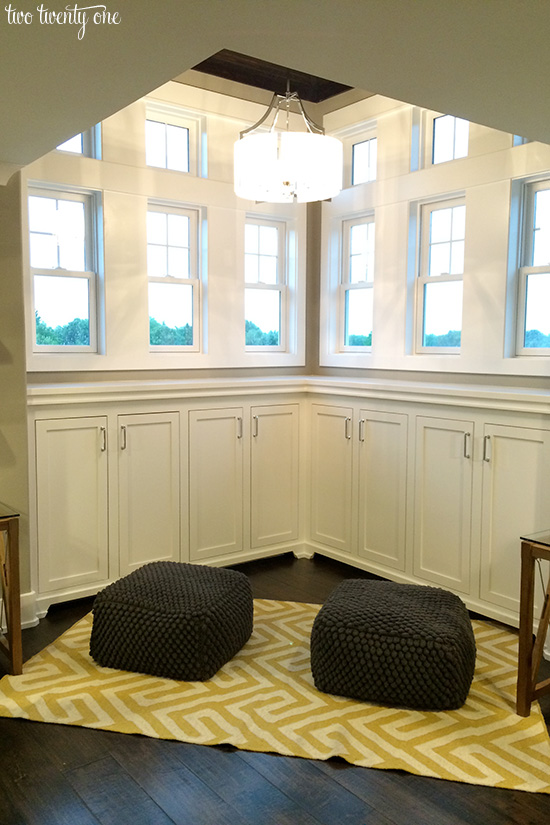 The master bedroom is definitely a master suite. You could lock yourself up in here for days and not have to leave. Well, you might need a microwave to heat up food but other than that you'd be set.
There's a step-up sleeping area and separate sitting room.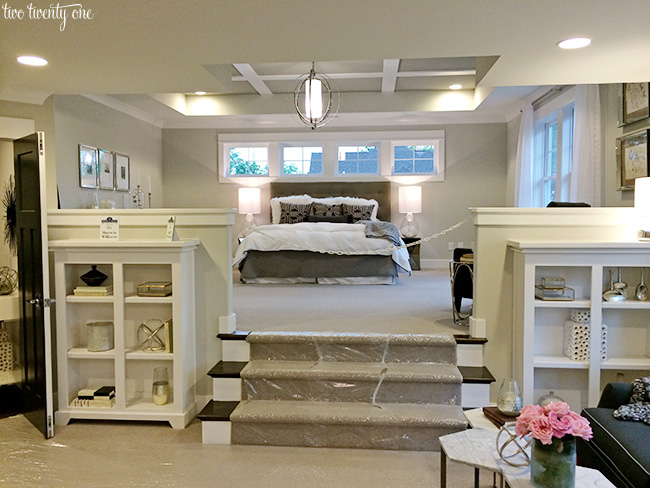 I wanted to take the coffee table home with me but I think someone would have noticed.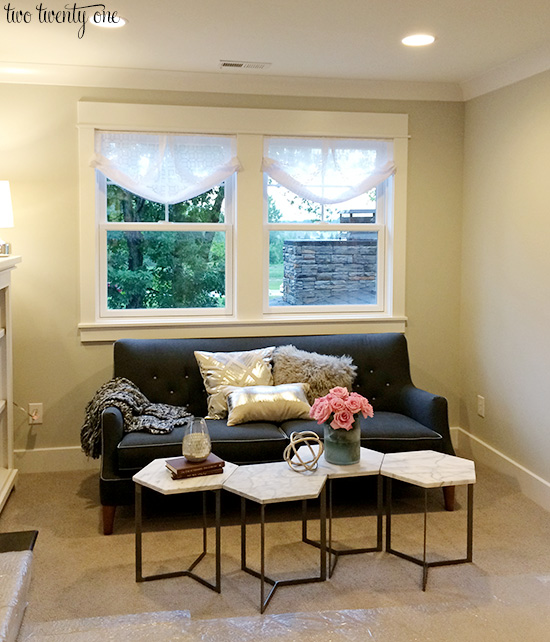 There's also a mini bar complete with coffee maker and mini fridge.
You mean I don't have to go downstairs to get a chilled bottle of Moscato? SOLD.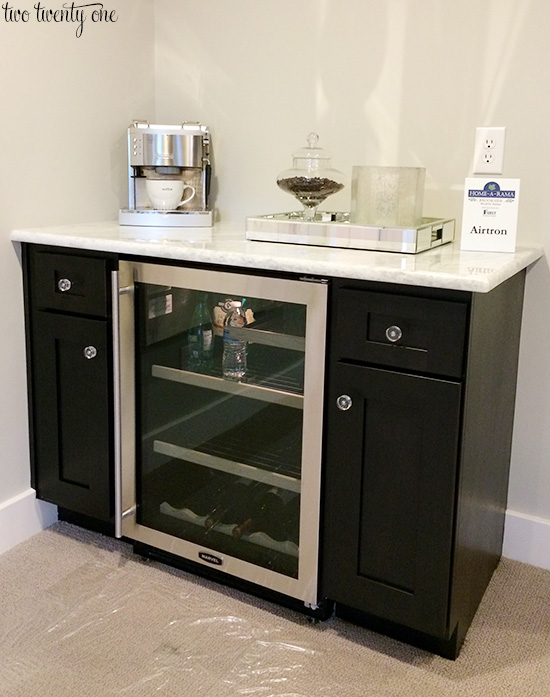 I had to share this girl's bedroom because of the chandelier. Feathers and crystals. Every girls dream– am I right?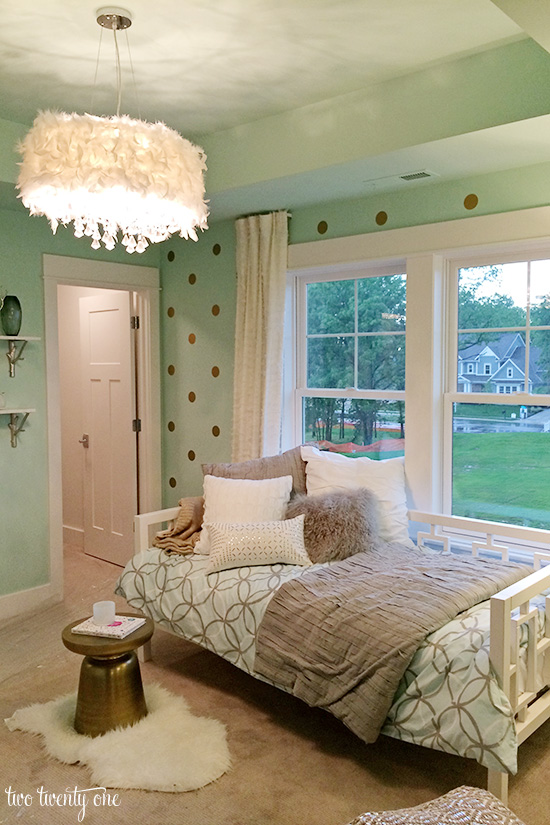 The basement bar is pretty awesome. The backsplash tile is really cool and reflective, which works perfectly in a basement bar. And the actual bar top was old wood that was shellacked. Super cool and unique.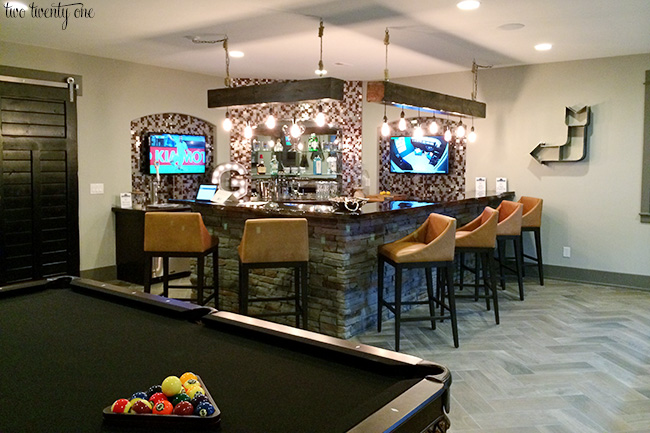 Brad nearly squealed like a little girl when he located the kegerator and beer tap.
We're clearly people who are impressed with builders who keep boozers like us in mind when designing homes.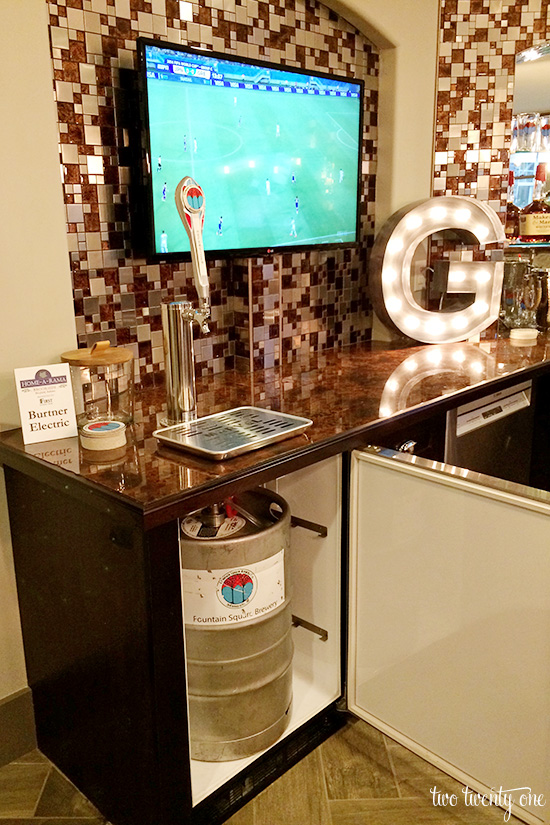 No basement is complete without a theater area and pool table.
Is it weird that instead of imagining Brad having all the guys over to watch football games, I imagined having Downton Abbey viewing parties? You're all invited.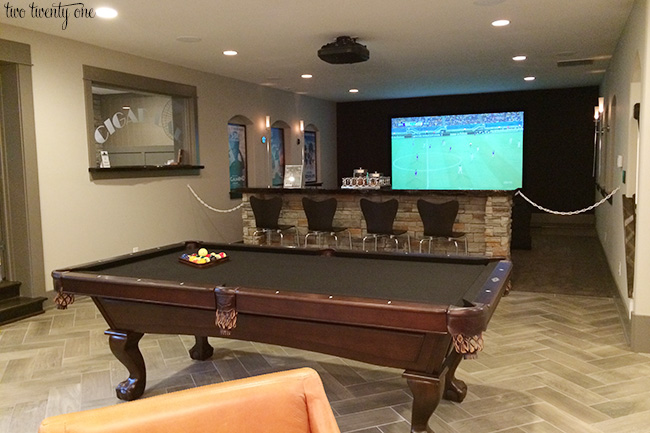 Check out the cool wine cellar room.
Personally, I would have gone with chairs that are harder to fall out of.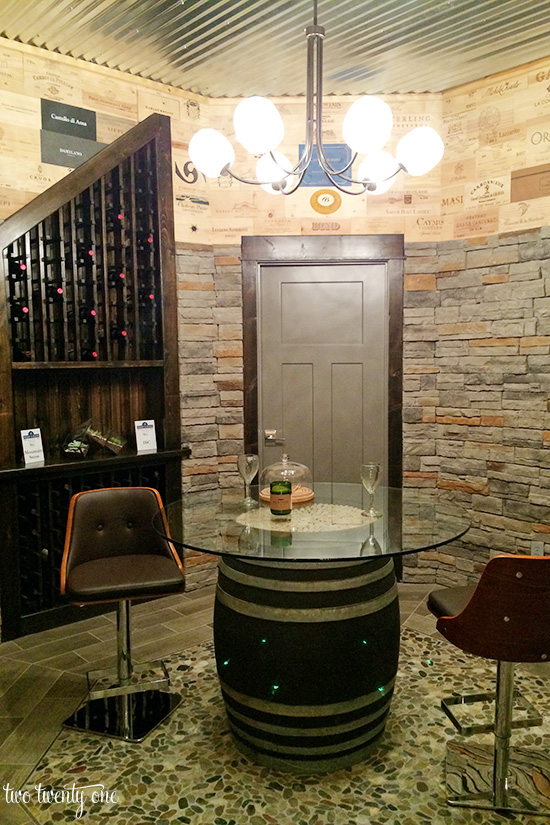 I love how they used old wine crates for the top portion of the wall.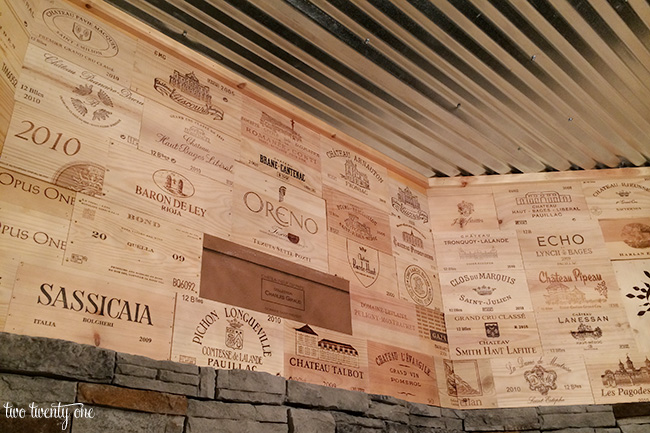 FYI, this house is sold. So if the buyer happens to read this blog, please know that I'm available to housesit anytime. Just shoot me an email.
Well, I'd love to share more of the other homes but it's past midnight as I write this, and I'm a tired 7-month pregnant lady who trudged through five large homes like a champ tonight.
Want to see more gorgeous homes? Click here for Part Two!
What do you think about this house?
Are you a modern Craftsman lover like Brad and me?
When we hit the lottery one day and build a house just like this, will you come over and drink with me in my wine cellar room?