I've decided to start a new thing here on the blog called Friday Favorites where I share some of the things I'm fond of. It's basically my I'm Lovin' series, but I'll just post on Fridays. Expect the ultimate hodge podge of things– today is a good example. I'm hoping to make this a weekly thing, but if I can't come up with stuff for the week, I'll skip it.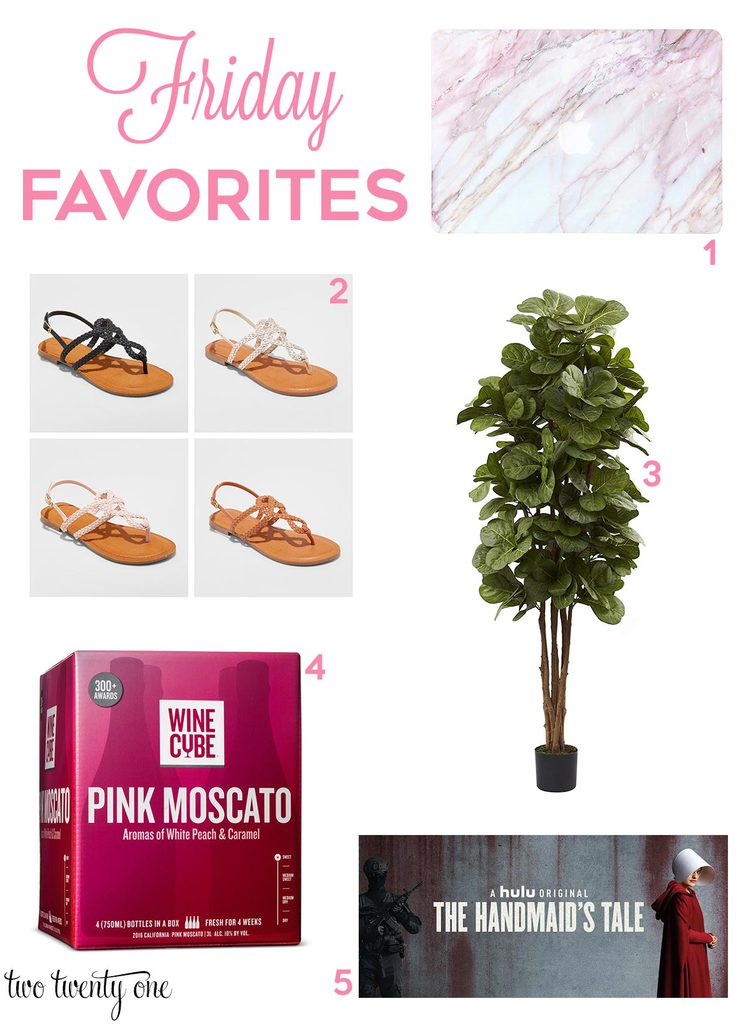 1 / 2 / 3 / 4 / 5
1. Marble MacBook Case
A couple months ago, I bought this marble case for my MacBook because my previous case was old and starting to crack. I'm loving the pink marble case. It's less than $16, is durable, and looks great.
2. Sandals
I've never hidden the fact that I have gigantic feet. And when I find a pair of wide width shoes or sandals that I love, I'm always more than willing to share because I realize the plight of my fellow large footed friends. I bought these sandals last year and loved them, so much so that I bought two pairs in black. They come in sizes 5-12, regular and wide widths, are very comfortable, available in 4 colors (black, cognac, gold, pink), and are less than $16. But don't delay if you want to snag a pair because they will sell out.
3. Faux Fiddle Leaf Fig
I've shared the faux fiddle leaf fig that lives in our living room on Instagram Stories, and I always get questions about it. While it's not necessarily the most believable fiddle leaf fig, I think it works if you're looking to add some greenery to your house but you don't want the responsibility of keeping a plant alive and you don't want to drop the big bucks on a more believable FLF like this one. The price fluctuates– I've seen it as low as $86 and as high as $125. The site also says it ships in 2-5 months, but I received mine within 2 weeks.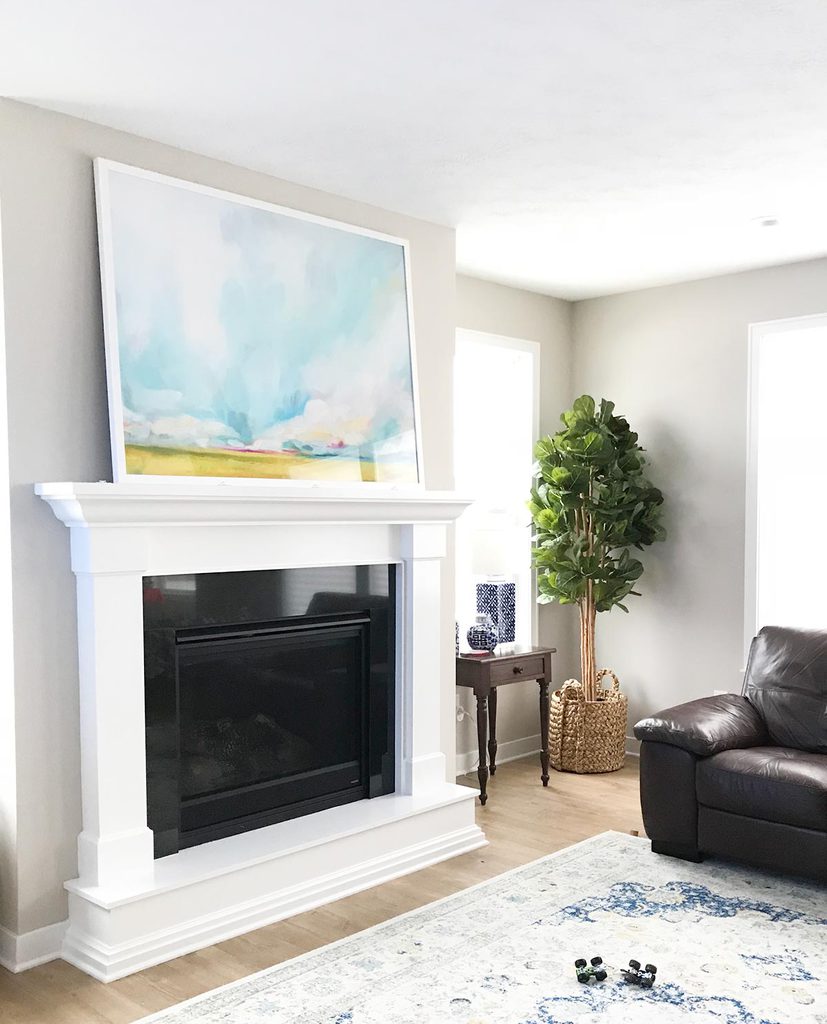 framed art print • rug • similar basket
4. Wine Cube
While perusing the Target wine aisle recently, I came across a pink moscato Wine Cube. When I saw it holds 4 bottles of wine and it stays fresh for 4 weeks, I figured why not give it a shot. I have to say that it's pretty good wine from a box. The pink moscato isn't super sweet, but it's good enough for me. The Wine Cubes come in a variety of wines— pinot noir, chardonnay, riesling, sauvignon blanc, cabernet sauvignon, etc.
5. The Handmaid's Tale
Brad and I devoured season 1 of The Handmaid's Tale in less than a week. OMG so good. I watched with my mouth gaped open during a decent amount of episodes. Also, Nick isn't too bad on the eyes. JS. It's based on the dystopian novel by Margaret Atwood, which was originally published in 1985. I don't want to go into detail and ruin anything, so here's the watered down IMDB description: Set in a dystopian future, a woman is forced to live as a concubine under a fundamentalist theocratic dictatorship. Season 2 comes out on April 25th on Hulu, and I cannot wait.
Unrelated but currently underway– who's checking out the PB and Lilly Pulitzer collaboration that launched this morning?