Hey friends!  How was your weekend?  Delightful I hope.  Mine was a nice mix of work and fun.
Friday night I met up with some friends for dinner and cocktails downtown.  We spotted a ton of ducklings w
hile walking the canal on our way to the restaurant.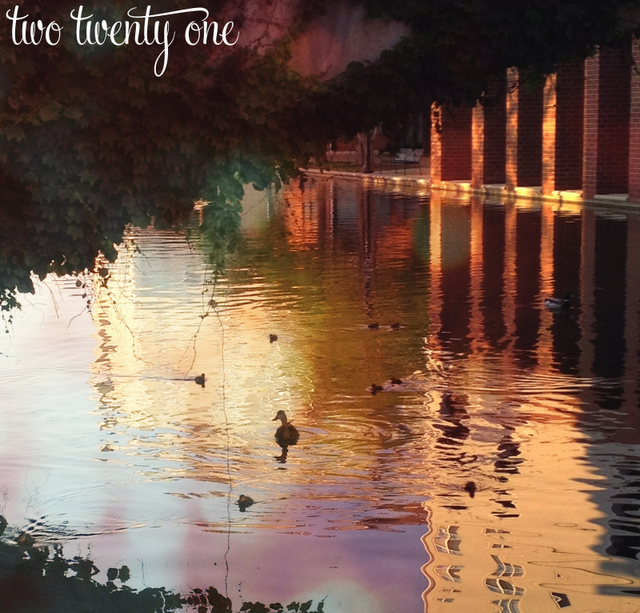 On Saturday, Brad and I headed to Lowe's to pick up some flowers and mulch.  The pretty, $30 hydrangeas caught my eye (like the one below), but I ended up coming home with a $12 clearance one.  Fingers crossed I get it to grow.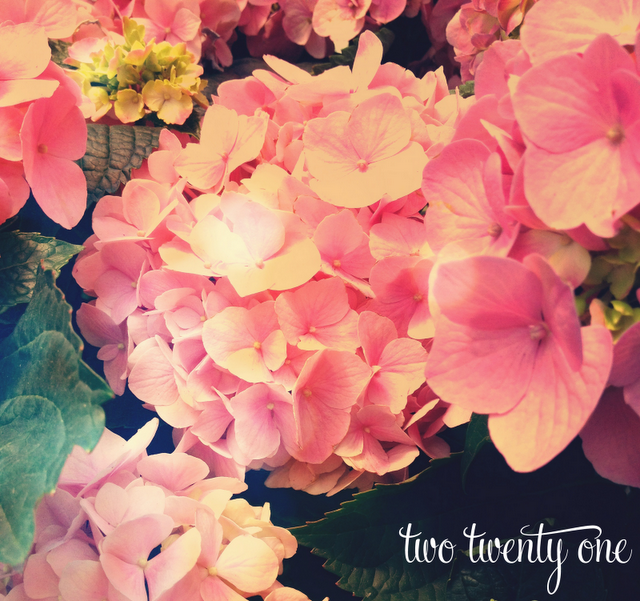 We filled the back of his SUV with 15 bags of mulch and headed home to start our work.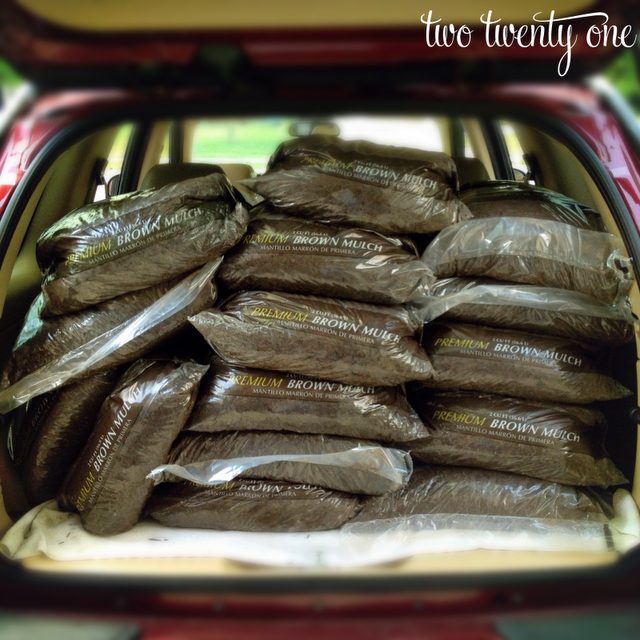 Our flower beds were starting to look homely.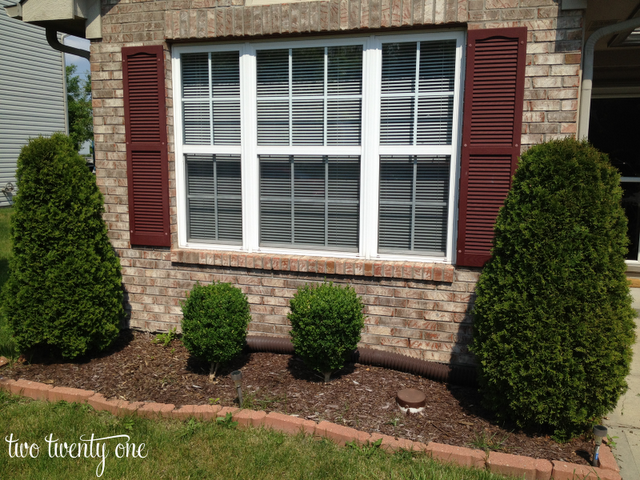 It's amazing what a little weed pulling and mulch can do.  I even touched up the random white do-hickey with some more brown paint.  Please don't tell me that I'm not allowed to paint that do-hickey.  We've lived here for almost 3 years and I still don't know its purpose.  I'm guessing it's not meant to ward off solicitors.  If so, it's doing a terrible job.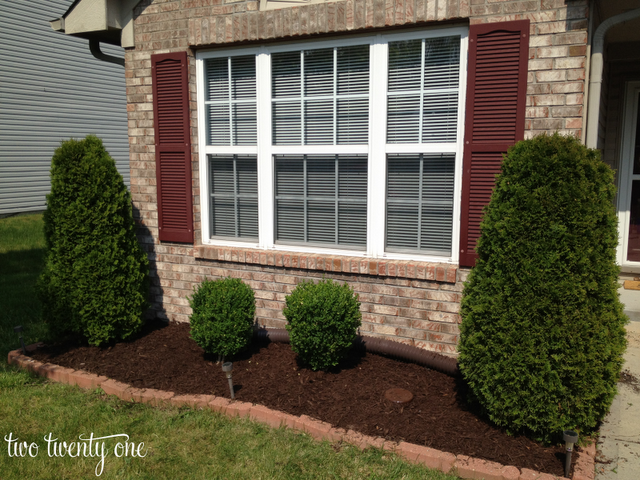 Now we need to find a better solution for the brown drainage hose.  We installed it last year because the tree on the right was hogging all the water.  It was becoming disproportionally larger than the other shrub so I put it on a diet.  But the drainage hose bothers me so we need to come up with something else.
The other front flower bed looks a lot better too.  I planted my new clearance hydrangea in front of our hostas.  I'm so proud of how big the hostas are getting.  We transplanted them a couple months ago, and I was worried they wouldn't do well.  See, worrying does help in some situations, like growing hostas.  
The tiny little green thing closest to the bottom of the photo is my Kroger clearance hydrangea I bought and planted last fall.  I hope I can get it to grow this summer.  I let the random lilies stay because I'm a nice person.
Check out our clematis.  This thing is a beast.  I swear it can grow inches in a day.  I use fishing line to help it grow up and over our mailbox.  From what I understand, this is a violation of our homeowners association CC&Rs.  But remember, I'm a rebel, and I do what I want.  And, I share a marital bed with the vice president of the HOA.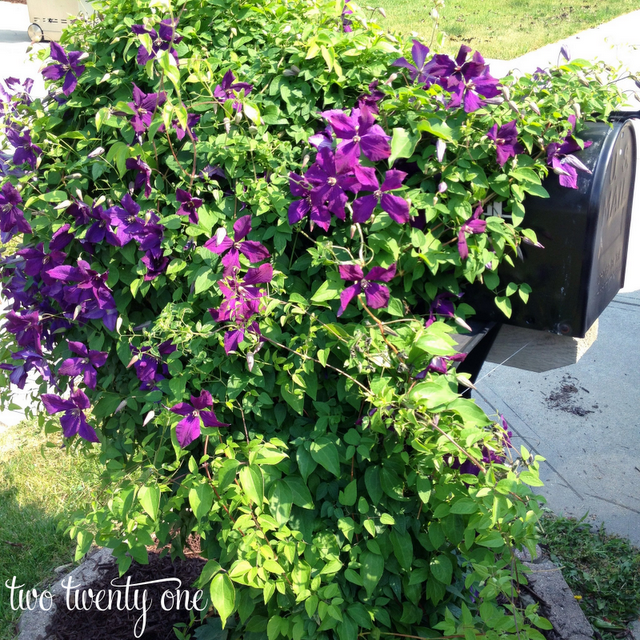 After a long, hot afternoon of landscaping we used our new (and FREE!) Jenn-Air grill for the first time.  I had a Michelob Ultra Light Cider with my grilled chicken.  It was pretty good, and it's only 120 calories and about 10 grams of carbs.  Not too shabby.
Sunday morning started off by drinking coffee out of one of my favorite mugs.
There are no truer words.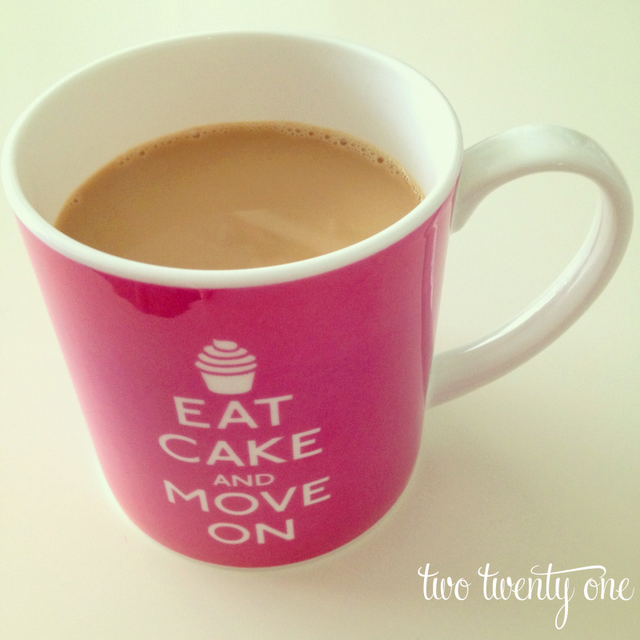 Brad is to Nutella as Snoop Dogg is to marijuana, which is why I whipped up some delicious Nutella rolls.  The recipe is from Micheal at Inspired by Charm.  Please don't pin my image of the Nutella roll.  Click here and pin the original.  Muchas gracias mis amigos.  And here's a random factoid:  I prefer the rolls cold rather than warm.  Don't ask why.  I just do.  You should try them.
After breakfast Brad mowed the lawn while I worked on some stuff inside.  Jack got in some Animal Planet viewing.  Don't worry, we limit his tube time to an hour per day.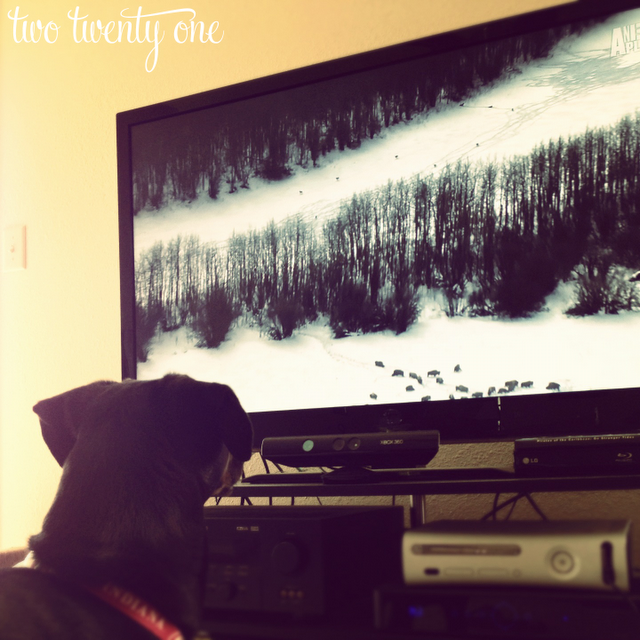 Around dinner time Brad let Jack out into our backyard for a bathroom break.  I went to check on him a few minutes later.  When I called he didn't come, but that that's not unusual because he likes to sun himself on the side of the house, and he doesn't like to be disturbed.  So I threw a toy in that general direction in hopes that he'd get it and bring it to me.  Nothing.  I found this strange so I went to other side of the house… where I found our gate had been left open.  Dog mom panic set in.  I called for Jack and started running toward our front yard.  He came running around the corner of our house and met me on the side of our house.  Thank goodness he had only ventured into the front yard.  He acted like he did something wrong because he ran back into the backyard, picked up a ball, and brought it to me as if he was saying, "Sorry, mom!  How about you forget that I ran out of the yard and play with me instead?"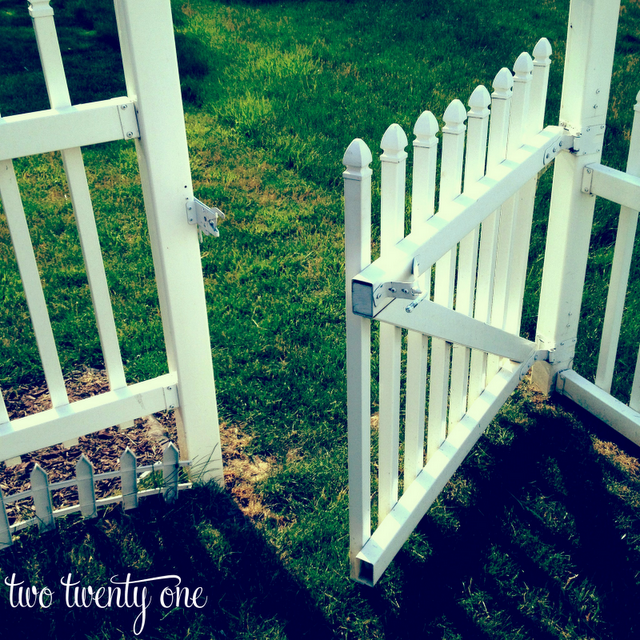 You better believe I had a beer with dinner after that minor dog mom panic attack.
Do any landscaping?  Any tips for growing hydrangeas?
Have a minor panic attack over your dog getting out of the yard?