Brilliant toy organization ideas that won't break the bank! Learn how to organize and store your kids' toys with clever organizers!
If you're a parent or care-giver to children, do you often find yourself saying, "Where is that puzzle piece?" or "Where did that little thingamajig go?" Well, today I'm sharing some toy organization ideas that I'm implementing with some of Owen's toys— specifically toys that include small pieces.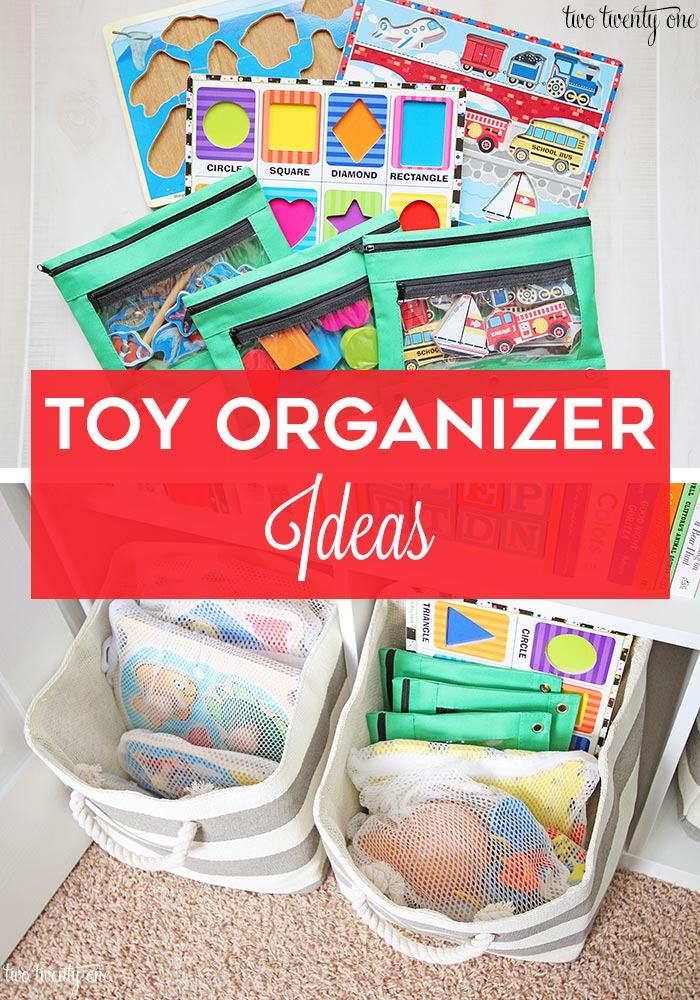 Mesh Bags
What's my answer to the where'd-that-puzzle-piece-go conundrum? Four word: mesh lingerie laundry bags. That's right. Lingerie bags aren't only for your unmentionables.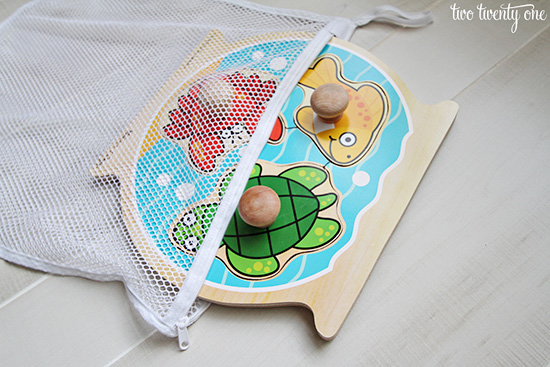 I use two different sizes of zippered, mesh bags. These larger bags, which I purchased from Walmart for less than $2 each, hold larger puzzles and the pieces well.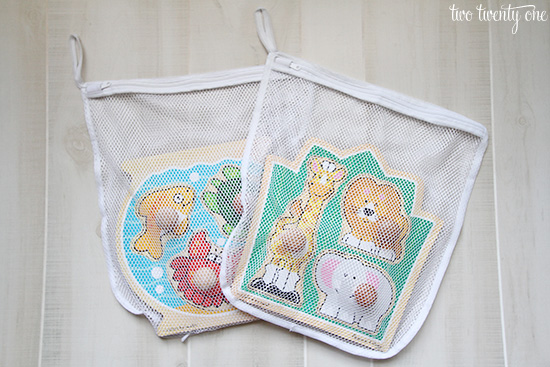 While these smaller mesh bags are perfect for smaller puzzles. Plus, I scored them from my local Dollar Tree– three bags for $1.
I will admit that the quality of the Dollar Tree mesh bags aren't as good as the pricier Walmart mesh bags. You've been informed.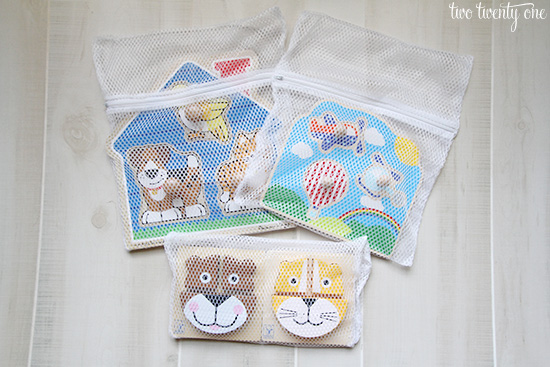 But I didn't stop at puzzles, no no no, I kept the mesh bag party going and used it for other toys with small pieces.
Now, I'm going to step on my infant and toddler developmental therapist soap box for a minute and share some play therapy tips with you. I know how much everyone loves unsolicited advice on how to parent.
So while using the mesh bags and teaching your kiddos to clean up after themselves, you can also throw in some educational components. For toddlers, you can sing the "Clean Up" song, and teach words like "in" or "put in". The kiddos I worked with also loved when I would say "boom" every time we put a toy in the bag. And then you can say "zip" when you or your kiddo zips up the bag. If your kiddo is starting to put words together, you can make short phrases like "zip bag", "zip the bag", etc.
Another tip: instead of giving a child all the pieces at once and letting them have at it, during therapy sessions, I would give the child the puzzle board first and withhold the rest of the pieces. We would work on either signing or verbally saying "more" or "more, please", followed by signing or saying "thank you". Once the kiddo would sign or say "more" or "more please", I would give them one piece at a time.
That advice was on the house. You're welcome.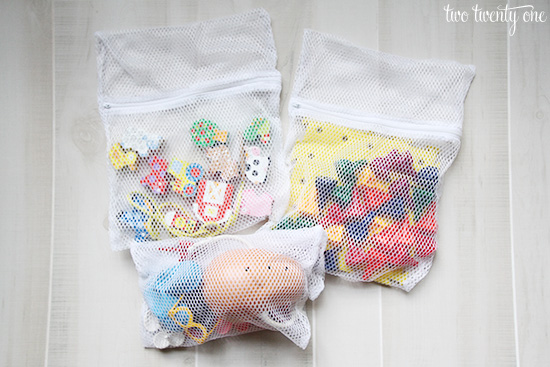 While we're on the topic of mesh laundry bags, I'd like to share another great idea. I also use a mesh laundry bag in our guest bathroom for Owen's bath toys and cup. I used a Command Brand bath hook to hang the bag on the side of the shower.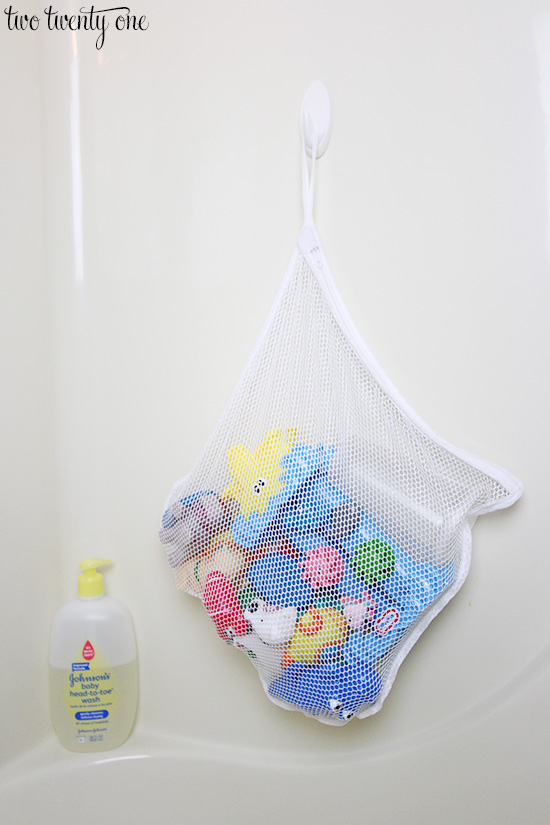 Now all of his toys can dry while staying out of the way should someone desire to take a shower without stepping on 50 bath toys.
I've seen other bath toy storage organizers for $13-$15. I'm happy to report that my solution cost less than $5 (mesh laundry bag + Command Brand bath hook).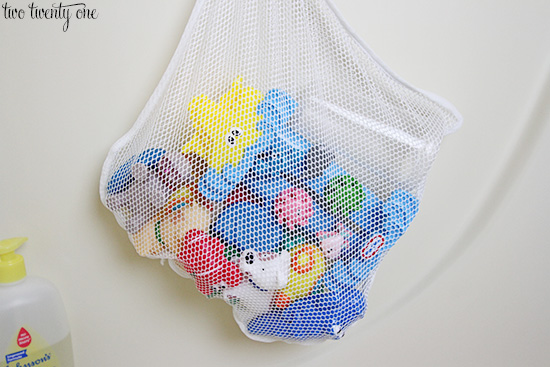 Pencil Cases
Now, let's talk about bigger puzzles with more pieces. For this storage idea, I use some pencil cases from Dollar Tree for $1 each (or you can find them HERE for a good price) to organize those puzzle pieces.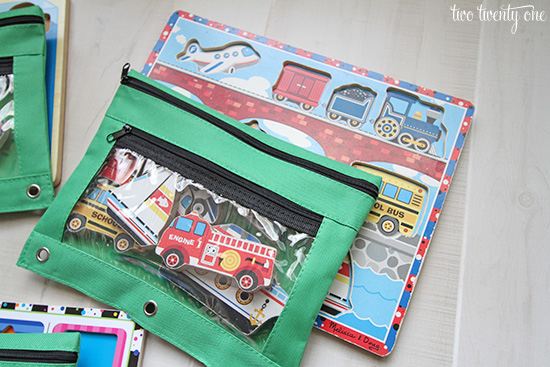 And back to referencing my DT days, zippers are great for strengthening the fine motor skills/pincer grasp.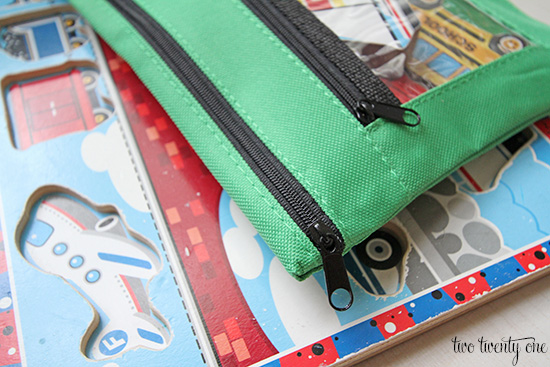 There's also an added educational aspect because kiddos have to match the correct bag to the puzzle when grabbing the puzzle piece bags.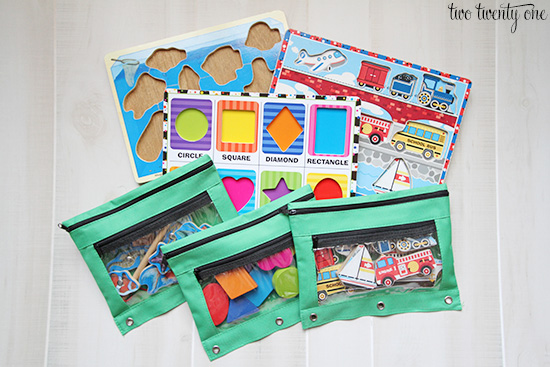 Fabric Storage Bins
I store the puzzles, stuffed animals, and other toys in fabric storage bins in Owen's nursery closet shelving system. The shelving system is a game changer because it fits perfectly in Owen's closet. And since it's a small room, I need to take advantage of every inch.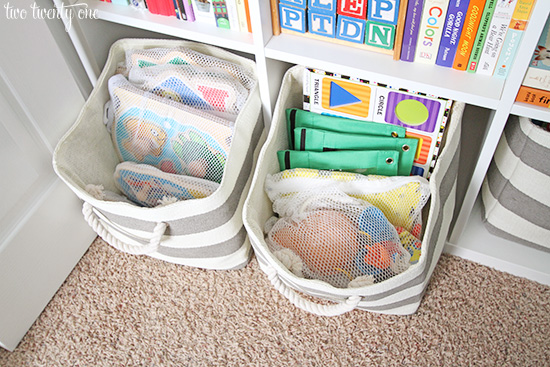 I love those fabric bins because they're easy to grab and take to another location, flexible (see: child launching himself onto bin), and they easily slide in and out of the cubbies.
Also, keep in mind that mesh laundry bags are a must-have for tiny baby articles of clothing, like socks. I got into detail about all that in my baby hacks post. You should check it out. And I even wrote a post detailing all the ways I use mesh laundry bags— a must read.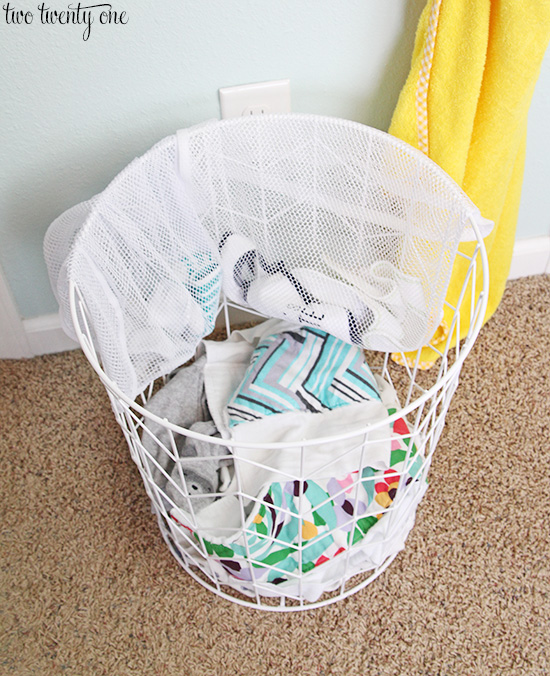 More Toy Organization Ideas
Want more more toy organization ideas? Check out how I organized the playroom in our new home!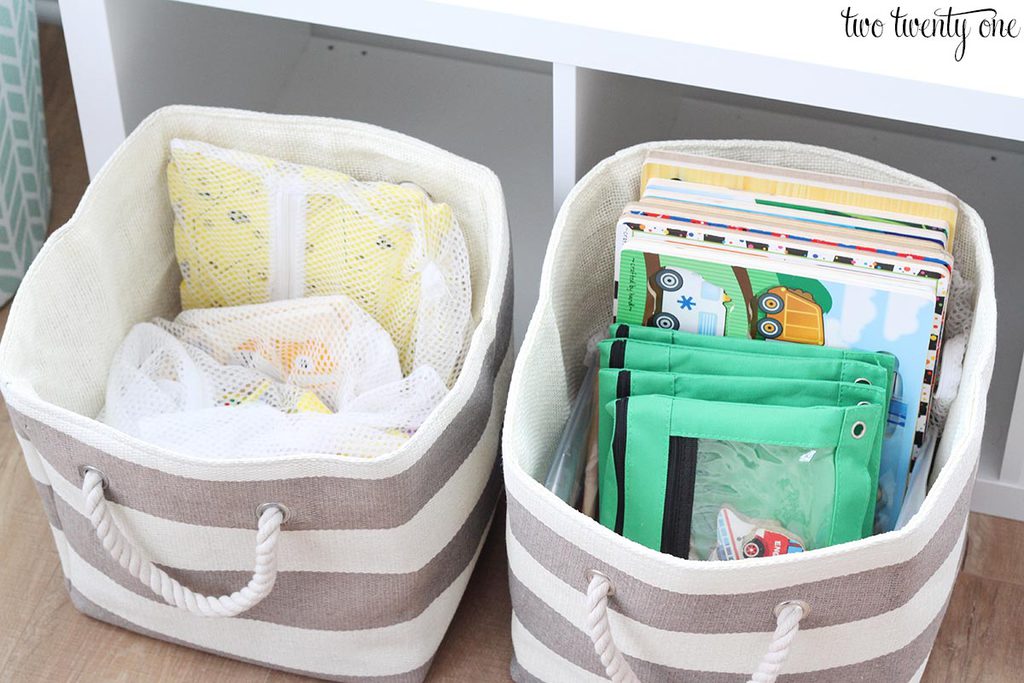 Don't have a lot of space? See how I turned a linen closet in our old house into a place for toy storage!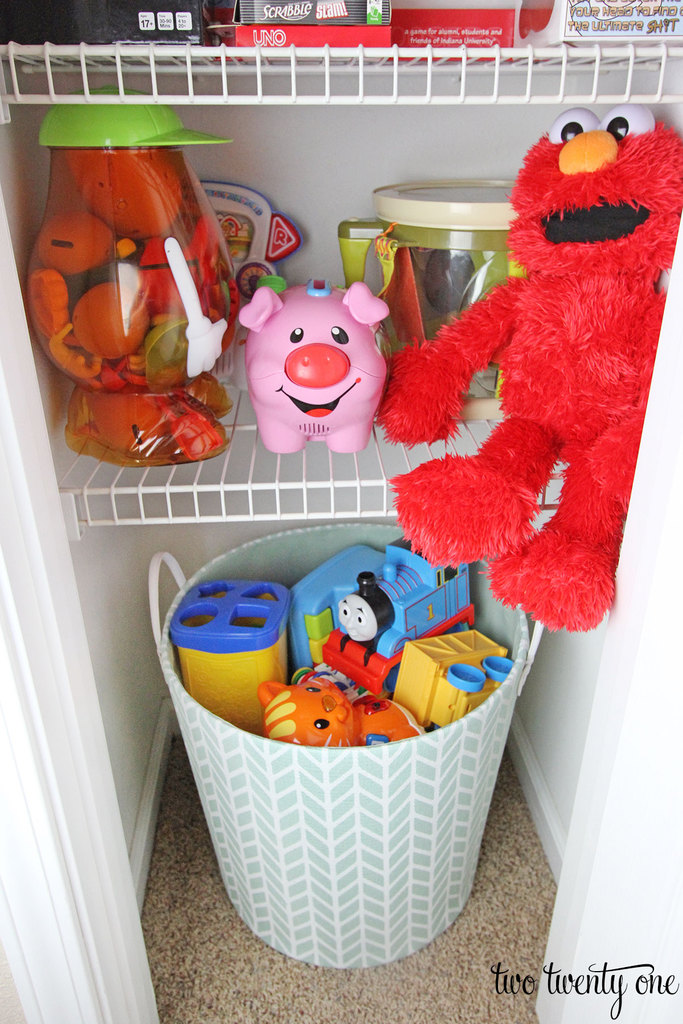 Here's some of our favorite puzzles!
Looking for more toy ideas for your kids or for gifts for other kiddos in your life? Check out my Shop Toys page where I share all of our favorites!