A year ago today Brad and I tied the knot.  My how time flies.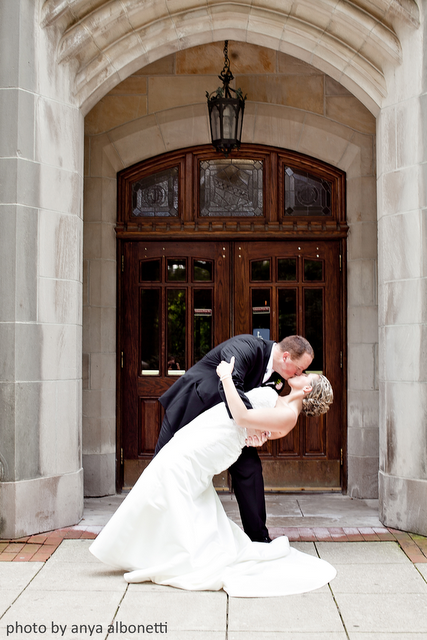 I'm not going to do the super sappy anniversary blog post where I tell Brad that he's my best friend and the man of my dreams because I'm not a touchy feely feelings sharing person.  Instead, I'm going to share the little things I love about my boo because it's the small things that count.  I'm also going to include vintage Brad and Chelsea photos for your viewing pleasure.  This post is from the heart people, so read carefully, don't just look at the awesome photos of us.

Ahem, and so I'll begin.  
Dear Brad (aka Honey Bear, Honey, Bradley, Husband),
I love that you're a good dog dad to Jack.  He clearly likes you more than me.  It's probably because you let him lick your face and I don't.  But it's cool because I'll take second place dog parent over having my face licked by the dog.
I love that you are always the dog poo picker upper when we take Jack on walks.  Thanks for understanding my aversion to dog poo.
I love that you're handy.  You've saved us hundreds, if not thousands, of dollars because you were a mechanic in another life.  Or because you're the son of a very mechanically inclined man.  Either way, high five for handiness.
I love that you put up with all my random projects and the mess I make during my "creative process".  Most husbands would be pissed that they can't park in the garage for 3 months because their crazy wife is working on one of her projects.

I love that you don't complain when I let my clean laundry pile up in laundry baskets in our bedroom.  Thank you for understanding my aversion to putting away clean clothes.
I love that you love my cooking and baking.  Even when I have failures (though not often, of course) you still have something positive to say.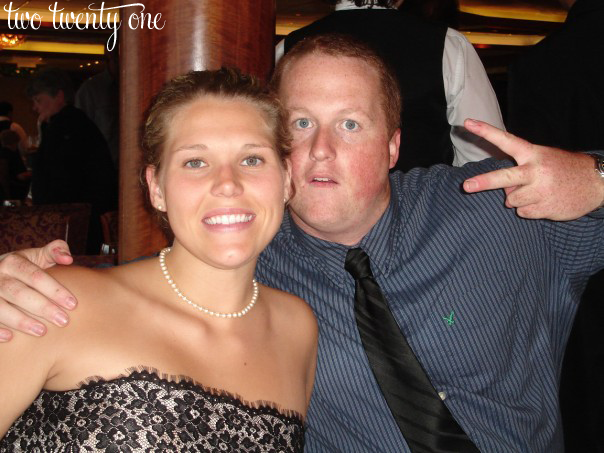 Alaskan Cruise.  July, 2006.  If I had a dollar for every time I smile in a photo and he does something dumb I'd be a ten thousandaire.
I love that you take care of the lawn even though you have fairer skin than me and get sick when you're out in the sun for too long.  But then again, when the grass gets too tall it bothers you way more than it bothers me.  (If you're actually reading this post, include your favorite color somewhere in your comment. Wink.)
I love 
that you're always willing to help people.  Like the time you let the 17 
year old girlfriend of our unsavory neighbor come in our house while you 
called an ambulance for her because she claimed that she had drank 
bleach in the middle of a lovers quarrel with said unsavory neighbor.  All the while I'm running 
around the house hiding dirty dishes in the laundry room and shutting 
doors in a panic because I know in 5 short minutes there will be 5-10 
strangers tromping through our house.  All was forgiven when the 
female EMT complimented our Christmas tree and a firefighter said 
"beautiful home, folks" as they wheeled the girl out of our house and 
to the hospital for a 72 hour hold. (This is a true story. If you'd 
like a full, detailed post please let me know.)
I love that, for the most part, you get me.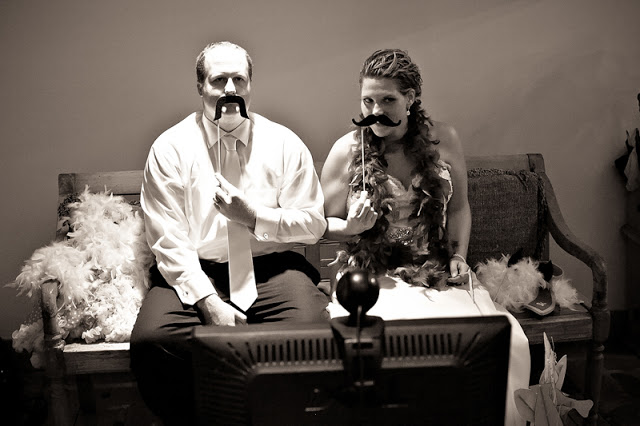 Love, Chelsea
Brad and I are heading to Bloomington to celebrate today.  We met in Bloomington, got engaged in Bloomington, and were married in Bloomington.  It seems fitting that we celebrate our first anniversary in Bloomington.  Hmmm, I wonder if our first born will be delivered in Bloomington.

In case you'd like a refresher, here's our wedding photos.
Before the Ceremony
Ceremony
Reception
The Details