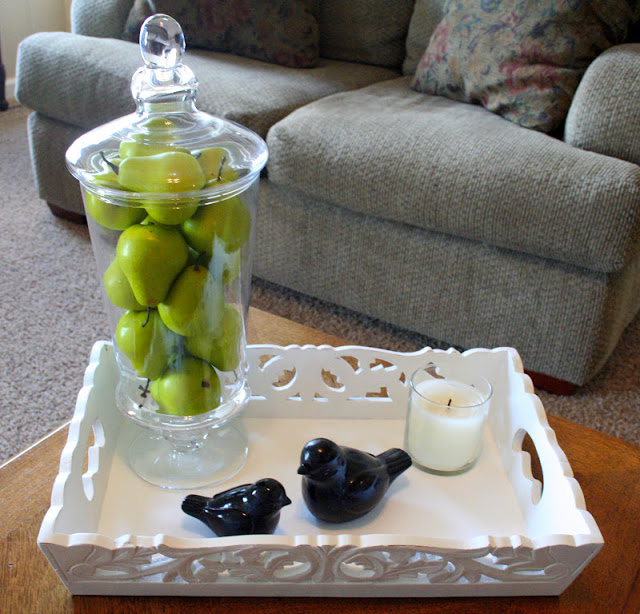 I've been looking around for a pretty serving tray for our coffee table for a while.
I was elated when I found this diamond in the rough in the clearance aisle of
TJ Maxx a couple months ago.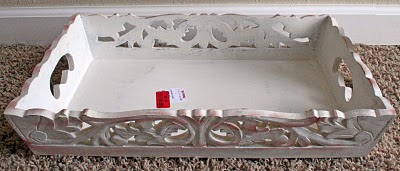 I could see why it was there. What's up with the random red paint marks?
Luckily, I saw past this, knowing that I could bring it home and easily cover up the randomness with some spray paint.
I loved the detailed carvings on the sides, so for $8 I scooped it up and
put it in my cart.
It hasn't been warm enough here to spray paint outside until this weekend,
so on Saturday I got to work.
First, I primed it followed by a coat of satin.
Then, I used 100 grade sandpaper to age it a little.
Pretty simple.
I stopped by TJ Maxx this Friday and picked up this apothecary jar for $10 and pears for $6.99.
They were actually free to me because I used gift cards from Christmas.
Don't you love that? Christmas in March. Don't mind if I do.
I bought more goodies, but I'll tell more about them later.
I got the birds from JoAnn Fabric a couple months ago for a few bucks.
The candle is just a random one from the "candle shelf" in my hallway linen closet.
Yes, I have a "candle shelf". Doesn't everyone?
Jack wanted his photo taken with the new serving tray, so I obliged him.
Handsome fella, isn't he?