I'm a forthright person. As my best friend said yesterday, "You're a straight shooter. You say what you mean and you mean what you say. You keeps it real". So for the sake of keepin' it real, 
here are the top 3 things that I find annoying when it comes to the wonderful world of blogging.
1. Word Verification
The last thing I want to do is jump through a hoop to leave a pleasantry on your blog. I have to squint and question "Is that an I or a T? Do I put a space in between these words?" And if I fail on my first attempt I give up and don't even comment. You don't need word verification. I don't have it and Blogger usually always catches spam. Sometimes it catches comments that aren't spam. It's that stellar. And think about it, do you like it when you have to type in wonky stuff to submit a comment on some else's blog? I'm gonna guess that your answer is no. Want to know how to disable word verification? Go to Settings -> Comments -> Show word verification for comments? -> NO.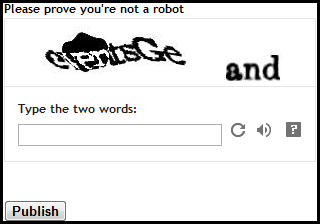 2. Music
Nothing makes me flee a blog faster than being startled out of my seat by the sudden and loud Justin Beiber blaring from my computer speakers. If you want to make someone pee their pants in surprise, have music immediately play when a person lands on your blog. If you put music on your blog for this reason you're either dark and twisty or funny. I haven't decided which one it is yet. But seriously, if you cannot live without Rebecca Black on your blog make the listening optional for your readers. Feel free to listen to my smokin' hot playlist while you read the rest of this post.

3. No Reply Commenter
Don't expect an answer to a question you pose to me in a comment and you are a no reply commenter because, guess what, I can't contact you. Sometimes I try to track you people down and leave my answer in a comment on your blog but most of the time your last blog post was in 2009 so I just move on. You probably think I'm a big meanie head who doesn't answer questions. That's not the case. I want to answer your questions. Help me help you, friends. Don't know if you're a no reply commenter or not? Cassie at Hi Sugarplum! wrote a post on the topic earlier this week.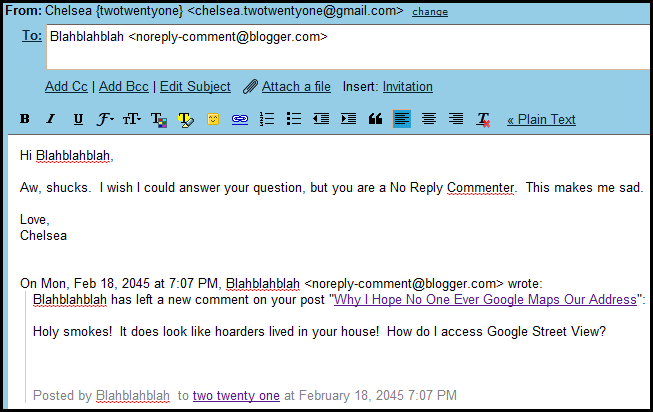 Please know that all the above is coming from a place of love.
Do any of those things irritate you?
Does anything else bug you?
My blogiversary is next week! That means you can ask any burning questions that you'd like me to answer. They can blog or non-blog related. Leave your question(s) in your comment!