This post is brought to you by Pier 1.  As always, all opinions are my own.
I was thrilled when my friends at Pier 1 Imports asked me to come in and check out their great holiday gifts.
I'm a big gift basket fan.  I find them fun to put together, and I'd like to think the recipients enjoy them as well.  So when I spotted the themed kitchenware items at Pier 1 I knew they'd be perfect in holiday gift baskets for some special ladies in my life.
One of the things I love about giving gift baskets is that if you get the right basket, the person can reuse it somewhere in their home.  The wicker baskets I found would work perfectly anywhere in someone's home.
I went with a snowman theme for this basket– a cute snowman dip bowl & spreader set, two kitchen towels, giant red mug, Christmas tree-shaped soap dispenser, and ornament.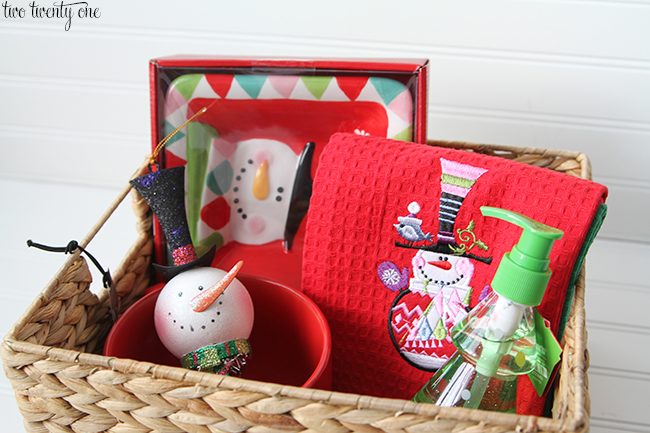 The second basket I made is more of a kitchen theme– two kitchen towels, snowman measuring cup set, gingerbread man spoon rest, gingerbread man mug, ornament, and gingerbread man shaped soap dispenser.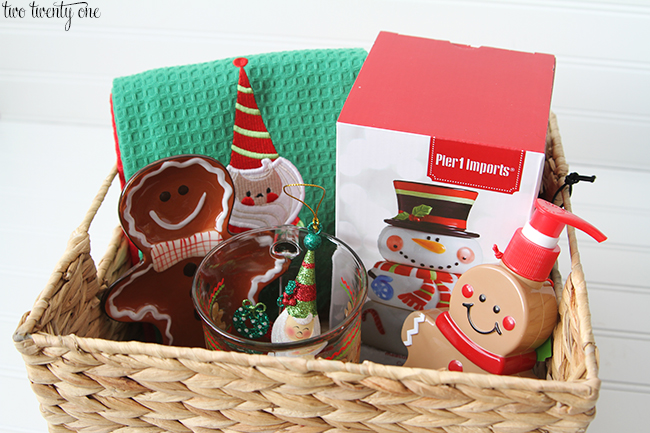 The third gift basket has a penguin theme going on– penguin measuring cup set, two kitchen towels, penguin shaped soap dispenser, penguin mug, and ornament.
Seriously how cute are the measuring cup sets?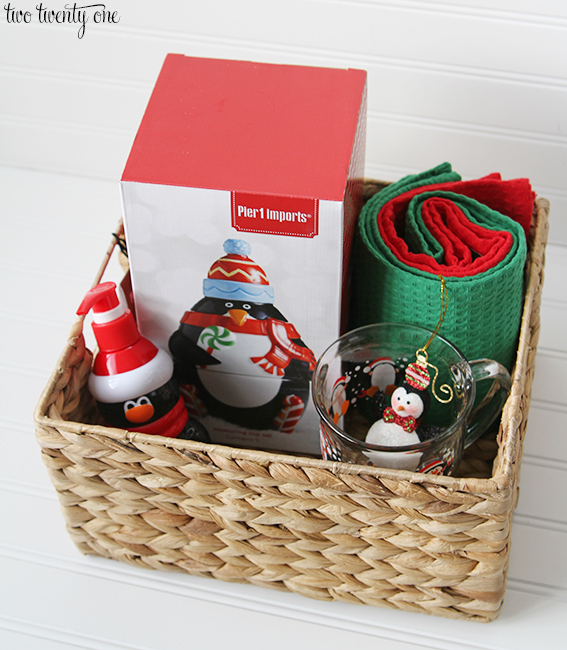 When putting together a gift basket keep size in mind.  You want the gift basket to look full, not sparse.  So if you only plan on filling a basket with three small items, grab a smaller basket.
You can also mix things up a bit.  If you look carefully, I folded the towels differently in each basket.
After I arrange a gift basket I wrap it in cellophane.  I left out that out because it's harder to photograph and see everything in the basket with cellophane on.  I buy cellophane by the roll, but you can also find cellophane bags, which makes it a lot easier to package.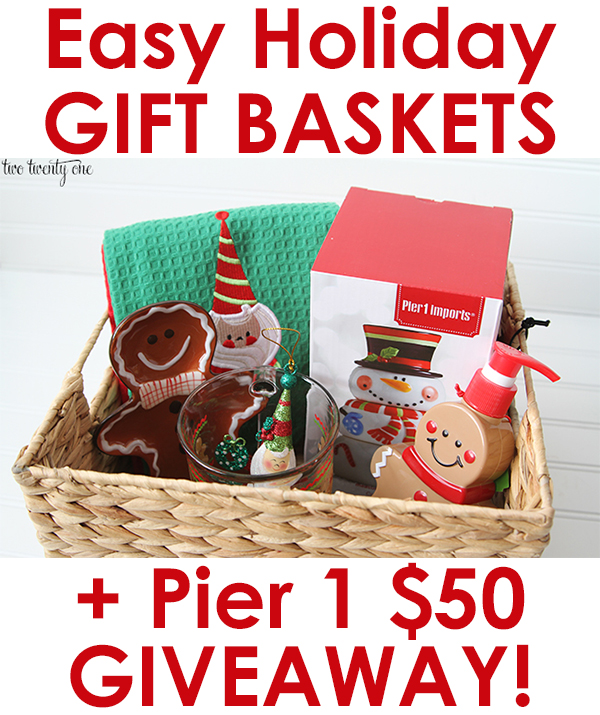 Now on to the extra fun part– I'm giving away a $50 Pier 1 gift card!  Use the Rafflecopter below to enter.
Stalk away!
This post is brought to you by Pier 1.  As always, all opinions are my own.