I don't know if you know this or not, but this past week was Door Knob Awareness Week.  And to celebrate, I've teamed up with Schlage, for a Dress Up Your Doors Blogger Challenge.
Brad and I decided to spruce up all the dated door knobs and locks in our house.  While I'm a fan of brass in certain areas of home decor, I wasn't a fan of the brass hardware in our house.  Plus, a lot of the door handles had started to tarnish and discolor.
We started with our front door.  And while I would LOVE a new door because ours isn't that attractive (it faces west and the summer sun has basically melted the paint and window framing– fun stuff), we would need a whole new door frame and door because it sags.  New door frame + new door and side window + paying someone to install it = a lot of cheddar.  So we figured a quick way to spruce up the door was to update the door lock and handle.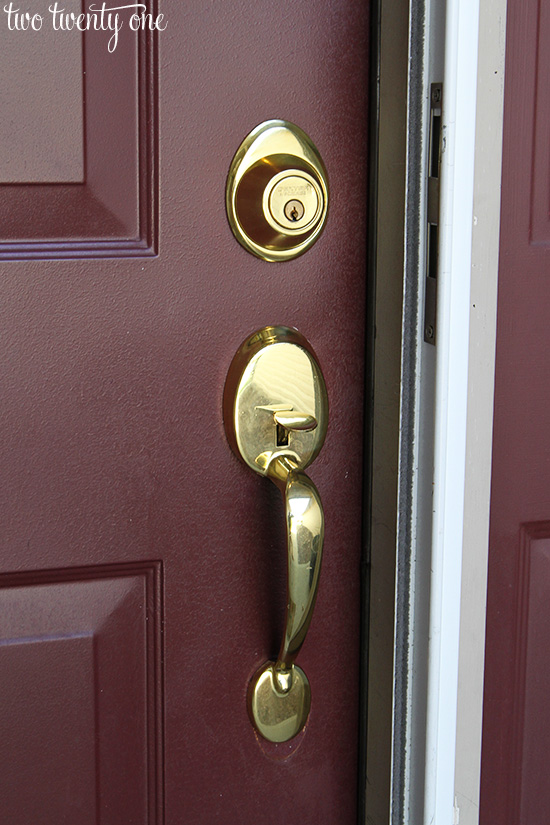 We upgraded from a regular keyed deadbolt and handle to a fancy schmancy keypad deadbolt and handle.  Now we can enter the house by punching in a code or by using a key.
Let me tell you, we are loving the keypad.  It's so nice not needing to lug around keys when we take Jack on a walk around the neighborhood.  And it will be so much easier for our families and friends to enter our house if we aren't home– all we have to do is give them the code.  Yay for no more hiding keys… or being locked out of my own house when my brother runs off with my key!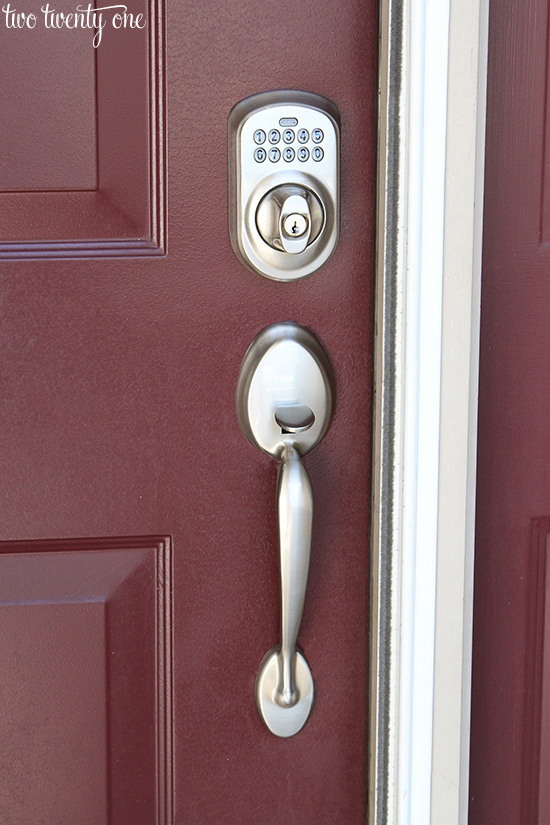 We also love the sleek look of the satin nickel.  It blends into the door and trim much better than the old brass deadbolt and handle.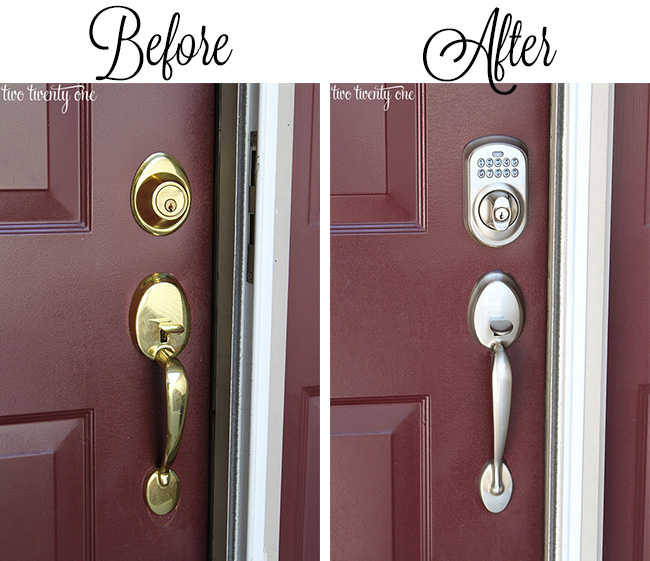 We also wanted to switch from levered door handles to regular door knobs.  We figure it will be easier to child-proof regular door knobs than levered handles once the nugget gets to the walking and exploring age.
As you can see, these handles were starting to look well-loved after 12 years (we've been in the house almost 5 of those years).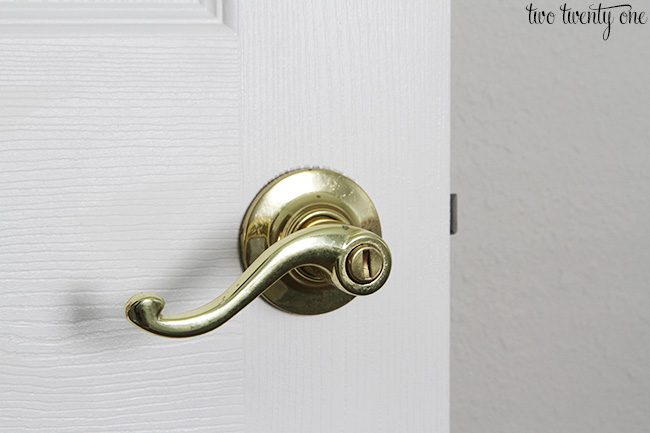 We opted to go for simple, satin nickel door knobs.  We installed locking, privacy door knobs on all the room doors and non-locking, passage knobs on all the closet doors.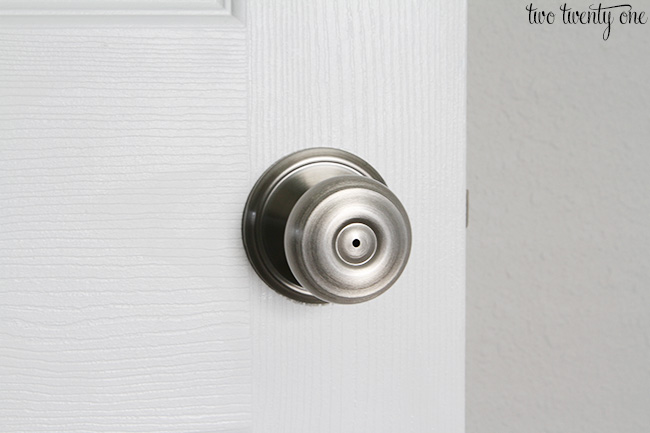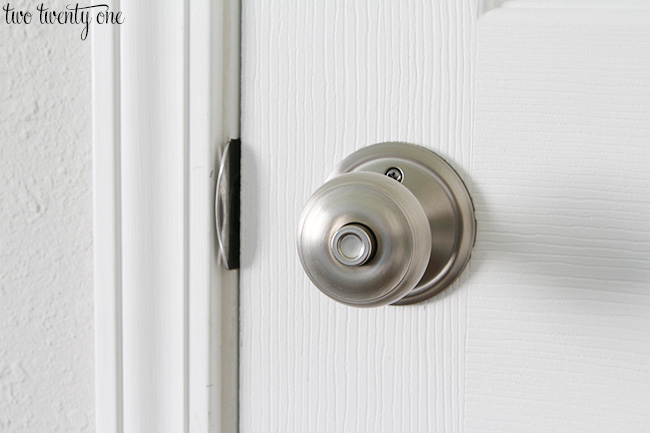 Ahhh, much better, no?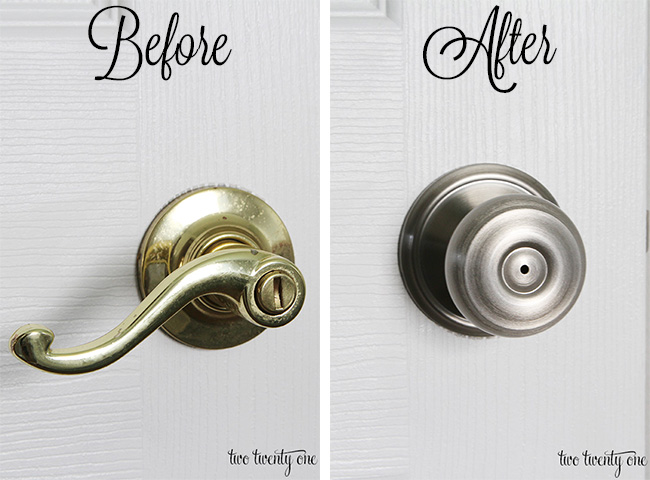 I'm participating in the Schlage Dress Up Your Doors Blogger Challenge, and I'd greatly appreciate your vote!
IF I win, I'll be giving away a $500 Lowes gift card!
In the meantime, because I haven't hosted a giveaway in a while, I'm giving away a $100 Lowes gift card!
But I'd love to give one of you guys a $500 gift card so vote for me!
This giveaway has ended.  The winner is Debbie G.
Schlage supplied their products for the Dress Up Your Doors Challenge.  As always, opinions are 100% my own.