Registering for baby gifts is hard work.  I think I spent a total of 10 hours researching and registering for items online.  Yes, I'm one of those lame people who doesn't go in to the store and get all trigger happy with the registering guns.
I thought I'd have a little fun and come up with a if-money-were-no-object-because-I'm-Beyonce dream baby gift registry list.
A girl can dream right?  I mean, I have spent the past 30 weeks (I know, how has it been 30 weeks already!?) growing a tiny human.  I think I deserve a little daydreaming action.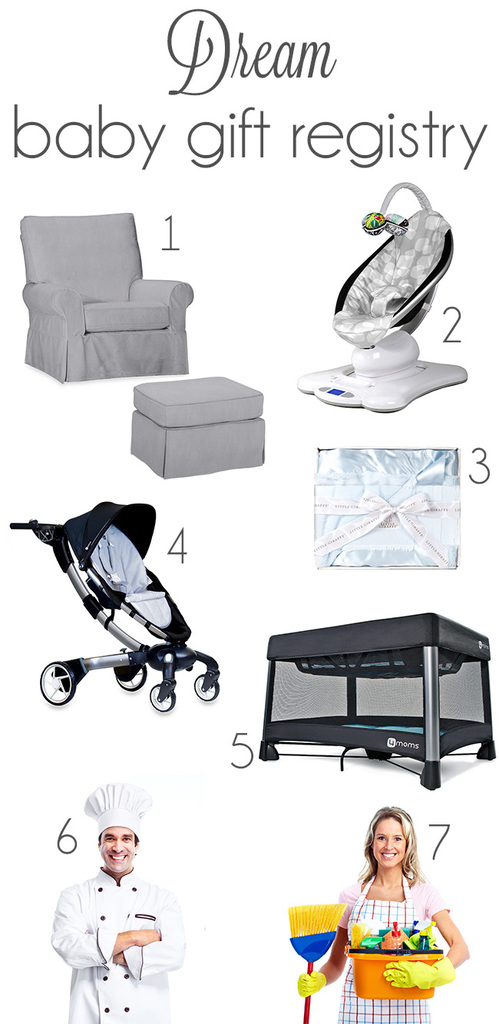 1.  Pottery Barn Kids Grand Swivel Rocker & Ottoman
I sat in one of these bad boys a couple months back and I didn't want to get up.  I almost had Brad convinced that we should get it until he kept noticing how I was strategically covering up the price tag with parts of my body and demanded that I step aside.  I don't even want to know how many people stared at us when he exclaimed the price as an interrogative phrase.
2.  4moms Mamaroo
Who wouldn't want a fancy contraption that emulates 5 motions of person, produces nature sounds, and has an MP3 hook up?  I still remember hand crank swings.  My, how times have changed.
3.  Little Giraffe Luxe Blanket
$90 baby blanket the nugget would slobber all over.  No big deal.
4.  4moms Origami Stroller
Let's see, it folds itself, has daytime running lights and pathway lights, LCD dashboard, 4 cup holders, and will charge your cellphone.  This stroller is basically a car.
5.  4moms Breeze Playard
My name is Chelsea and I'm a Breeze believer.  Also, you can call me Chel-yonce because I'm lucky to be a proud owner of a Breeze.  Let me tell you, I love this playard.  It opens or closes in one step.  Just push down or pull up.  It's so easy you could do it with a cocktail (or water, in my case) in your hand.  With both sets of our families living on opposite ends of the state we'll be taking this playard with us for the nug to have somewhere safe to nap and sleep.  The Breeze is compact, and like I said, a breeze to open and close so it's the perfect travel playard.
Since the nug is still cooking, I used a model to demonstrate how he will use the Breeze.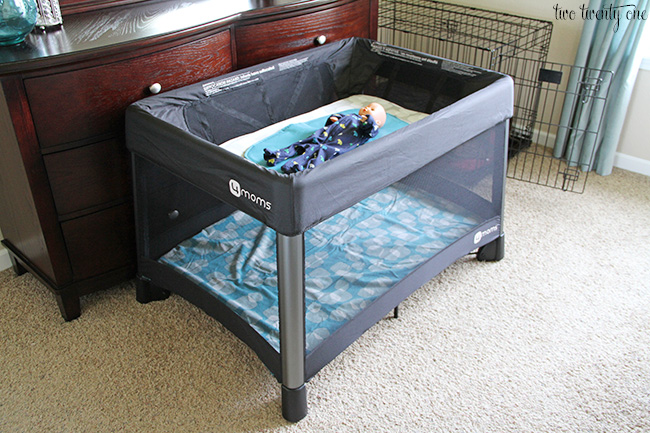 6.  Personal Chef
Forget about a nanny, I want a chef.  Someone to cook me (ok, and Brad, too) nutritious meals.  I'd also require the chef to grocery shop as well.
7.  Cleaning Person
While I'm at it, I'd also like a cleaning person.  You know, so I can focus solely on the nugget.  I'm positive Beyonce doesn't have to clean toilets while baby-wearing Blue Ivy.
There you have it, my dream baby gift registry list.  It's only 7 things– I'm not a total diva.
Now, how about the AMAZING giveaway?
I'm giving away a 4moms Breeze playard to one lucky reader!
You must use the Rafflecopter widget below to enter.
Want more chances of winning a Breeze?  4moms is giving away a Breeze every day for the entire month of June via their Facebook page, so hit that up!
4moms provided me with a Breeze playard.  As always, opinions are 100% my own.