I don't know about you, but I'm more of a shower person than a bath person.  I like to get in and out.  No bathroom dilly dallying here.  My showering routine is a well-oiled machine.  Shampoo.  Conditioner.  Soap.  Razor.  Body Wash.  Rinse conditioner.  Facial cleanser.  Boom.  Done.  
I'm loyal to my shampoo, conditioner, and facial cleanser brands, but I've yet to find a body wash that I love.  So when I was contacted to try Dove Visible Care Toning Creme body wash, I said, "I'm down, send some my way!"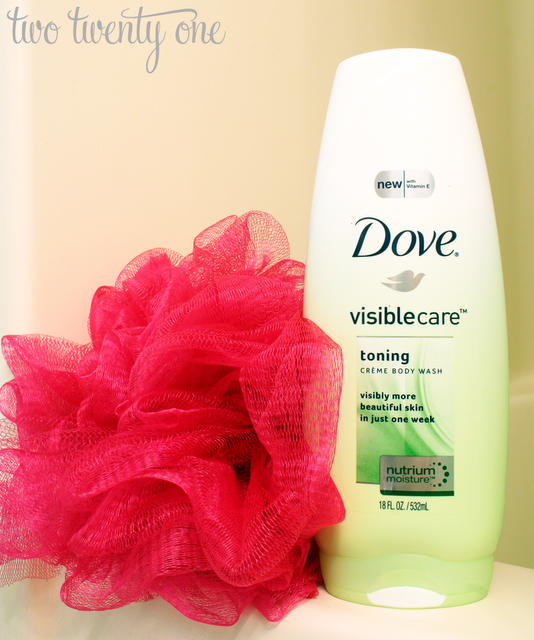 Let me start by saying that the first thing I assess with a body wash is the smell.  I don't care if it makes my skin look and feel like Channing Tatum's a baby's butt, if it doesn't smell good I'm not going for it.  (I've said it before, and I'll say it again– I have a very sensitive sense of smell.  Heaven help me when I get preggers.)  I can say that I enjoy the light, refreshing scent of the Dove Visible Care Toning Creme body wash.  I'm told that it's a warm ylang ylang and delicate wood fragrance with robust citrus notes of mandarin and Italian bergamot.  Oooh la la.
Since the body wash passed the "Chelsea smell test", I moved onto my next criteria: hydrating.  No one likes dry skin.  Unless you're a reptile, and I doubt reptiles read this blog.   This body wash has Dove's highest concentration of NutriumMoisture and added vitamin E.  I was curious about this NutriumMoisture business so I went to Dove's website to check it out.  Their NutriumMoisture technology is designed to penetrate and moisturize your skin, whereas other body washes just stay on the surface.  You learn something new every day.
Now that's usually where I stop in my body wash criteria.  What can I say, I'm easy to please.  But Dove took a step further.  Their Toning Creme body wash is designed to help promote skin's elasticity and strength.  Your skin is supposed to be visibly more beautiful in just 1 week.  And it's supposed to look even better after 3 weeks.  I've used the body wash for a little over a week now, and I can honestly say that my skin is looking rather beauteous lately.   And it's not from my constant "glow" from it being 100+ degrees here.
In closing, if you're looking for a body wash that gets you clean, smells good, hydrates your skin, and promotes elasticity and strength, give Dove's Visible Care Toning Creme body wash a try.
Are you a shower or bath person?
What's on your body wash criteria checklist?
Are you a reptile who also reads this blog?

Visit Dove® VisibleCare® to get a coupon for $1 off!
Enter to win one of two $500 Spafinder gift certificates!
COMMENTS TO THIS POST ARE NOT SWEEPSTAKES ENTRIES. PLEASE SEE BELOW FOR ENTRY METHODS FOR THIS SWEEPSTAKES.
You may receive (2) total entries by selecting from the following entry methods:
a) Follow this link, and provide your email address and your response to the Promotion prompt
b) Tweet (public message) about this promotion; including exactly the following unique term in your tweet message: "#SweepstakesEntry"; and then visit this link to provide your email address and the URL to that Tweet.
c) Blog about this promotion, including a disclosure that you are receiving a sweepstakes entry in exchange for writing the blog post, and then visit this link to provide your email address and the URL to that post.
This giveaway is open to US Residents age
18 or older. Winners will be selected via random draw, and will be notified by e-mail. Winners will have 72 hours to claim the prize, or an alternative winner will be selected.
The Official Rules are available here.
This sweepstakes runs from 7/18/2012 – 8/22/2012