Most of you know that I have naturally curly hair.  I get it from my dad.  Homeboy had a crazy fro back in the day.  I wish I had a photo because I would totally post it.  My older brother, Ryan, also inherited my dad's curly hair.  Ryan owned, and still owns, his ringlets.  He once participated in a "win a trip to a Justin Timberlake concert with a Justin Timberlake look-a-like" radio contest.  He was was the Justin Timberlake look-a-like.  I died.
Obligatory photo of my curly locks: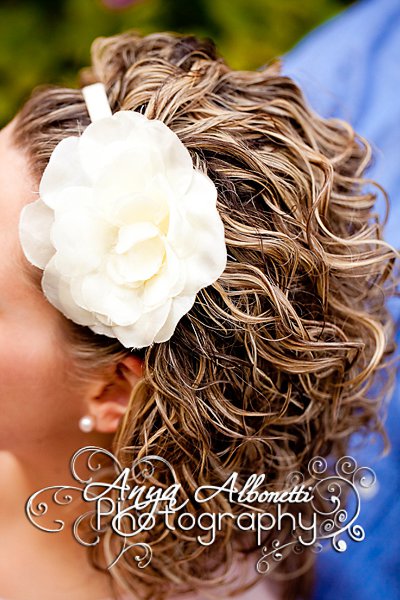 Curly hair is both a blessing and curse.  Yeah, it's pretty and appears to be low maintenance (emphasis on "appears") but it can dry out and frizz like nobody's business.  In short, conditioner is one of curly hair's best friends.  Gel and hair spray being the other besties. 
When I was contacted to try out Dove's Nourishing Oil Care daily treatment conditioner I was all for it because I'm always looking for a good conditioner to combat frizz.  Dove Nourishing Oil Care daily treatment is designed to nourish hair without leaving that greasy feel.  It contains conditioners that seal cuticles and smooth frizz.  The end result benefits are said to be softness, smoothness, shine, and frizz control without greasiness.

So what did I think?  It smells nice.  You know how I am about smells, and this definitely passes the Chelsea smell test.  You don't need a lot to get the job done– a little goes a long way with this conditioner.  The first day I went a little crazy and used about 1/8 cup on my hair.  Not a good idea.  Sometimes I get excited and over do it with products.  The next time, I used a fraction of what I used before and the results were much better.  Take note.    My hair is soft.  During the summer months I don't wear my hair curly very often because that involves a hair dryer, and I don't like being hot.  Well, that and a certain company stopped manufacturing my hair gel so I'm hoarding my remaining 4 bottles like a crazy lady hoards her 53 cats.  Dove's conditioner keeps my hair from going all frizzy and crazy sans hair gel and hair spray.  Thanks, Dove.  The general public and I are appreciative.
Enter to win a $1,000 Spafinder gift certificate!
NO PURCHASE NECESSARY
COMMENTS TO THIS POST ARE NOT SWEEPSTAKES ENTRIES. PLEASE SEE BELOW FOR ENTRY METHODS FOR THIS SWEEPSTAKES.
You may receive (2) total entries by selecting from the following entry methods:
a) Follow this link, and provide your email address and your response to the Promotion prompt
b) Tweet (public message) about this promotion; including exactly the following unique term in your tweet message: "#SweepstakesEntry"; and then visit this link to provide your email address and the URL to that Tweet.
c) Blog about this promotion, including a disclosure that you are receiving a sweepstakes entry in exchange for writing the blog post, and then visit this link to provide your email address and the URL to that post.
This giveaway is open to US Residents age 18 or older. Winners will be selected via random draw, and will be notified by e-mail. Winners will have 72 hours to claim the prize, or an alternative winner will be selected.
The Official Rules are available here.
This sweepstakes runs from 9/4/2012 – 9/30/2012
Be sure to visit Dove®Hair.com to get a coupon for $1.50 off Dove Hair Therapy products.