Hi guys! I'm excited to announce a fun holiday link-up party I'm co-hosting with some of my best blogger buddies.
 For the past 3 years Kim from Newly Woodwards has been hosting her Dare to DIY series during November and December, and this year she's decided to expand it to include Rachel from Maybe Matilda, Michelle from Decor and the Dog, and yours truly.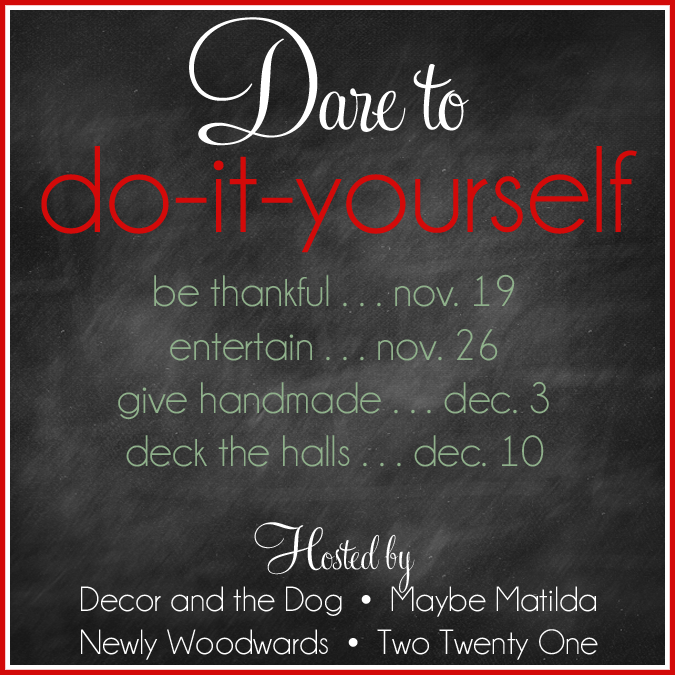 The goals:
The point of the Dare to DIY parties is to motivate us to DIY projects through Thanksgiving and Christmas – and to do it together. Another goal is to meet new blog friends! I mean, whoever said that they have too many blog friends?
What to do:
Each Sunday evening, I will post the party link. Post about your take on the challenge and link it up to the party. Then, try to visit at least one other blog and leave that person a comment. This is the important because we want to meet new blogger friends and get inspired. I mean, this is a party. And who doesn't like getting blog comments?
The plan:
Each Monday, the link party goes live for that week's Dare to DIY challenge. You can link up as many projects as you wish, as long as the posts correspond with the theme of the week. You can link up on any one of our four blogs and the link will show up on all the blogs. So there's no need to link up on every blog.
The linky will stay live through Wednesday. Later in the week, each of us will spotlight at least 3 projects we loved from the week on our blogs. We'll also pin those projects on our shared Pinterest board. On the Friday before the party, all of the hosts will post their projects for the following week's theme. Hopefully this will inspire people and serve as a reminder that the party is coming up.
The rules:
1. Please follow the Dare to DIY theme of the week (see below).
2. Please link back to Dare to DIY by linking to the blog party you link up to (grab the button below).
3. Please go to at least one other blog and comment. This is a party. So get to know a few other bloggers.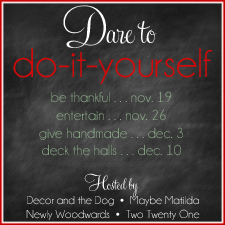 Monday, Nov. 19
Dare to… be thankful!
DIY a thanksgiving project to remind you to be grateful during this season. Ideas include a Thanksgiving advent calendar, artwork and banners.
Monday, Nov. 26
Dare to… entertain!
DIY something for your table. This could be something from last wee's Thanksgiving table or a new Christmas look. Get creative and use things in new ways. Or go true DIY and make something totally new. Ideas include place mats, table runners, place cards or centerpieces.
Monday, Dec. 3
Dare to… give homemade gifts!
DIY a gift made by you. Nothing is more special to give than something you created, so share projects that will be go in brown paper packages this holiday season. Ideas include bath and body items, kitchen gifts, hand-sewn clothing or home decor.
Monday, Dec. 10
Dare to… deck the halls!
DIY something new to deck your halls. Did you find something in a catalog that you wish you had? Wreaths, stockings, pillows or advent calendars? Make it! Inspire us all to do the same.
If you want to participate, sign up below. Just link directly to your blog home page.