This is a completely random post.  It's because I feel immense guilt for only posting once last week.  Sorry about that.  We've had a rough week around here.

Last Monday Brad's 91 year old grandfather passed away.  
We saw him the Saturday before when we were in town for Brad's birthday, but he wasn't lucid and didn't really recognize us.  One of the last times we visited with him he became choked up and said, "I wish you two (Brad and me) all the happiness", which in return caused me to tear up.  
And although he couldn't attend our wedding because of his deteriorating health, he was able to watch our wedding live via a webcam that Brad's cousin set up.  Both of us took comfort in that.  
Whew.  It's been a tough summer for us.  Losing my grandmother (my last living grandparent) on our wedding day and now Brad's grandfather (his first grandparent to pass away).   Cherish your loved ones, my friends.
Ok, enough about sad stuff.  On our way to and from Brad's hometown for the visitation and funeral we passed this motel.  On the way back Brad snapped a photo while I drove.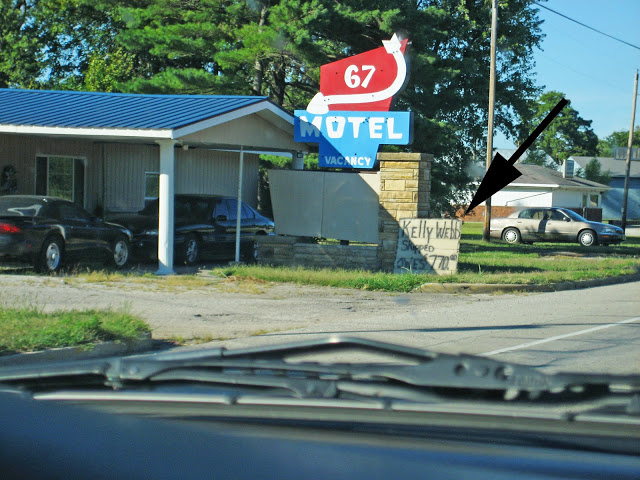 Seriously, Kelly Webb?  Head back to the Motel 67 in Worthington, Indiana and pay your bill.  And to the owners of Motel 67, I don't know if allowing someone to wrack up a $770 bill is the wisest choice.  However, I do like your bill collecting strategy.  It gave us a chuckle when we needed it.